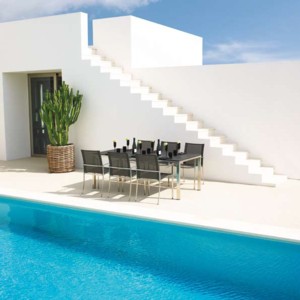 The Woven Image launches two new indoor/ outdoor high-performance textiles: Quill and Arrow. These coordinating designs are woven in a premium interior/exterior yarn which results in long-life, easy-care, high-performing textiles without compromising on contemporary design, handle and price.
Quill is a two-colour small-scale design evoking nature with the abstract use of a filled-in leaf motif which is woven and reflected in both left and right directions. The design is available in five fresh contemporary colourways, from warm ochre through to a punchy black and white combination.
Arrow has been designed along the same leaf concept as Quill but as a scaled-up keyline motif. It is available in five coordinating colourways to Quill, providing a contemporary collection for indoor/ outdoor application. Quill and Arrow provide two new contemporary designs that complement the Woven Image indoor/outdoor series, providing a unique, versatile, high-performance, design-driven collection without compromising on handle and price competitiveness. Both Quill and Arrow are produced using certified green energy (100 per cent renewable resources) and the yarn holds an Oeko-Tex certification. Pictured here, Pebble seating by Schamburg+Alvisse Furniture.
For more information, contact Woven Image on 1800 888 650 or visit www. wovenimage.com.au
To complement the Arrow and Quill range, Woven Image has released KnollTextiles Vibe, its bestselling plain polyurethane upholstery. GreenGuard certified, Vibe is now available in 27 vibrant new colours; it's a textured, lightweight, tactile fabric with all the performance benefits of vinyl. Vibe is designed for upholstery application. Schamburg + Alvisse created PEBBLE — also inspired by nature, with a shape inspired by worn river stones — as a versatile, economical and environmental solution for informal breakout seating in corporate and hospitality environments. The use of contrasting fabric panels, Vibe top and Arrow and Quill sides have been incorporated to add a colourful and contemporary dynamic.
For more information, contact Woven Image on 02 9913 8668 or visit www.wovenimage.com.au
Outdoor entertaining has now become easier with the release of the Coonara Fire Pit. With its stylish looks and realistic flame pattern, the Coonara Fire Pit will keep you warm, cosy and relaxed as you enjoy its ambience. With the push of a button you'll love watching the flames burning over the pit to provide you with a real open fire effect. The Coonara Fire Pit is approved for both natural gas and LPG and is available in three stylish colours: stainless steel, rivergum and notre dame. A matching lid is included so your outdoor unit can be conveniently transformed into a table when the fire is not in use. The Coonara pedigree of innovation has created something special so that you can now entertain outdoors with friends and family long into the evening. The Coonara Fire Pit is proudly manufactured in Australia by Shamic Sheetmetal (Aust) Pty Ltd.