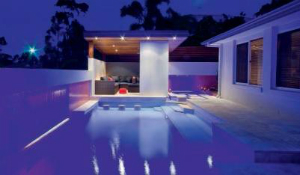 From the outdoor room to the sparking spa, this pool area speaks of luxury
When a swimming pool is to be located close to the house and an outdoor pavilion integrated into the design, ensuring there is a continuous flow from one living zone to the next is essential. In this design, by Darren Evans of Summit Pools, the living areas of the home are seamlessly linked with the alfresco pool area.
Of clean, contemporary design, the pool boasts surrounds of natural stone, which contrast beautifully with the electric-blue water, vibrant lighting and red-tiled feature wall. The latter sends a delicate wash of water into the pool and creates a mesmerising focal point, day and night.
For visual interest, the pool and spa are connected by an area of stepping stones. The fully tiled spa is located adjacent to the outdoor room, which is equipped with a gas fireplace for winter evenings and a ceiling fan for sultry summer nights. The outdoor room is a welcoming place furnished with a comfortable outdoor lounge suite. The room is also ideally placed so guests can sit back and talk with people soaking in the spa or relaxing in the pool.
Three underwater seats have been placed in the pool right up against the outdoor room. Guests can relax on these or stretch out on the underwater ledge that stretches along the side of the pool closest to the house.
For ease of maintenance and use, the latest in pool technology has been used. The entire pool is controlled by an AquaLink Control System. With this system the spa and water features can be pre-programmed or turned on and off at the touch of a button.