Match custom or off-the-shelf water features with made-to-measure planter boxes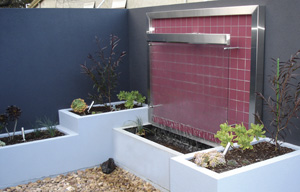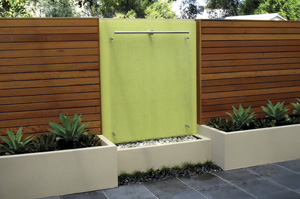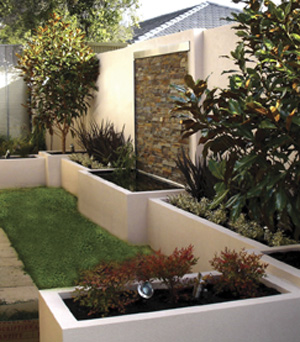 Water Motion Energy (WME), an Adelaide-based company known Australia-wide for its custom-designed and -built water features, continues to go from strength to strength. Since the business began 10 years ago it has expanded its regular client base of landscape designers, architects, pool companies, builders and homeowners to include some of Adelaide's largest commercial clients.
WME can create a custom-designed water feature to perfectly fit your space, or you can choose a feature from their popular kit form range; either way, a WME feature is built to last and uses only the highest-quality components.
WME use a huge array of materials to create these individual pieces of art, which means the variety of different looks that can be achieved is virtually endless. Natural stone, hand-made textured glass, metals, decorative tiles and many other materials can be incorporated into the design of your water feature.
To sit alongside their stunning custom designs, WME recently introduced a distinctive range of retail water features by Pietro Stoneware, a leading brand in quality plug-and-play water features. Pietro Stoneware is exclusive to WME in South Australia, with many styles and colours available. Designs range from contemporary styles to traditional urns and fountains. The features are made from GRC (glass-fibre-reinforced concrete) which is 75 per cent lighter than concrete, free of petro-chemicals and environmentally friendly. The designs are hand-finished with reactive oxides which create an enduring finish unlike paint, stains or dyes. These innovative colour finishes are all individually hand-crafted, giving them a superior look to most pre-cast features on the market.
WME also specialises in the production of custom planter boxes made from a lightweight material, which is then rendered and textured, ready to paint to your own colour scheme. Planters can be built to your own size (quotes available by emailing or calling WME's Adelaide office) and are perfect for balcony gardens, courtyards, and along boundary or house walls. Cheaper than masonry, extremely hard-wearing and able to be painted many times without losing their texture, the planters are one of WME's most popular ranges.
Check out WME's comprehensive website which is packed with ideas and inspiration, or call in to their showroom in Adelaide to chat to an expert. You can let WME design something for you or, if you prefer, you can present them with your own plans and have WME manufacture a water feature of your own design.
In addition to the head office in Adelaide, there are distributors in Western Australia, Queensland, Northern New South Wales and Victoria. Water features and planters can also be shipped anywhere in Australia.