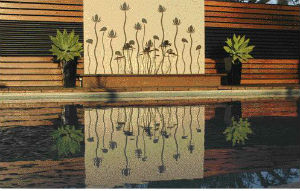 Enjoy unique personalised outdoor spaces and designs that are as individual as you are
Whether you want a one-of-a-kind dining table, a unique day bed or a custom-designed water feature, Brannelly Outdoor is all about turning your outdoor space into your family's favourite room. The guiding force behind Brannelly Outdoor is Creative Director Connor Brannelly who brings more than a decade of outdoor design experience to each project he undertakes.
Connor established his business 12 years ago, creating unique high-end outdoor mosaic works. His love of design soon grew to encompass the creation of entire outdoor spaces and the business expanded into the renowned outdoor design agency it is today.
Brannelly Outdoor now specialises in two equally important areas: the creation of complete outdoor design packages and the creation of individually designed outdoor furniture and art, which includes mosaic tables, water features and wall murals, custom-designed day beds and sun lounges.
No matter what the project, Connor works closely with his clients to design and create unique, personal and lasting features that will give an individual sense of style to any outdoor or indoor space. He also draws on a wide selection of materials, ranging from hand-cut mosaic pieces to wrought iron and Australian timber, to ensure your new outdoor space, item of furniture or work of art is as individual as you are.
Now that summer is here it's the perfect time to consider Brannelly Outdoor's hand-made outdoor sun lounges. Of exquisite style and construction, these sun lounges are finding permanent homes in properties right across Australia. The same is true of Brannelly Outdoor's day beds which come in a variety of sizes, shapes and fabric choices. Not only do they provide a perfect place to kick back and enjoy the wonderful Australian climate, they provide a valuable source of additional outdoor storage.
All of Connor's exquisite pieces are available Australia wide and can be viewed on Brannelly Outdoor's new website. For further information, please call or email Connor directly.
For more information
Brannelly Outdoor Studio 3, 495 Wynnum Road, Morningside Qld 4170 Phone (07) 3399 8357 Fax (07) 3899 0569 Email connor@brannellyoutdoor.com.au
Website www.brannellyoutdoor.com.au