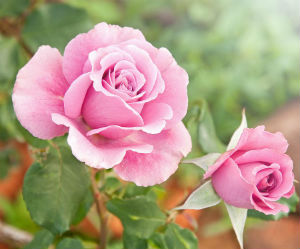 Beautiful, tough and easy-care, roses are enduringly popular

Why does almost every gardener love roses? Think about it. Have you ever heard any relatively normal person say anything bad about a rose? They might complain that a particular rose doesn't flower for long enough, but then they'll sigh with pleasure as they look at it while it is smothered in rose blooms.
Roses will always win in the plant beauty stakes, but there are a few other very good reasons why they've always been popular — which proves gardeners aren't totally influenced by looks.
The truth about them is that they're tough as, and will grow into a magazine worthy vision with little to no care. Of course, there are some tricky ones that can be a bit fussy — the older ones that need spraying for black spot or need old-style pruning — but there are many more new roses which don't. (Which is good, because most of us don't have a little man who comes in to do the garden.)
And this is partly why most current garden designers wouldn't dream of lining up a row of old-style rose bushes along a path. Oh no. We've come a long way (thank goodness) from those upright, awkward-looking tufts. Thanks to modern rose breeders who saw the sense decades ago (because that's how long it takes to breed a rose true to form) we now have roses which grow into soft mounds, smothered in flowers from late spring through to late summer (well, the Flower Carpet roses do) which you trim like a daisy bush and never bother to spray. These are the roses which you'll see massed in sweeps, punctuated by spikes of New Zealand flax or rippling wedges of grasses.
But all this sits in the shadow of the roses' most relevant asset — its ability to look like it's growing in a grand English garden, bathed in regular rainfall, when the reality is that it's not. Yes, roses are gorgeous and they're tough.
Anthony Tesselaar Plants
Website: www.tesselaar.com