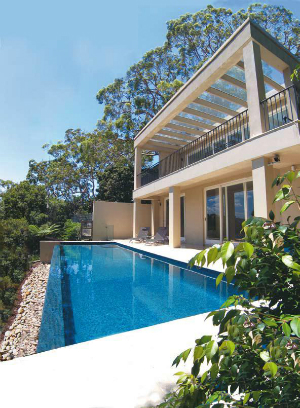 with so many of our leisure and entertaining activities taking place outside the house, it is essential to ensure the external spaces of our homes are designed just right and incorporate everything we need to enjoy them as a retreat. These spaces have become our own gardens of paradise. If you are thinking of developing an outdoor leisure and entertaining space, the following is a must-read.
To get going
Getting the design right requires careful planning to put you on the right path to create the perfect outdoor space. So how do you go about creating the best outdoor leisure and entertaining space possible? In the first instance, determine your wishes and needs, your lifestyle, your budget, and undertake an analysis of your property.
Your wishes and needs
When designing your outdoor space, you need to list your wishes and needs for the area. Consider the following: do you want to grow vegetables, flowers or plants? What features do you want to include (swimming pool, tennis courts, water features, pool cabanas, entertaining areas, outdoor kitchens, furniture, lawn and gardens)? Do you need space to store tools, equipment or a workspace for DIY projects? Do you wish to incorporate sustainable design? First impressions count, so what about the entry garden?
Your lifestyle
Consider your lifestyle. Do you have children and if so how many? What gender and are they active or passive? Do you have a pet or will you be likely to get one? Do you want to entertain and in what numbers and how often? Designing to cater for the full family at Christmas and all other holiday and celebration dates requires different design inclusions to regularly having the immediate family over for a weekend lunch. How will a pool be used — for exercise, entertaining or for just jumping in during summer to cool off? How much time are you prepared to spend on maintenance? What are the future needs of the children?
Undertake an analysis of your property
Analyse your property for physical aspects such as north-facing locations, sun and shade requirements, nosy, noisy neighbours or nearby roads, prevailing winds and views. These considerations will allow you to position the main components of the outdoor leisure and entertaining space.
It's all about DESIGN
The second step of your outdoor space project is the design. Australian landscape architects and designers lead the world in creating beautiful outdoor spaces for homes. Use them and their ability on your project. With the amount of money often spent on creating the perfect outdoor leisure and entertaining space, it's important to get it right the first time and, if planned properly, every weekend can be a holiday away simply by stepping out your back door to escape the pressures of modern life. Use a landscape architect to ensure your money is spent wisely and not wasted on bad design or on a design that won't get an approval granted by attempting DIY. If you decide to employ a landscape architect to design your outdoor leisure and entertaining space, ask at the initial consultation to view their portfolios and ask specific questions about their individual expertise with domestic design, the approvals process and the various aspects that will make up the project (like a swimming pool). It is surprising just how few landscape architects and designers actually specialise in domestic projects and have any real expertise in these areas! At an initial consultation, your designer should sit with you and ask about your likes and dislikes, your lifestyle and requirements for the outdoor leisure and entertaining space, and make suggestions as to what would suit the home, garden, budget and other requirements to ensure the design will work for you. They should listen and make suggestions to develop their ideas to a successful design rather than simply impose their ideas on you. A good designer will also let their clients know when their ideas are not suitable and give them alternatives and help to develop a budget for the overall project. They can then undertake more formal designs, obtain building approval, and provide specifications for all aspects of the project such as swimming pools, cabanas and gardens. In our business we often tender the project and recommend and then organise the pool builder, landscape contractor and all other trades for our clients. Often we undertake the total management of the construction of the project, too. The most important component of the design is to create a finished product that enhances a client's lifestyle and adds immeasurable resale value to their home.
Trends of the main components that make the whole
There are numerous bits that make up the whole, such as swimming pools and spas, water features, entertaining areas, storage areas, outdoor shelters including pergolas and more elaborate cabanas with change rooms, bathroom facilities and outdoor kitchens, children's play equipment and cubby houses that may be incorporated within your beautiful outdoor space in a variety of styles. Below are hints on what to look for and to consider when you review some of the potential components.
Swimming pools
A swimming pool is more often than not the centrepiece of the outdoor leisure and entertaining space. Sometimes the architecture of the home may suggest the style to be used. For instance, classic formal architecture may be best suited to a geometric design incorporating circular swimouts at the ends or central along the length of the pool. Deck fountain sprays add a nice touch to these pools and provide a way to incorporate a simple fountain effect. Jets of water emitted via nozzles aimed at desired locations into the pool can provide a fantastic ephemeral effect. A contemporary-designed home may be best suited to a geometric pool with a simple, clean, hard-line design possibly incorporating an infinity edge where a view beyond the property line is aesthetic, such as a lake, ocean or panoramic hillside to draw the eye and to give a strong architectural element. A tanning shelf at least one metre wide and with a water depth of around 20 centimetres is a newer pool feature and makes a great place for entertaining and relaxing on lounge chairs.
A home located adjacent to surburban bushland areas can accommodate a bush or tropical free-form design where the surrounding area may be visually incorporated. Informal lines, undulating levels and sympathetic "earthy" use of materials are the design components of a native bush pool and garden. Small properties may be best suited to a plunge pool. With a tendency nowadays towards higherdensity living, tougher authority development controls, with private exterior spaces becoming smaller and more people expecting these areas to be utilised in many different ways, a plunge pool affords a cool place for a dip in the summer and a heated spa for winter use. Plunge pools are typically smaller than 6×4 metres, may incorporate swim jets for exercise purposes and often are designed as water features. Lap pools often able to fit into narrow garden areas are another option and are the perfect exercise accessory. Spas may be incorporated into the swimming pool or may be a stand-alone feature. There are numerous quality prefabricated fibreglass spas that can simply be placed in gardens to create the central entertaining area for the home. Overall, there is a clear trend towards simplification. Pool design is becoming less complicated, utilising clean lines and monochromatic colours rather than multi-shapes and mixes. People are looking for value and quality, the innovation in the finer detail. That may include chunky square edges in the paving to create shadowlines around swimming pools, using some unusual coloured micrograin interiors, and creating entertaining and relaxation areas around pools with paving alternatives. Keep in mind also that the rear garden areas of our homes are our private spaces so really any design may do. Have fun with the pool design. Remember — you are the one who will use it. If you want the fluorescent pool tiles, plastic plants and giraffe slide, go for it!
Pool equipment
There is a growing trend for automation for swimming pools so that cleaning, heating, lighting and features such as waterfalls, music, spa jets and blowers are all controlled remotely from within the home or pool cabana by an automated control system that can also interface with the home smart system. LED pool lights that are able to change colour, be used out of water and greatly extend the longevity and sustainability of the light over others currently on the market are becoming popular and will in time replace traditional pool lighting. New pool filtration systems — from microscopic organisms to ocean minerals and oxidation — provide biological water treatment as an alternative to chemical-based systems. Although fairly new in Australia, many of these systems have been utilised for a long time elsewhere and are earmarked as the way of the future as we look to reducing our carbon footprint and making pools more sustainable.
Entertaining areas
Alfresco areas, timber decks or paved entertaining spaces with recessed fire pits are popular for entertaining on cooler evenings. The entertaining area needs to meet the lifestyle needs of the family, complementing the architecture of the house and flexible enough to cater for a variety of functions — from a dinner party for mum and dad's friends to an after-soccer practice get-together for the kids. A well-designed and-built entertaining space does more than enhance a family's lifestyle; it is a way of adding to the re-sale value of a property.
The entry garden
First and last impressions count, so the entry garden is important. It should showcase the front façade of the residence and provide a gradual experience to the home. It is always nicer to enter a residence on a pedestrian pathway rather than a driveway. The journey through the entry garden should be as enjoyable as the final destination and it may incorporate sculpture, planting, lawn and a water feature.
Storage and utility areas
Do you need space to store tools, equipment or a workspace for DIY projects? What about the bins, composting and clothesline areas? Traditionally these spaces are eyesores but with careful planning, a hedge could disguise unsightly bins, and a fenced or gated area to the side of a house could house the clothesline. There are numerous attractive prefabricated sheds and designer clotheslines becoming available on the market; narrow storage cupboards suitable for bikes can be positioned in out-of-the-way places to free up available space for more aesthetic pursuits.
Water
Water use is becoming more sophisticated. Gone are the days of a rock water feature at the rear corner of the swimming pool. Water can be used to incorporate vertical sheets cascading or rippling down a wall into the pool and infinity edges using glass as the edge. A sheet of glass as the vertical wall can create unusual effects with lights or the sun behind. Use natural stone claddings in a variety of textures to run water down or utilise them in conjunction with sheer descents. Stainless-steel water spouts totally concealed in a garden make the water itself the visible feature.
The products
The products that you may wish to incorporate within your outdoor leisure and entertaining space project should be styled to suit the main components that have been decided upon. Research them well. Below are some hints on what to look for and to consider when you review the potential inclusions, features, products and styles for your outdoor leisure and entertaining space.
Flooring materials
There are three main types of flooring materials for outside: soft-fall paving, hard paving and timber decking. Hard paving styles can be broken into two main types — natural products and man-made products. Natural products include Australian sandstones, Himalayan sandstones, basalts, granites, travertines, quartzites and limestones. Man-made products include reconstituted sandstones and limestones, concrete aggregate, terrazzo and tiles (such as porcelain, vitrified, terracotta). The trend has been towards larger unit pavers (600 x 600mm and larger) to rumbled part-filled travertines, flame-finished basalts, shot-sawn lightcoloured sandstones, while textured-finished concrete aggregates have become popular for contemporary projects. Hint: Always wait for the material you want. The most expensive finishes are not always the best but if they are your choice and you can't afford them now, wait, rather than settle for second best. In the long term you'll have no regrets.
Heat and shade
Heat and shade are becoming more of a consideration to most. They are the difference between constantly using an outdoor leisure and entertaining space and using it only when it is not too hot or cold. Shade can be achieved either permanently using a pergola, a fixed tensile structure or with evergreen plantings to create a welcoming canopy or temporarily using a market umbrella, deciduous trees or a retractable awning. A temporary structure such as an umbrella gives the additional option of having sun and heat when wanted. More heat can be provided with space heaters, fire pits or braziers providing just the right amount of warmth and atmosphere to make sitting out beneath the stars an enjoyable experience.
Outdoor furniture
Outdoor furniture selection is becoming one of the more important and personal selections of an outdoor leisure and entertaining space. Furniture can range from simple sun lounges to very elaborate and expensive conversation pieces. The most useful hint for an outdoor leisure and entertaining space is furniture that also helps organise the space. Consider furniture style and how it matches the surroundings, as well as how comfortable and durable it is. Invest in furniture that will survive the elements over time with minimal care and maintenance.
Outdoor kitchens
It is easy to see why outdoor kitchens are fast becoming a must-have item for outdoor living. Like a swimming pool, they provide a gathering place where people naturally gravitate to. If you choose to install an outdoor kitchen, use a landscape architect to ensure it is designed seamlessly within the space, integrating it with other items such as a poolside cabana. Consider a pizza oven, a wok or barbecue, a glass-fronted wine fridge, a stove or oven, microwave, storage cupboards and sinks or a poolside wet bar.
Accessories
Outdoor accessories incorporating soft furnishings and including outdoor bean bags, all-weather futons, cushions and throw rugs together with feature homewares such as scented candles, sculpture, furniture and art individualise an outdoor space and can range from massproduced products to one-off items tailored to your own project.
Soothing sound
You can take your music outside with weatherproof outdoor speaker systems or with a small fountain. Sound can drown out unwanted noise, making your outdoor leisure and entertaining space a restful retreat.
Pool and boundary fencing
Pool fences will continue to be minimised. Either frameless glass so that little is visible or slimline simple-style metal fences are becoming more and more popular. Gone are the days of timber, brushwood or highly decorative fences.
Lighting
Functional lighting is for safety, ensuring that everything is seen and is often achieved with 240-volt flood lights. Ensure placement is high enough so that you do not look into the light source. Mood lighting is achieved by LED or other lowvoltage lighting. It is subtle lighting used to draw attention to a plant or garden features or to create alternating areas of low light and washes of light to create a mood, often to simulate moonlight or star light.
Planting
The general planting styles of formal, native, tropical and contemporary can all be achieved in an outdoor leisure and entertaining space. As a finishing touch, selections for the lawn and plants to be used in the gardens need to be correct. Plants can be used to provide privacy, define your space, create a windbreak, provide shade, and give colour and texture to your exterior space. Select plants for all-year-round appeal and not only for a few weeks of flower colour. The variegated foliage of Mother-in-Law's Tongue (Sansevieria trifasciata), the interesting bark of a Leopard Tree (Caesalpinea ferrea), the swollen sculptural stems of Buddha Belly Bamboo (Bambusa Vulgaris 'Wamin') and the vivid purple foliage of Ajuga reptans 'Bronze Burgundy' can provide all-year-round colour and interest. Outdoor living has always been a focus in Australia and we have a wonderful climate that allows us to spend most of the year outside, enjoying clear, blue-skied sunny days — an escape from a hectic world. Now we are taking it to new levels by ensuring our outdoor leisure and entertaining spaces can be utilised all-year round with a lot of thinking outside of the square to produce a high-quality product more cost efficiently for our biggest investment, our home! John Storch is a landscape architect and proprietor of award-winning company A Total Concept, an established practice specialising in the integration of beautiful and functional swimming pools, gardens and cabanas for projects ranging from simple family homes and elaborate residential properties to boutique and resort-style developments. www.atotalconcept.com.au