Don't let winter trap you indoors. Choose the right outdoor heating option for your space and enjoy alfresco entertaining all year round.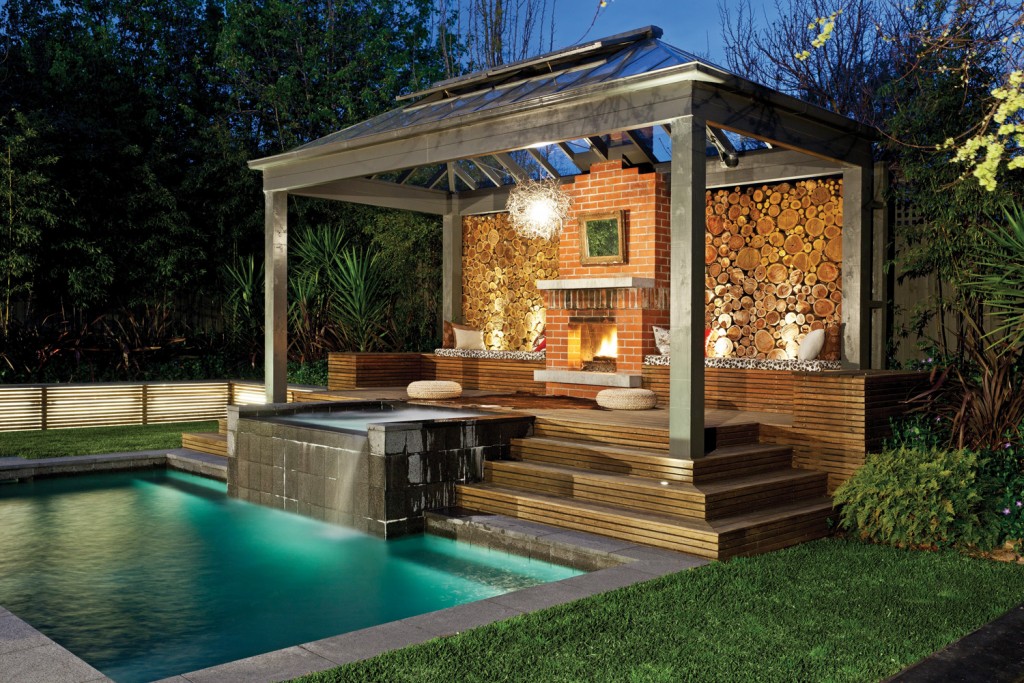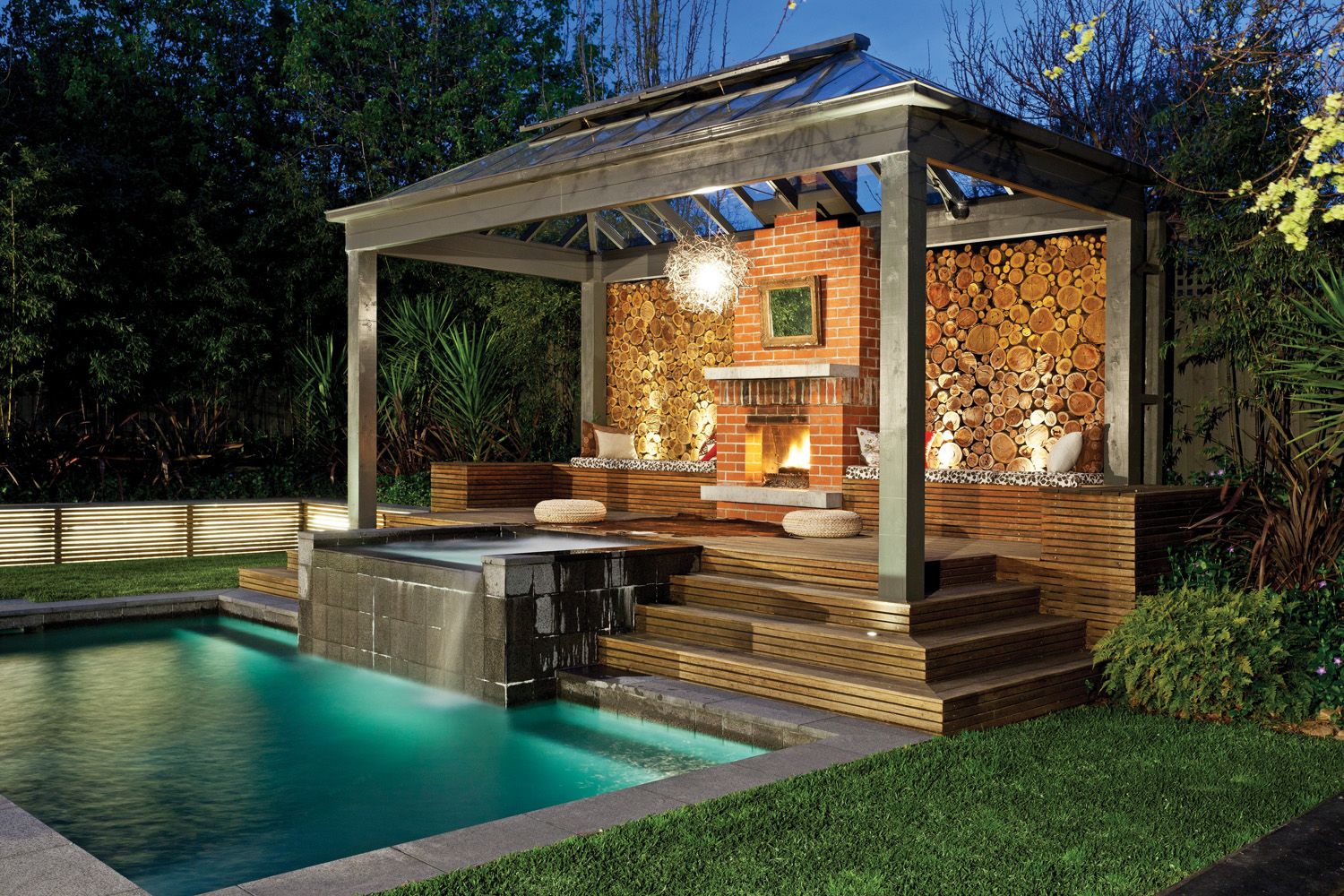 A custom designed and built open wood-burning fireplace. Photo courtesy of Gardenridge.
One of the easiest ways to extend the use of your outdoor room is to install an outdoor heater. With the correct heater for your outside space, you'll find yourself using this living area during the cooler months of the year in comfort. There's a host of heating options on the market, from built-in fireplaces to portable heaters, so there's bound to be something to keep your outdoor room comfortable well into winter.
Outdoor fireplaces
There's nothing more romantic than sitting by a fire in winter, snuggled up with your favourite book and a glass of wine. The options for fireplaces in outdoor rooms are virtually endless and can be built into the room if considered at the design stage of your plans. You can make the fireplace the focal point of the area, with a couple of cushy lounges completing the picture.
If you have a small outdoor area or live in a high-rise, smoke can be a concern as it can get into the home and inconvenience neighbours. However, one of the biggest trends in outdoor heating is the ethanol-fuelled fireplace, which burns clean and smoke-free, allowing it to be used in areas that have little or no ventilation — and you'll feel comfortable knowing you're doing your part for the environment.
Electric heaters
Electric strip radiant heaters are becoming popular these days. It could be because they are generally not highly visible, and because little fingers won't find their way easily to the hot surface of a heater hung up high. These heaters are available in different lengths and can be attached to ceiling beams or walls, and near umbrellas or shade sails.
Radiant/infrared technology works like the sun — it heats whatever is in its path rather than the air itself. There are portable models that can be moved around, but only as far as their power cord will reach. An electric tower heater is a good option when space is a problem, as they are tall rather than wide. Electric tower heaters will need to be positioned close to the mains supply.
EcoSmart Mix Fire Bowls look stunning in a contemporary courtyard or modern garden.
Chimineas and fire pits
We all want our outdoor rooms to look great as well as feel comfortable, and it's important to be able to inject a bit of style and personality into a room wherever possible. If you'd like to have a heater that doubles as a feature in your outdoor living space, perhaps a fire bowl, tower or chiminea will be perfect for you.
Chimineas can be made of cast iron or clay and look great in a rustic-style outdoor setting. They can be moved around with little effort and are good for heating small spaces. Fire bowls and fire pits are also great for heating small areas and come in a variety of looks. Some of the most popular styles include cast-iron stands for a casual, country look or a column structure for a more formal, elegant approach.
Small spaces
There are lots of small-space options to choose from when it comes to heat sources, including bioethanol, gas, wood and electricity. Chimineas, braziers and fire pits (also called hot boxes or fire bowls) are all popular, particularly as they have a rustic charm and create a romantic atmosphere. Many come with a grill so they double as a barbecue if you're really pressed for space.
Gas-fired patio heaters are ideal because they're cheap to run and use a clean fuel source, as do bioethanol fireplaces. Column heaters and table-top heaters are easy to move around and the heat level can be adjusted to suit your comfort level. If you have somewhere to attach them, electric strip wall heaters (which can also be mounted on ceiling beams) are a good option, particularly if the floor space is limited and you don't want a heater cluttering the area.
Gas-fuelled heaters
When it comes to gas heating, there are two choices: the gas patio heater, which has been a staple of many backyards (and outdoor cafés) for many years, or the gas-fuelled fireplace, which replicates the look of a wood-burning fire.
The classic gas patio heater has a sleek silhouette and is typically available in a metal finish or a powder-coated finish. They have safety tip-over switches, adjustable heat output, and some have optional extras, such as an attachable table which is handy for resting drinks on when entertaining. Gas fireplaces have a clean, modern look and are easy to install. The Escea outdoor gas fireplace range, for example, can be installed into a wall or masonry cavity with ease and comes with a choice of fascias and fuel beds so you can tailor the look to suit your outdoor decor. No flue is needed.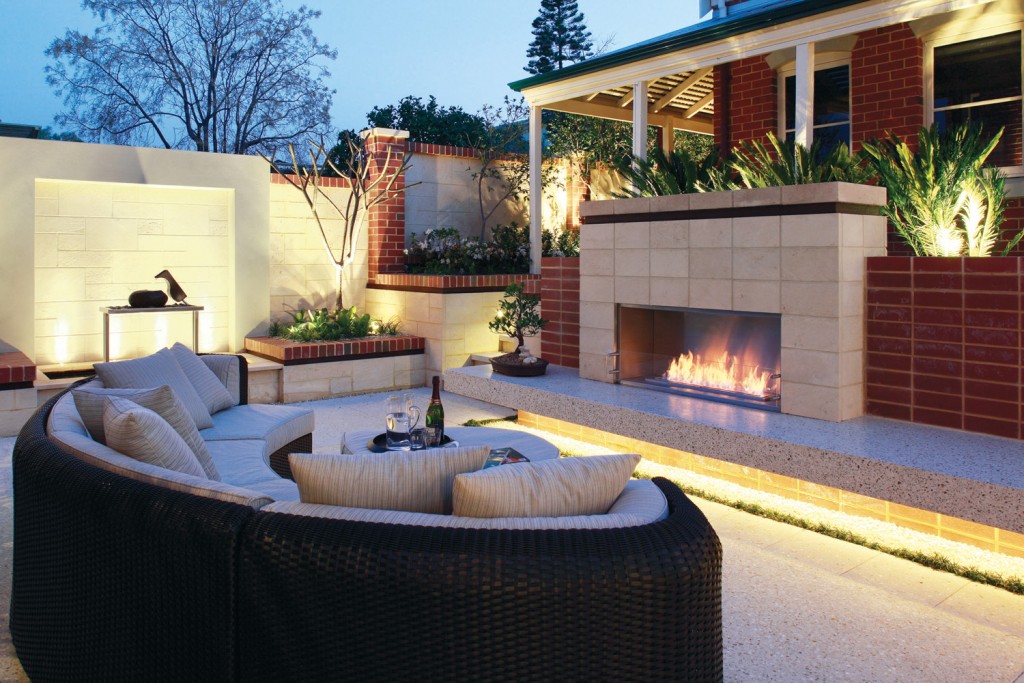 This ethanol fire burner from EcoSmart can be used in both outdoor and indoor spaces.
Bioethanol fireplaces
In recent years, bioethanol outdoor fireplaces have been gaining momentum. A bioethanol fire is an environmentally friendly fire that's an alternative to more traditional sources of heat such as electric, gas or wood-burning fireplaces. These fires operate using an eco-friendly, renewable energy source, which burns clean and produces no harmful emissions.
These fireplaces don't have a flue or any type of utility connection, so they are fully portable and can be moved on a whim or left in a permanent location. They are perfect for many types of alfresco settings, from balconies, terraces, pool decks and patios to courtyards, larger gardens, and outdoor rooms. You do need to be close to get the benefit of the warmth in an open area, but that can be said for any heating in an outdoor space where there isn't a roof or screening to block out breezes.
Patio heaters
Gas patio heaters have long been a favourite. Rather than trying to warm the air, gas heaters produce radiant energy which is absorbed by people and objects. This means energy is not wasted on empty spaces.
They can be fuelled by either LPG (propane) in cylinders or connected to a natural gas supply. You can also find gas patio heaters with integrated lighting or optional extras like clip-on tables.
Another option is the tabletop gas heater. They come with a safety switch that turns the heater off should it be accidentally knocked over, or you can choose one that comes with a table clamp bracket for stability.
Putting safety first
A final word on safety. All heaters require users to adhere to safety guidelines, and children should be supervised at all times around a heater. Some heaters, such as gas patio heaters, require clearance from roof and shade structures. See the manufacturer's instructions.
With patio heaters, choose one with a safety switch that automatically turns off should it tilt or be knocked over. If fuelled by propane, it will need to be placed in a well-ventilated position. If you want an electric heater and you have young children, a wall- or ceiling-mounted heater is wise. With open wood-burning fireplaces, make sure to screen them and ensure good ventilation. As an alternative, use ethanol fireplaces where the flames are usually behind glass and there are no sparks.