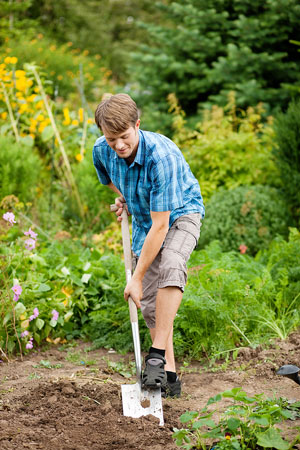 Here are some simple tips to follow when planning a garden makeover
Story: Karen Booth
? Walk around your garden and jot down what you do and don't like. Next, write down what you need your garden to do for you then make your dream garden wish list.
? Armed with your wish list (and an idea of how much you're prepared to spend) consult a garden designer, landscape architect or a landscape contractor to devise a workable plan. A skilled designer can actually save you money by coming up with clever suggestions for maximising space and substituting materials and plants to ensure you achieve your goals cost effectively.
? If going the DIY route, draw a to-scale outline of your existing garden and start sketching. Include the location of proposed garden beds, water features, paved areas, decking, lighting, plants, etc. The design needs to make the best possible use of the available space, highlight attractive views and hide unsightly ones, as well as provide for all your shade, privacy, entertaining and storage needs.
? Create a design that is low maintenance and water wise. For example, you could replace some areas of lawn with paving, gravel or groundcover plants. Consider native plants indigenous to your area because they require less water than introduced species or exotics. When creating new garden beds, group plants with similar watering needs, add water-saving crystals or liquid to the soil before planting, spread a thick layer of organic mulch to reduce evaporation, and install a drip-line irrigation system with a tap timer for more efficient watering. You could also consider the makeover the ideal time to install a tank to harvest rainwater for irrigation needs. There are plenty of tanks that can fit discretely beside, even beneath, your home.
? Even accomplished DIY-ers need expert help with some tasks — such as an electrician to install any outlets or cabling for lighting or water pumps, a licensed irrigator for more extensive sub-surface irrigation systems, a licensed builder for structural works over a certain amount. Before hiring any contractor check that they are properly insured and licensed.
? When working with landscape contractors, have a contract or works agreement in place that clearly spells out, among other things, the work to be undertaken, the contract price, the process for dealing with variations, and what insurances the contractor has in place.
? If building a new deck, pergola, poolside pavilion or conservatory you'll probably need council permission, so check before starting work. And if you live in a heritage listed property, you'll need permission before you can make any external changes.
? A simple makeover involving replacing an area of lawn with paving, creating new garden beds, cladding an old fence and installing a water feature and some lights should take less than a week. If demolition or structural work is involved, add another week or two.