It may have began an act of self-interest, but the long-term impact of 19th-century NSW grazier Thomas Edols' intervention on his massive Burrawang West Station reverberates to the present day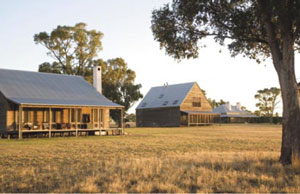 In 1873, Thomas Edols bought a 520,000- acre (227,000-hectare) sheep station between Parkes and Condobolin in the NSW central west and set about establishing one of the benchmark properties of the day- Burrawang West Station. A man of determination and great vision, he supervised an "improvement" program that included hiring a workforce comprising mainly Chinese and local Wiradjuri people to clear more than 50,000 acres (20,200 hectares) of native vegetation, build fences, sink wells and excavate dams. He also supervised the construction of the 101-stand Big Burrawang shearing shed which in its heyday employed more than 250 men, shore 270,000 sheep and sent 5000 bales of wool each year to the railhead at Bathurst, some 200 kilometres away.
However, water was Edols' main preoccupation as without it his empire would surely fail. In the 1890s, he hired a team of workers to construct a canal through his property to ensure permanent water for his sheep. With a team of camels, and labourers wielding picks and shovels, he supervised the construction of a three-kilometre long, 20-metre wide and three-metre deep canal which connected Bumbuggan Creek, an anabranch of the Lachlan River, to the Goobang Creek, which was usually dry four years out of five. By installing weirs on this canal, Edols was able to guarantee a water supply to a vast area of the property and create a permanent lagoon for his family and guests to enjoy. Which was pretty much how Graham Pickles, an international whitegoods and industrial goods distributor, and his wife, Jana, an American-born banker turned marketing executive, found the waterway in 2000 when they became the new owners of the 14,000-acre (5,664-hectare) Burrawang West Station and the property's five-star resort.
Established in 1990 by a Japanese corporation as an Australian retreat for their executives and favoured clients, the resort had been mothballed for several years when Graham and Jana took over. It is now fully operational again, able to accommodate up to 24 guests in its central homestead and 12 guest suites in the Denton Corker Marshall designed outbuildings. With the help of station manager Bill Royal, who has worked on Burrawang West Station for 32 years, the Pickleses run an Angus beef herd of about 1600 cattle and a white Dorper sheep stud that now has 400 purebred ewes and about 2000 crossbred ewes in the commercial stock.
Burrawang West Station has been drought stricken almost constantly since the Pickleses took over, so Graham says it was probably "inevitable" that the man-made diversion came to the attention of NSW State Water, which of course argued that as it wasn't a natural water course, it should be returned to its original state. Graham Pickles took the opposing viewpoint and swung into action, lobbying everyone he could think of at all levels of government and research to preserve the artificial waterway. "I invited anybody who could be persuaded to come and have a look at our creek system," Graham recalls. "As I saw it we had an eco-paradise, a permanent waterway that all manner of birds, fish and animals had depended on for the best part of 120 years. "Most of the water flows back into the Lachlan River system and fortunately I was able to convince the Lachlan Catchment Management Authority (LCMA) that it should be preserved. So that made it possible for us to create a 111-hectare wildlife sanctuary on eight kilometres of the creek and canal."
The LCMA contributed 66 per cent of the $250,000 outlay needed to install the 18km of fencing to enclose the sanctuary and create an off-creek water system of tanks and troughs for the livestock in the adjacent paddocks. The Pickleses contributed the remaining $85,000 and set about eradicating more than 700 thirsty willows that lined the banks of the creek. "In the middle of summer a mature willow uses 1000 litres of water a day, so that's 700,000 litres of water we're saving every day," Graham observes. "Now that the willows are gone and stock isn't trampling the banks, the natural grasses have returned and an understorey of smaller bushes is developing alongside the river gums which have always been there."
As well as attracting all manner of birds (so far they've identified 101 species and they're hopeful of adding 30 more to the list in the next five or so years), scientists evaluating the site have identified 14 different frog species and estimate that the frog population has tripled in the past four years. As well, the NSW Department of Fisheries and the Murray Darling Basin Commission Native Fish Management Strategy are working on carp eradication and a breeding program for endangered species, which include the purple-spotted gudgeon and the olive perchlet.
Dr Dale McNeil, now senior research scientist with the Aquatic Sciences division of the South Australian Research Development Institute, was a catchment planner with the LCMA when he first visited to assess the wetland's value. "Having been all over the catchment I could see its value immediately," he says. "The problem is that most of the natural wetlands in the Lachlan system have been drained or become dry or don't receive flows. The Burrawang refuge is probably the most significant refuge on the Goobang as it is the only place where fish can survive the summer. It just needed rehabilitation to make it function better. " That's not easy when you're juggling the demands of running a profitable property and trying to fund environmental rehabilitation." Adds Graham, "By diverting a very small proportion of our holding, we've been able to protect what amounts to a very fragile bush wetland environment. The knockon effects are unbelievable. The returning native grasses aren't just attracting the bugs that feed the fish, frogs and birds, they're also seeding out in the paddock and growing much more vigorously than the introduced species do. "We've managed to attract a lot of local interest in the project but unfortunately, because of tough times in the pastoral industry, nobody else has yet been able to replicate our efforts. But when good seasons return, I'm sure they will. "Because at the end of the day, when you're in the middle of a drought and it's hot and dusty and unbearable in the paddock, it's in places like our little sanctuary that you come to remember what a beautiful part of the world this is."