This low maintenance pool and landscape follows a classic, yet classy, design that provides ample room for entertaining and relaxing.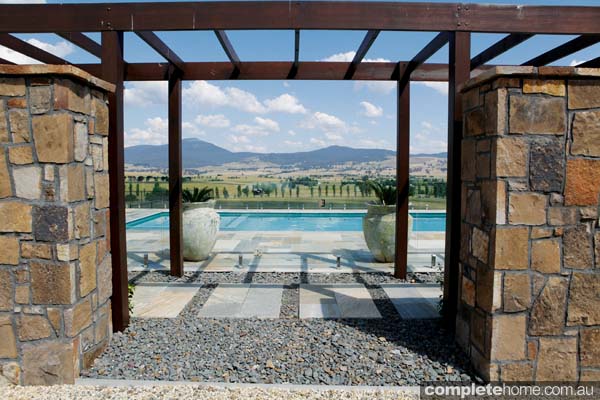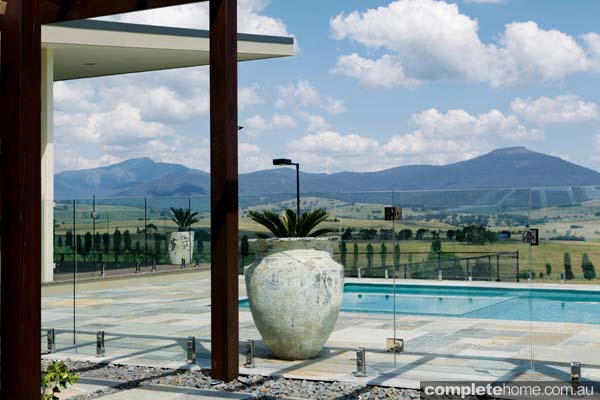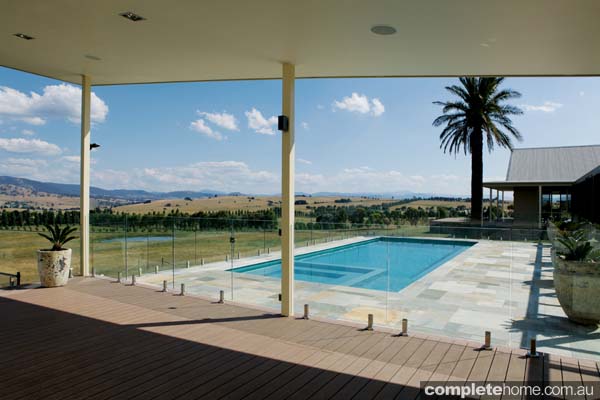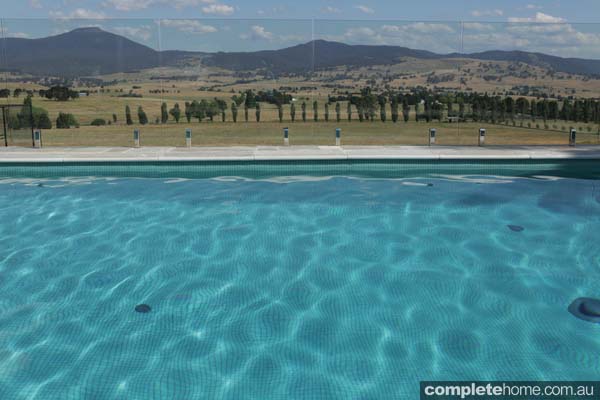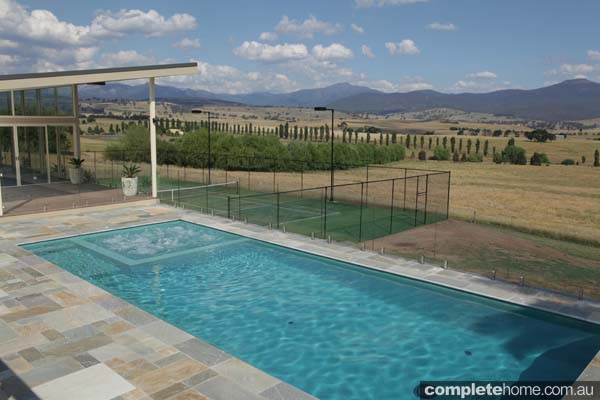 Perched atop a span of elevated land, this classic pool and landscape design takes advantage of the beautiful panoramic outlook of Mount Buller. Coupled with a games room, outdoor kitchen area and a spacious tennis court, this pool and landscape design has ensured that the possibilities are endless for this homeowner.
Sized at 11m x 4.5m with a 3m x 3m spa in the corner, the pool, by Naughtons Pools and Spas, provides ample space for its fitness-enthused owner to swim laps in each day. The paved pool area itself is larger than normal, so the pool owners are not limited when it comes to floor space, making summer pool parties an absolute must. Parents can easily rest comfortably on the shaded deck area while overseeing children frolic in the pool.
The interior of the pool is fully tiled with 20 millimetre glass mosaics, guaranteeing that it glimmers night and day. Naughtons Pools and Spas also included an in-built seat so that the owners can sit in the pool with a glass of wine and relax while taking in the beautiful surroundings. Near-invisible frameless glass fencing ensures that these views are unimpeded while natural stone paving frames the pool area, perfectly complementing the blue of the water and the rural environment.
To guarantee low maintenance, Naughtons Pools and Spas incorporated a plethora of state-of-the art inclusions. The pool and spa is easily controlled by a Pentair Intellitouch system with an indoor control panel and spa side remote. A Sta-rite Intelli-Pro variable speed pump filters the water while a Paramount PCC2000 infloor cleaning system ensures that the pool stays dirt free. Gas and solar heating also make sure that the water maintains an inviting temperature all year round.
At night the pool is illuminated by four Spa Electrics LED lights. Spa jets were also integrated into the structure, adding a touch of luxury to this country pool.
Naughtons Pools and Spas started in 1994 and is now owned by Justin Hatfield, Damian Oliver and Matt Martin who have been in the business for the last six years. Within the last three years Naughtons Pools and Spas have opened a new store and operate out of Shepparton, with an award-winning three pool display centre. They build up to 100 compass fibreglass pools and 20 concrete pools per year, stretching across country Victoria and southern New South Wales. Naughtons Pools and Spas aims to satisfy the requests of all their clients by incorporating energy efficient control systems with timeless designs.
Naughtons Pools and Spas are proud members of SPASA and HIA and have been recognised with many accolades over the years including Best Pool Shop and Best Concrete Pool by a Country Member.
Fact Sheet
Designed and built by Naughtons Pools and Spas
A: 1 Murray Valley Highway, Echuca
A: 8020 Goulburn Valley Highway, Shepparton
P: 03 54 825 186 (Echuca)
P: 03 58 231 170 (Shepparton)
F: 03 54 807 413
E: info@naughtons.com.au
W: www.naughtons.com.au
ABN/CAN: 12 125 342 832
Builder's Licence Number: DB-L29829 (Vic), 207708C (NSW)
From Poolside magazine 41