A  tropical pool design becomes a relaxing space for the entire family.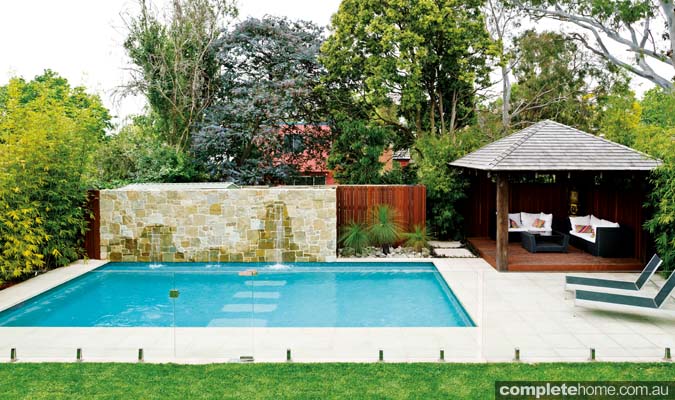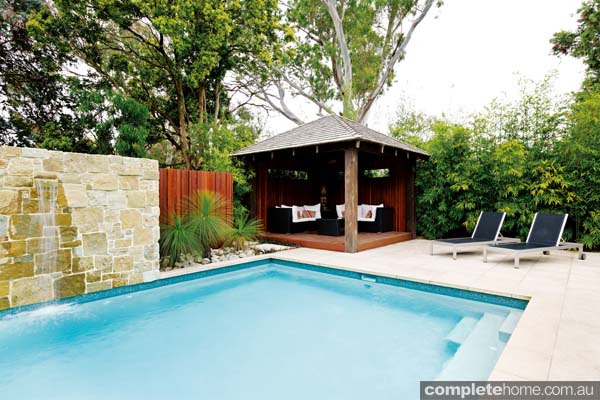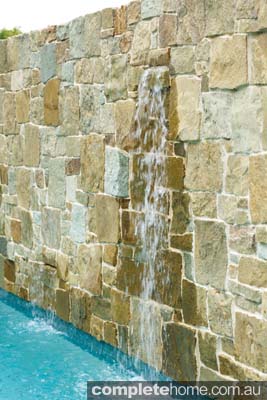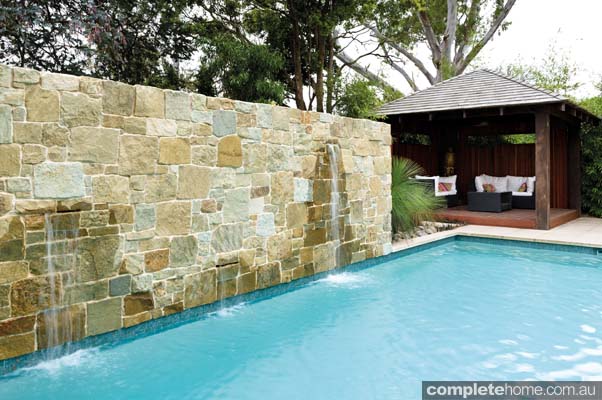 Timeless and functional, this pool not only takes the cake, it takes the whole bakery. Designed by Dean Jones of Neptune Swimming Pools, this tropical pool and landscape area is a visual masterpiece in itself.
The clients came to Neptune Pools with a specific brief in mind – a pool and alfresco area that is both inviting and tranquil and perfectly assimilates with the design of the pre-existing home. In order to gain an idea of space and the surrounds that they would be working with, Neptune Pools went to the proposed site before basing their design process around what they saw and the client's desires.
The stunning feature wall and pergola area work in tandem to produce a peaceful backdrop. Water streams from the wall into the pool, adding to the tranquil atmosphere. White pebbles and tropical green foliage frames the walkway to the cosy pergola where the pool owners can relax with a glass of wine against the colourful outdoor cushions.
It is the way that this pool harmonises with the surrounding landscaping that makes it stand out above the rest. The soft blues and greens perfectly complement the paving and timber detailing, creating a balance of tones.
A  Paramount PCC2000 infloor cleaning system and Chemigem and Saltigem chlorinators take the hassle out of maintenance and keep the pool safe and inviting for an afternoon dip – without the stress of having to clean it.
Neptune Swimming Pools place a great importance on understanding their client's needs and lifestyle. Before every project, the team at Neptune Swimming Pools will discuss all design elements with their client until they can picture their dream pool. Neptune Pools then use their skill and creativity to enhance the client's ideas and come up with a beautiful and practical design solution.
Neptune Pools was started by John Van Der Haar in 1959 and remains within the family today. Each year Neptune Pools construct approximately 60 domestic pools, as well as four-five major commercial swimming pool projects throughout Victoria.
Neptune Pools are founding members of SPASA and MBA. Over the years they have won many awards including Gold Award for Best Traditional Pool, Best Pool Under $100K and a Highly Commended Award for most Innovative Pool.
Fact Sheet
Designed and built by Neptune Swimming Pools
A: 146 New Street, Ringwood Vic 3134
P: 03 9870 5282
E: enquiries@neptunepools.com.au
W: www.neptunepools.com.au
ABN/ACN: 72653305201
Builder's Licence Number: DBL16222