Boasting two impressive water features, this award-winning courtyard pool design and outdoor entertaining area ticks all the boxes.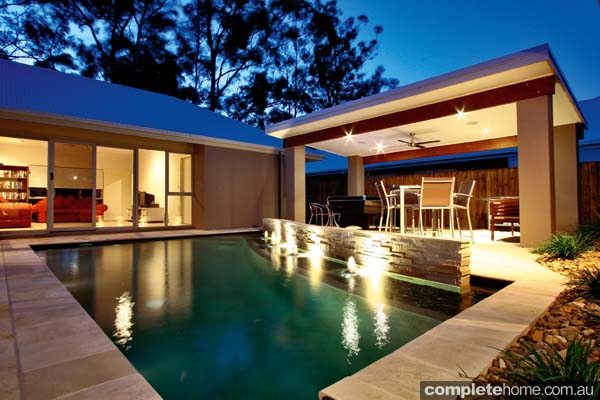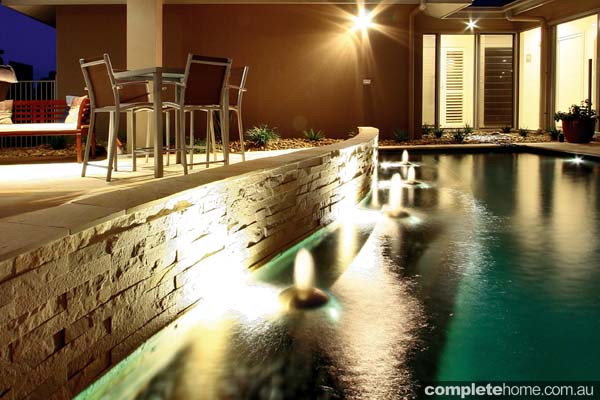 When the owners of this modestly-sized courtyard approached Majestic Pools & Landscapes to design and build their dream pool and outdoor entertaining area, they asked for something special: the inclusion of water features and the creation of a resort-style ambience.
The entertaining area is a covered gazebo, located next to the pool but separate from the house, creating a sense of destination. This is where the owners barbecue, dine and play billiards.
The main water feature, which has a two-way effect, was integrated into the design of the pool, influencing its eventual shape. On the house side, the curvaceous water feature sits just below the surface of the pool and is comprised of four silver balls placed upon a ledge. Each silver ball emits a jet of water and is up lit at night for added effect.
The ledge is covered in loose river pebble for textural and visual interest and the serpentine wall that separates it from the gazebo is clad in stacked stone. The water completely surrounds this wall, making it a feature that can be enjoyed from both sides.
A second water feature, at the end of the pool farthest from the house, is comprised of a stainless-steel tray topped with river pebble. This is a much more subtle feature, which recirculates water from the pool, creating a trickle effect through the coping.
The completed project not only impressed the owners, it caught the eye of the judges of the SPASA Queensland Awards of Excellence, winning three awards: Domestic Water Feature Connected to a Swimming Pool, Domestic Water Feature Not Used for Swimming, and Domestic Concrete Pool Traditional or Geometric over $35,001 up to $75,000.
As this award-winning project proves, Majestic Pools & Landscapes can tailor — and build — a design to suit your individual needs. While the company specialises in the design and construction of concrete swimming pools, building hundreds of pools each year, the Majestic design team is renowned for its diversity so they can tackle any project — big or small.
Majestic Pools & Landscapes, majesticpools.com.au
Photography by Andrew Jakovac