Paradise is just a few steps away for the lucky owners of this spectacular tropical swimming pool design.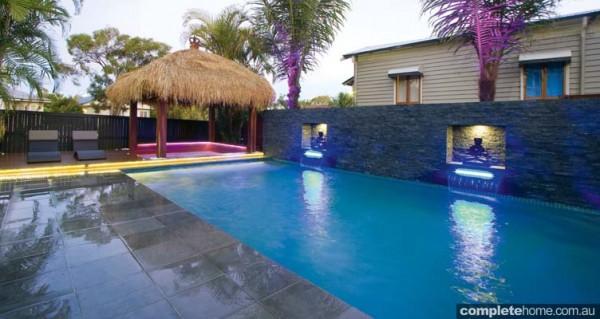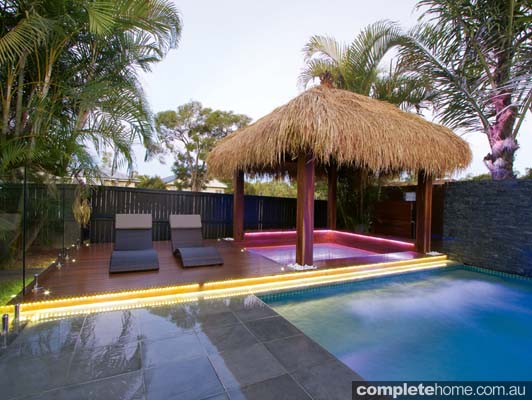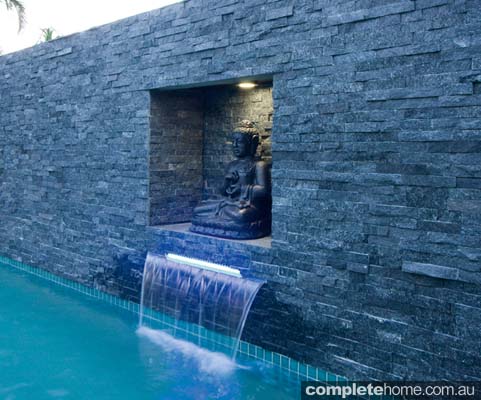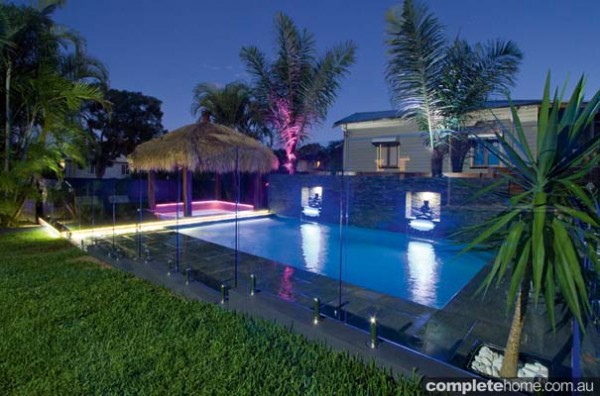 Malibu Pools has brought paradise to this Brisbane backyard with a tropical resort-inspired pool. The pool owner wanted the resort ambience they experienced recently at a tropical resort destination, and Malibu Pools' innovative approach has ensured the family can now holiday at home every day.
The feature wall is a focal point of the design, with its black quartzite panels inspired by the cliffs seen in the gulf of Thailand, recessed stacked-stone panels, and intriguing statues. The statues are highlighted by feature lighting for entertaining at night and sit above stainless-steel water blades, which create the entrancing waterfall effect.
The use of natural basalt stone in the coping and pool surrounds enhances the tropical feel and is complemented by glossy green tiles around the waterline, as well as an internal pool surface finished in polished ocean pebble with a green glass bead additive. The result is a spectacular pool fit for any tropical paradise.
The hardwood pool hut, with its thatched roof and timber decking, completes the image of a tropical beachside resort, providing usable areas for relaxation day or night. Frameless toughened glass fencing ensures there are no distractions when viewing the pool, and spa blowers on the play bench near the pool hut create a fun and relaxing space.
The pool is impressively environmentally friendly, with all its energy systems — including lighting — powered by rooftop solar panels, making it energy-neutral. As well as having feature lighting, the pool is illuminated by energy-efficient, colour-changing LED lights, which generate a magical poolside ambience.
The pool uses the Enviro-Swim System, which is unique to Malibu Pools and provides users with chemical-free, freshwater pools. Without harsh chemicals, the pool is friendlier to the environment, the family and the hip pocket. It also uses water-harvesting systems to reduce water consumption. All pool cleaning and operating systems are controlled by the latest in remote-control technology for efficiency and ease of use.
Malibu Pools, malibupools.com.au