Simplicity can be bliss. We've selected here our top picks for the simplest and most effective pool designs. Feast your eyes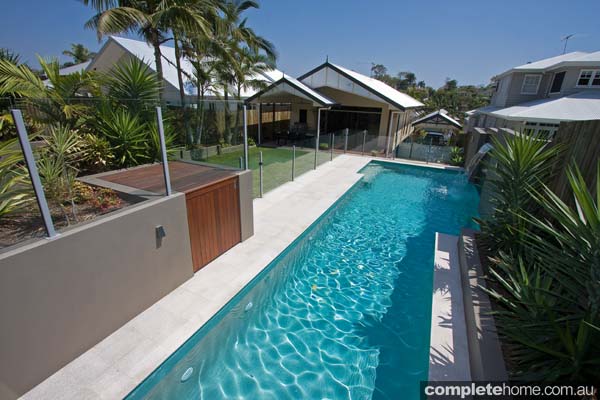 A long, clear lap pool – perfect for families, with plenty of surrounding space for relaxing. We love the addition of the waterfall feature – it's just enough to create a simple and elegant design. Timelessness is key in this design, using classic ocean-blue glass beads for the pool interior and cyan-blue glass waterline pool tiles – contrasted against the crisp white coping and tiles, it's an effective use of these beautiful materials. The oceanic blue complements the resort-like atmosphere of the backyard, and creates a gorgeous end product.
A beautiful geometric design, located in close proximity of the home – to enjoy the waterside, the owner doesn't even have to leave the veranda. Created to complement the backdrop of the mountains and bushland, this pool uses resort-style wet-steps straight from the verandah. It also utilises glass fencing as not to disrupt the gorgeous views. We especially love the way it frames the wide country skies above.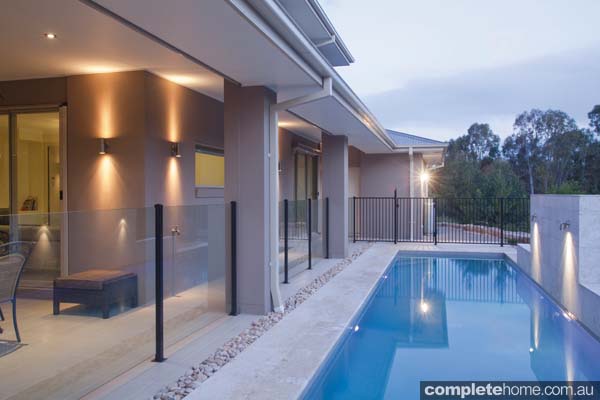 Designed to fit into a narrow space, this pool takes a backseat and lets the beautiful home design carry across. This beautiful and integrated pool design is also eco-friendly: all the systems running the pool and water feature are operated using the solar energy from the panels installed on the roof. The lighting also plays into this – using energy efficient LED lights, so the owners can light up the chemical-free pool without concern for the environmental impact. The use of natural stone tiling and the pebble features connects the design perfectly to the natural bush setting that surrounds it.
Written by Lauren Farquhar