This contemporary pool design creates a balance between functionality and aesthetic appeal by mimicking a resort-style pool with a clean and uncluttered design.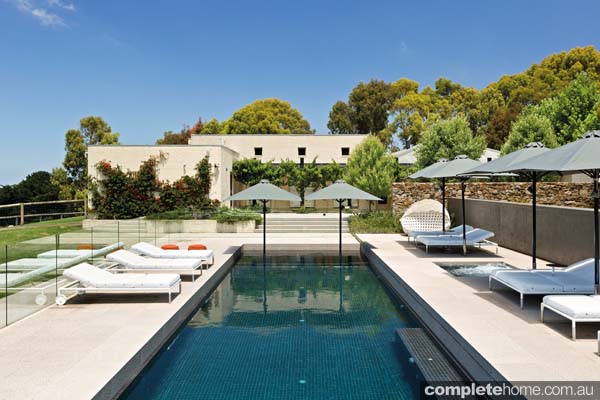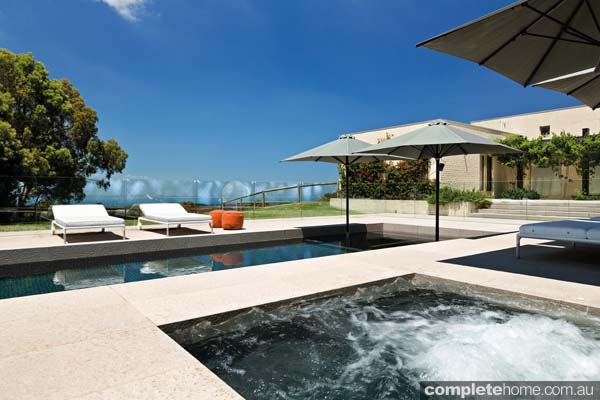 Situated in a beautiful rural setting of Melbourne's rural Mornington Peninsula, this spectacular pool is in the ideal location for maximum enjoyment of the panoramic views of Philip Island and Westernport Bay.
When one views this pool they can appreciate its contemporary nature and clean, uncluttered surrounds. Designed by Aquarius Pools in conjunction with Steve Jolsen of Jolsen Architects, this pool allows a balance between functionality and aesthetic appeal. Sized at 17.5 metres, it is sizable enough for the homeowners to swim laps and has plenty of space for entertaining. To promote a resort-like atmosphere, Aquarius cleverly incorporated two custom made stainless steel umbrella niches in the shallow end of the pool. The homeowners can easily laze in the pool or on the deckchairs while sipping on a cocktail and enjoying the beautiful ripples of the water.
To guarantee optimum aesthetics, the pool and surrounds were painstakingly set amongst full pavers rather than pavers that were cut for size. Aquarius Pools achieved this through close collaboration between themselves and the builder Fred Sanders.
Aquarius Pools took into account the clients' lifestyle and future needs when designing this pool. They then applied the latest innovations in technology to achieve a pool that will be enjoyed for many years. To ensure a safe and enjoyable swimming experience and easy maintenance Aquarius Pools installed a Waterco 40-inch sand filter and a PCC2000 infloor cleaning system. An Aqualink in-house pool and spa control system also provides functionality and convenience right at the homeowners' fingertips.
The pool is also gentle on the environment. Aquarius incorporated a fully automated slatted retractable Sunbather cover to minimise evaporation and assist with temperature maintenance while a 100,000-litre water tank and Sunbather solar heating minimise the homeowner's carbon footprint.
Managing director of Aquarius Pools, Chris Jackson, runs the company started by his family in 1979. He is dedicated to producing pools that will provide a lifetime of satisfaction for every customer. Aquarius Pools takes pride in ensuring that every client's lifestyle requirements are matched with a pool that they can enjoy now and in the future.
Aquarius Pools builds 20 high quality architectural concrete swimming pools on the Mornington Peninsula, eastern and bayside suburbs each year. The company is a member of SPASA Victoria and has been recognised for their beautifully designed and fully functional pools with multiple accolades. In 2012 they were commended by SPASA Victoria with Pool of the Year, gold for Best Residential Pool Spa & Landscape Combination, gold for Best Commercial Pool and Highly Commended in the Best Natural Pool category. The company was also honoured at the 2012 SPASA National Awards with gold awards in the Best Commercial Pool over $250,000 category and the Sustainable Pool category.
Project details
Built by Aquarius Pools
A: 1/6 Progress Street, Mornington Vic 3931
P: 03 5975 1314
F: 03 5975 3839
E: info@aquariuspools.net.au
W: www.aquariuspools.net.au
ABN: 18467939250
Builder's licence number: DBL1312, DBU31808
Poolside Magazine 41