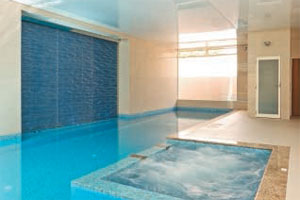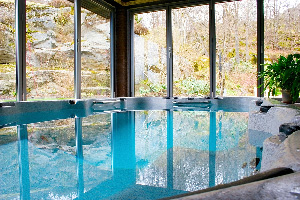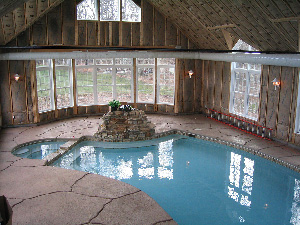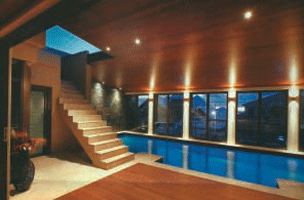 If you live in a cooler area or don't like the idea of devoting so much time to pool maintenance and cleaning, there's a lot to be said for indoor pools
Enjoy year-round swimming 
While an outdoor pool is great in summer, a heating system will need to be installed for it to be usable in the cooler months and even then, it probably won't be very appealing, depending on the weather conditions. "Although you can heat an outdoor pool at a greater cost in Melbourne, for example, the cold winter temperatures are not conducive to swimming," said Dean Jones, the Operations Manager at Neptune Swimming Pools in Melbourne. "Indoor pools are particularly good for all-year action, whether that be for swimming laps or gentle aquatic exercise, relaxation or hydrotherapy. They can also be a great way to entertain kids during long, wet winters" And if you have space, it'd be a great idea to integrate a gym, sauna and/or spa into you indoor pool facility. Just imagine how good it would to jump straight off the treadmill into the pool or relaxing into the spa after a weights session. Dean says that pretty much anything is possible when it comes to indoor pool design. And while he admits that it's easier to start from scratch, if you have an indoor room that you'd like to see transformed into a pool area, he suggests thinking outside the box and enlisting the help of a designer and/or builder. They can help you manage the whole project, including getting council approval and organising the plumbing, wiring, heating and pool cleaning systems.
The indoor-outdoor experience
Whether your indoor pool facility is attached to your house or detached and integrated into your garden will influence how you decide to style your space. For example, if your indoor pool is located in a separate building to your home, you would probably be more likely to take your cues from the landscape, perhaps using natural materials such as timber for the flooring and steps. However, if your indoor pool is attached to your home, you'll probably draw inspiration from your home to so that there is a seamless connection between the two spaces. And if your pool is attached to your house, you'll have to carefully consider its access points: you don't really want people traipsing through your lounge room after they've been in the pool. There is also orientation to think about: if you want indoor-outdoor versatility, you might want to position your pool so that it has a view of your garden or some distant vista. "A great addition to any indoor pool is the inclusion of some large panelled, opening doors," said Dean. "These allow the room to be opened in summer for the enjoyment of an indoor-outdoor pool. The same can be achieved with a sliding section of roof."
Practical considerations 
Humidity is a problem that you'll have to do decide to install an indoor pool: it is not just uncomfortable; if left uncontrolled, it can damage many building materials including gypsum, wood and metal, and it also promotes the growth of unhealthy, unsightly mould and mildew. The best thing to do is install a dehumidification system – a device specifically designed to draw moisture from the air and dry it out. Dean also suggested investing in an automated pool cover to minimise condensation. These might seem like expensive, up-front costs, but they will protect the value of your building so they are worth considering in the early stages of the design and installation processes.
Less maintenance
Cleaning an indoor pool usually requires a lot less effort than an outdoor pool because you don't have to deal with debris from trees and plants, but you can't scratch it off your maintenance list entirely. Other factors to consider include dust from the building, which eventually settle of the floor of the pool. Dean said that an in-floor cleaning or circulation system is the best way to combat this. 
You'll also have to treat your indoor pool, just as you would any other pool, to maintain healthy, clear water. "On indoor pools, we generally use monitored chlorine and pH adjustment systems [to] control the amount of chlorine going into the water [because] with no UV rays to break down the chlorine, it's very important not to over-chlorinate," explained Dean.