Luxurious additions coupled with functional features make this the ultimate resort-style pool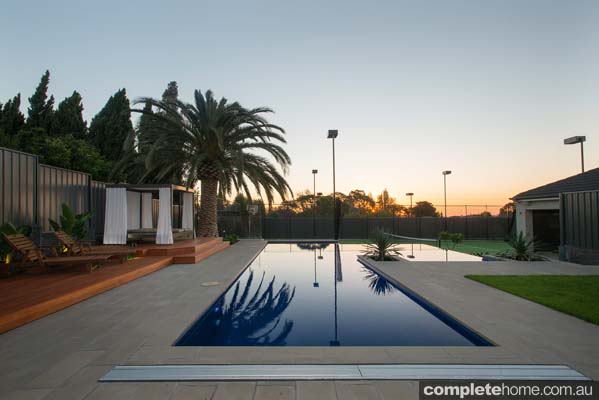 This stunning pool encapsulates resort-style living while ensuring family members of all ages can enjoy its outstanding features. Designed and built in collaboration with the home owners, Daydream Pools and Spas has created the perfect family haven without compromising on luxury.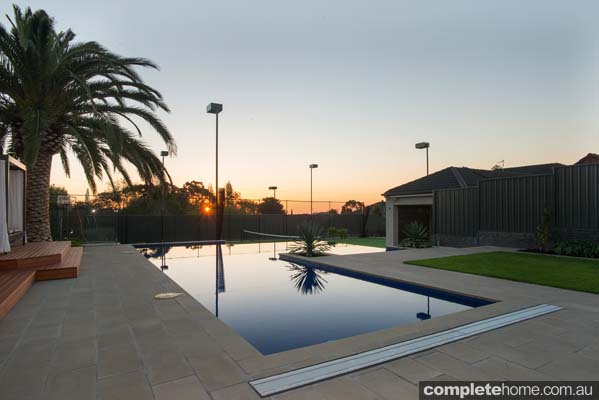 Positioned in a split-level backyard, the outdoor area has been expertly crafted to ensure optimal usage of space. The pool is built on the level above the tennis court with a glamorous negative edge taking full advantage of the backyard's impressive aesthetics. As swimmers descend into the pool, the water spills over an impeccably mosaic-tiled wall facing the tennis court before reaching river rocks and a lush garden bed on the lower level. The water is then cleverly circulated back into the pool.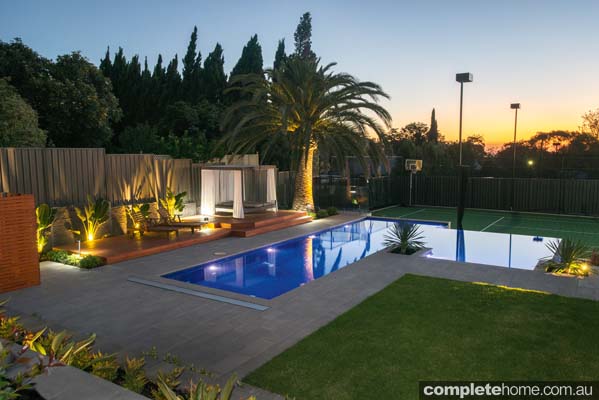 The space is imbued with a tranquil ambiance in keeping with the resort-style look. Sandstone pavers and a timber deck set off the vibrant colours of the pool interior, coming together to create a lavish and sensually inviting retreat for the pool owners.
The ultimate in family living, this pool provides swimming options for all levels. Adjoining the main pool is a 3m x 4m beach area for the owners' young children to enjoy, allowing them the opportunity to familiarise themselves with water safety before comfortably graduating to the main pool. In-built garden beds in the beach space add to the pool's welcoming holiday feel.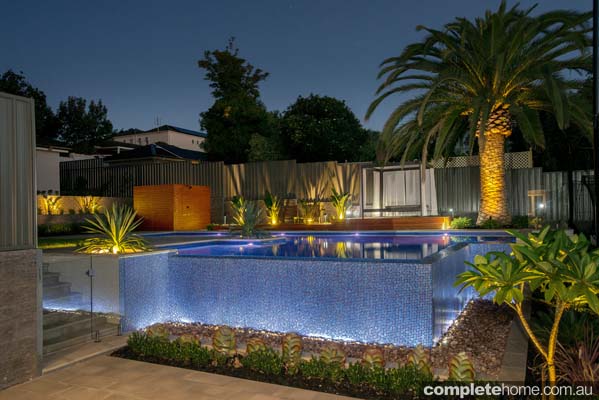 The team at Daydream Pools and Spas take no shortcuts when it comes to quality, one of the many reasons these pool owners made the choice to use their services for a second time. Featuring both solar and gas heating systems by Zane and Waterco Mastertemp respectively, as well as a Zodiac V4 cleaning system, when you choose Daydream Pools and Spas you are ensured functionality as well as style. Dripping with appeal, this pool is perfect for those drawn to the finer things in life, precious time spent with the family included.
At a glance
HOUSE BUILT BY Medallion Homes
Heating Solar system by Zane and gas heater by Waterco Mastertemp
Cleaning Zodiac V4
Filtration Pumps and chlorination by Astral / Hurlcon, Waterco sand filter
Coping ECO Outdoor Living pool coping
Tiles Kalah Pty Ltd
Paving ECO Outdoor Living
Lighting Pool lights are Spa Electrics flush-mounted multi-colour
Fence Edge Water Glass Solutions
Company profile
Daydream Pools And Spas PO Box 96, Salisbury North, SA 5108
Phone Dave 0417 874 235 or Danny 0414 719 170
Email info@daydreampoolandspas.com.au
Originally from Poolside Showcase magazine, Volume 22