With incredible views and mesmerising design, this stunning pool by Daydream Pools & Spas is absolutely breathtaking.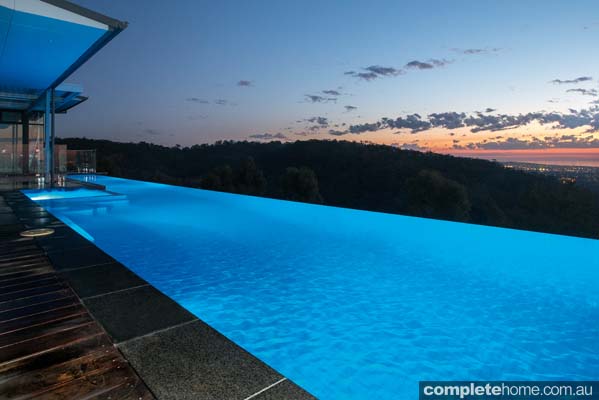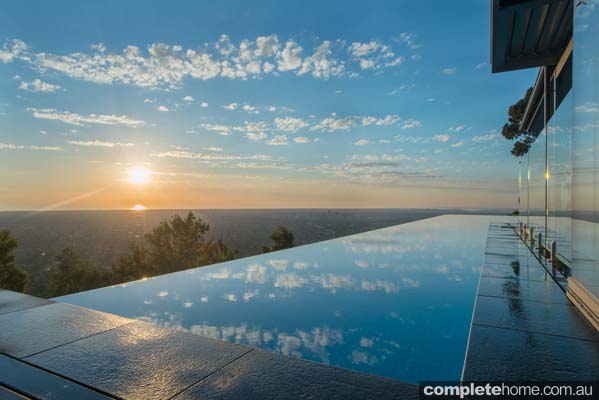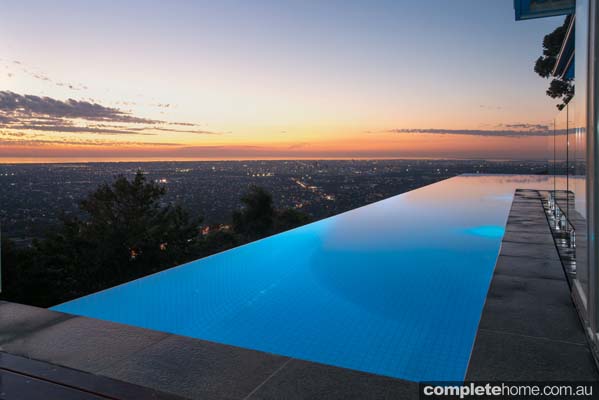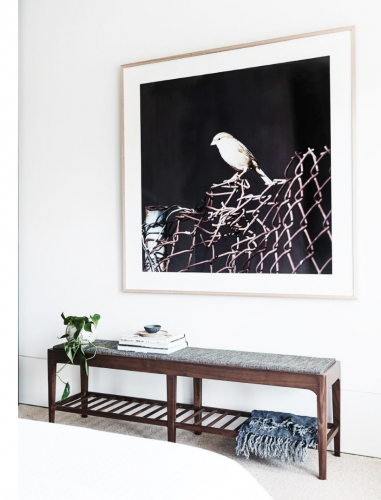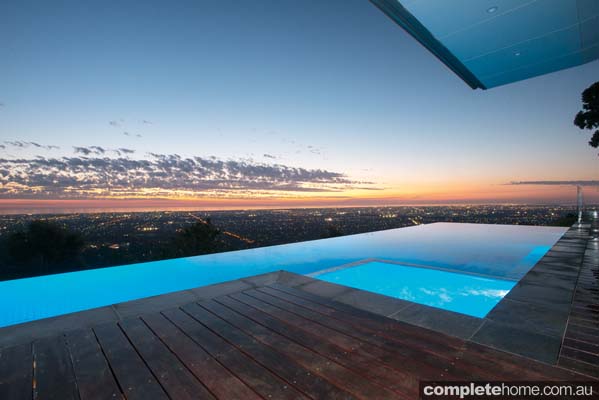 The owner of this pool approached Daydream Pool and Spas requesting an award-winning design and they were given just that. The featured pool won three gold awards at the State SPASA Awards including Pool of the Year in South Australia, Gold for over $100,000 and Gold for best lap pool.
Just by looking at the pool it is clear that this is a truly exceptional design. Set on the side of a hill, overlooking the city of Adelaide with a view extending to the sea, the design encompasses pure class. The pool is a grand 20m in length with a 24m negative wet edge that drapes over the side.
The design was created for both lap swimming and family enjoyment, with one end 2m in width and the other widening to 4m and the spa set in the middle. The internal spa and negative edge was built at the same height so that when in use for conventional purposes, a button can be pressed on the PC Aqualine that drops the pool 50mm into the balance tank. A 2m seat with two spa jets in the entry step was also included for a luxurious entry point.
The site itself was a challenge as it is set on a hillside; access was difficult and piers had to be installed to prevent the pool from ever sliding down onto the freeway below. Two filtration systems also had to be installed, one for the pool and spa, the other for the balance tank. This was to avoid the gully winds blowing up the hill and throwing water around the site.
Despite these challenges, the result is a stunning pool that the owners use proudly. It also shows the professional service of Daydream Pool and Spas.
Conceived by Dave Malone and Danny Park, both with more than 20 years of experience in the pool industry, Daydream Pool and Spas has been in operation for eight years. The company builds between 40 and 50 pools a year and undertakes five to 10 renovations around South Australia, specialising in negative-edge pools.
The company takes pride in delivering pools of exceptional quality, with sincere attention to detail and customer service. Daydream Pool and Spas is a member of SPASA and is South Australia's most awarded concrete builder over its lifetime, with more than50 state awards and eight national awards.
At a glance
Heating: Viron gas heater
Cleaning: Zodiac V4
Filtration: Zodiac with Davey chlorinators
Pavers: Granite drop-nose coping
Tiles: Tiles on Bradman
Fact sheet
Pool built by Daydream Pool and Spas
PO Box 96, Salisbury North SA 5108
Phone Dave — 0417 874 235, Danny — 0414 719 170
Email info@daydreampoolandspas.com.au
Website daydreampoolandspas.com.au
Originally from Poolside magazine, Volume 44