Aquarius Pools offer a fresh and sophisticated approach with this unique pool design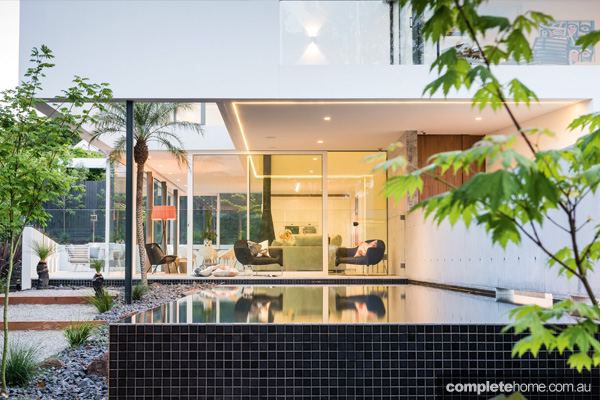 Building a pool in conjunction with a house ensures the end result will be nothing short of stunning. This is exactly how this sophisticated pool by Aquarius Pools came to be, as it was built to complement the contemporary Toorak home. The project required some complex engineering and a high degree of collaboration between the architect, Steven Mittelman of SVMSTUDIO, the house builder, Bayside Construct, and Aquarius Pools, as the pool abuts a basement making it difficult to construct. All involved worked tirelessly together to guarantee a flawless final product that would exude luxury.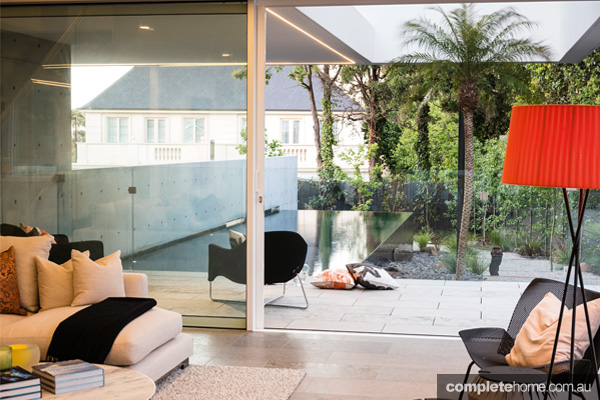 A screen wall sits between the pool and entry pond providing privacy to the swimmers and an inviting entry to the home. An overflow wet-edge wall ties the pool and pond together enabling a glimpse of what lies ahead upon entering the property. The pool itself is a sizeable, rectangular shape that harbours onto the living room with frameless glass fencing ensuring the pool and luscious outdoor area are fully visible. This is especially pleasing when the pool is lit at night by the Spa Electric LED lights, adding a majestic feature to the home.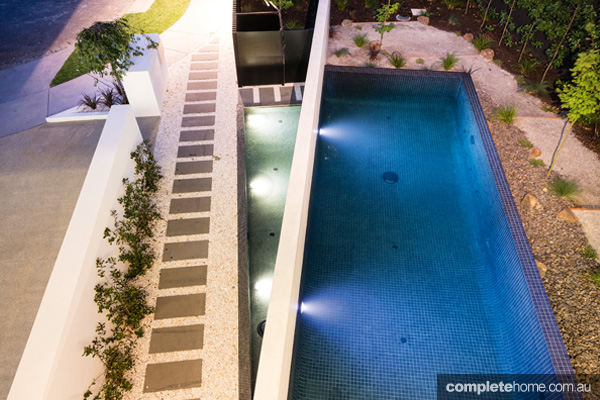 Blue mosaic tiles by Coulson Tiles have been fitted in the pool with aqua Bisazza glass mosaics in the entry pond for a striking contrast of colour. Low-maintenance features are standard for all Aquarius Pools and this pool is no exception. A PCC 2000 pool-cleaning system has been fitted into the pool along with an Astral Pool 36in filter. Solar heating and an IntelliFlo variable speed pump has also been included, which saves an enormous amount of electricity.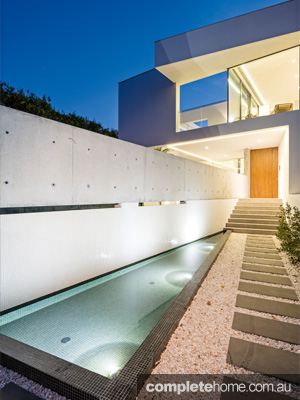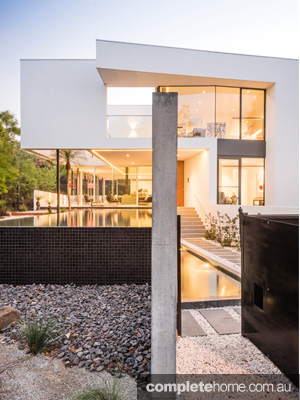 With more than 30 years in the business, Aquarius Pools, run by managing director, Chris Jackson, is dedicated to producing pools that will provide a lifetime of satisfaction for every customer. nAquarius Pools builds around 25 high-quality swimming pools on the Mornington Peninsula, and eastern and bayside Victorian suburbs each year. The company is a member of SPASA Victoria and has been recognised for its superbly designed and fully functional pools with multiple accolades.
At a glance
Heating: Viron gas heater, Sunbather premium
solar heating
Cleaning: PCC 2000
Filtration: Astral Pool 36in filter
Tiles: 48mm x 48mm mosaics from Coulson Tiles in the pool, Bisazza glass mosaics in the entry pool
Lighting: Spa Electrics LEDs
Fence: Glass fencing
House built by: Bayside Construct
Fact Sheet
Pool built by: Aquarius Pools
Pool designed by: Architect Steven
House built by: Bayside Construct
1/6 Progress Street, Mornington Vic 3931
03 5975 1314
info@aquariuspools.com.au 
www.aquariuspools.com.au
Originally from Poolside Display, Volume 45