This perfectly positioned modern plunge pool makes indoor-outdoor entertaining a joy.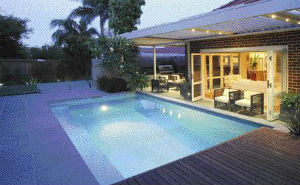 The swimming pool has always been a gathering point when friends drop by, so ensuring it's designed with outdoor entertaining in mind has always been important. So, too, has creating a strong sense of connection with the house so that the pool and the home work as an integrated whole.
In recent years, pool designers and builders have had to factor in another element: the outdoor room, whether a stand-alone poolside structure such as a cabana or an outdoor room integrated into the design of the home itself.
When Australian Pool Company was approached to install a pool directly behind this Sydney home, ensuring a seamless flow between the pool and the outdoor rooms was essential. The result is a wonderfully relaxed and private outdoor retreat, its focal point a modern and extremely functional plunge pool which doubles as a large spa.
On two sides of the pool there is an inbuilt ledge which provides ample seating for family and guests. Behind the pool is a wall clad in natural split stone. This operates as a feature wall and as the backdrop for an outdoor shower — another design element which is becoming as popular as the outdoor room. Elsewhere in the garden, a blade wall is clad in the same stone to create sense of continuity.
T he pool surround features large-format concrete pavers in a sophisticated charcoal colour and to one side of the pool sits a slightly elevated timber deck for lounging about.
T he pool is positioned so that the view of it and the feature wall behind it can be enjoyed when the owners throw open the doors to their indoor-outdoor living room. To ensure an unobstructed view, Australian Pool Company installed frameless glass fencing.
T o one side of the indoor-outdoor room is a covered outdoor entertaining area equipped with a barbecue and furnished with comfortable, modern outdoor furniture. This area is just a step or two away from the pool and offers swimmers somewhere cool to relax between dips.
While this project was not without its challenges, chief among them the difficulties posed by the sloping nature of the block, the elegant simplicity of the finished result belies the design and construction ingenuity that went into its creation. 
Project Details:
Pool design and construction by Australian Pool Company.
For more information visit www.australianpools.com.au