Adding spectacular quality to a family pool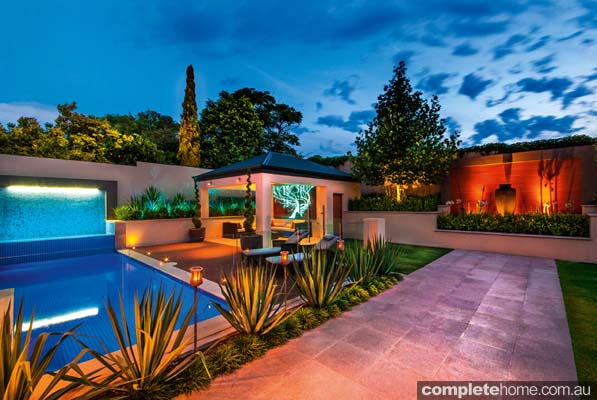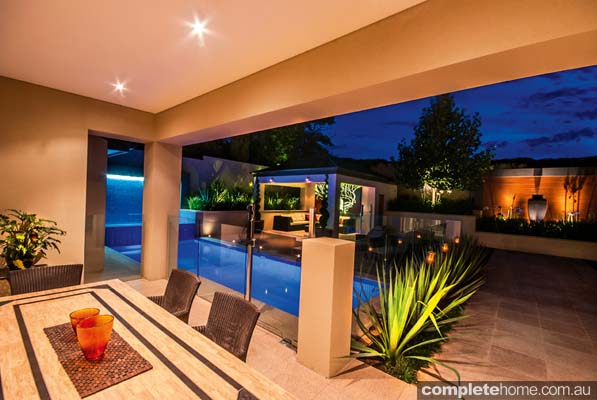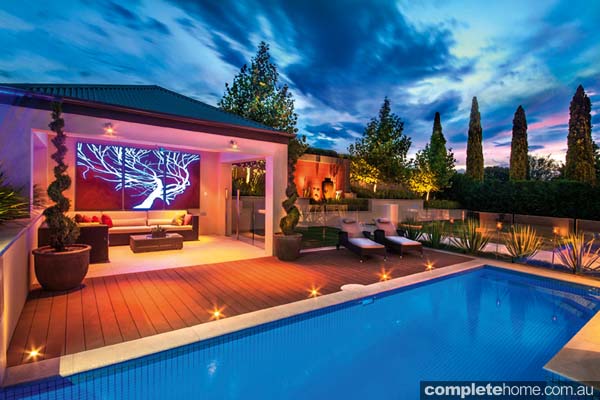 Stepping into this dazzling backyard by The Galvin Group, you are greeted by the sparkling pool and water feature sitting beside the lavish pavilion and sun deck. Almost ethereal in its presence, the pool sits centrepiece in this place of fun and relaxation that can be enjoyed by the entire family year-round.
The owners requested a landscape design that would express feelings of opulence and spaciousness in their yard while providing a safe and enjoyable area for their young family to enjoy. After comprehensive consultation from design director Alex Pritchard and construction supervision from managing director Rob Galvin, The Galvin Group created this luxurious and modern resort-style backyard, exceeding expectations of beauty and functionality.
Custom exfoliated granite pavers strike a path to the pavilion and pool, with frameless glass fencing providing both safety and visual appeal. Bisazza glass pool mosaics adorn the back-wall water feature, with LED strip lighting bringing the cascade to life at night.
The shaded pavilion complements the pool by providing a space where the family can relax and marvel at their beautiful surroundings. With a storage room for pool equipment and utilities cleverly hidden behind the structure, the area is easily kept clean and tidy. The raised boundary garden bed, lush planting and large grassed area complete the picture, giving the owners the perfect place for their young family to live and play.
The team at The Galvin Group strive to design and build beautiful and luxurious spaces that seamlessly blend from indoors to out. The team design and construct all over South Australia, specialising in high-end outdoor living areas, swimming pools, home renovations and new home designs. With more than 30 years of experience, the team has developed expertise, experience and knowledge that great design needs to not only look fantastic, but also be practical and suitable for each client's individual needs.
The Galvin Group is a member of the Master Builders Association.
Project details:
Heating: Solar pool heating
Coping: Custom polished granite coping
Tiles: Bisazza glass pool mosaics in the water feature
Pavers: Custom exfoliated granite pavers laid on concrete
Landscaping: The Galvin Group. Plants include super-advanced London plane trees, flax and agapanthus
Lighting: LED pool lighting, multi-colour garden lighting, light box feature
Decking: Composite DECKER decking
Fence: Frameless 12mm glass fencing
Designed and built by The Galvin Group
www.galvingroup.com.au
Originally from Poolside magazine Volume 43