With so many leisure time spent outside, it is crucial that our pool and garden areas complement our lifestyles.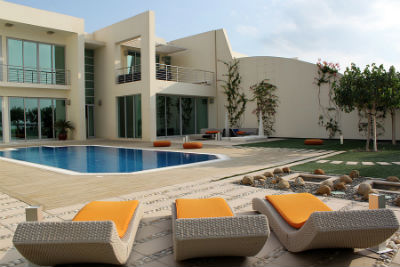 In a country such as Australia, the swimming pool area often doubles as our outdoor leisure and entertaining space and is the focus of our lifestyle. When so many of our leisure activities take place outside the house, it's essential to ensure that the external spaces of our homes are well designed.
By John Storch
The first step 

Getting the design right requires careful planning to put you on the correct path to creating the perfect external space. So how do you go about creating the best backyard possible? In the first instance, ask yourself what is your budget, what are your wishes and needs and what will suit your lifestyle, and then you'll need to do an analysis of your property. 
Budget 
Consider what budget you are allowing for the pool and garden areas. Can all the works be undertaken at once or does the project need to be staged over a period of time? If the project will be completed in stages, consider the sequencing of works so that finished works don't need to be ripped up at a later stage to complete new works. 
An example of bad planning could be putting the new paving in first only to realise later that drainage was not allowed for or that cabling needs to be installed under the paving for lighting at a later date. 
Wishes and needs 
When designing the swimming pool and garden areas you need to consider that everyone has certain wishes and needs to be addressed for this external extension of the home living space. 
Consider the following to ascertain needs and wishes: Do you want to grow vegetables? Do you want to grow flowers or other plants? In addition to the swimming pool, what other features such as a tennis court, water feature, pool cabana, entertaining area, outdoor kitchen, furniture, lawn and garden do you want to include? Do you need space to store tools and equipment, and a workspace for DIY projects? 
Our wishes and needs don't always coincide with those of other family members and often our wishes are dictated by our available budgets. The pool and garden areas can be quite extravagant and expensive. For example, the pool area may incorporate an alfresco living area and fully equipped cabana with a change room and bathroom facilities as well as an outdoor kitchen with a wok and barbecue. 
The garden may incorporate a tennis court, a daybed with soft furnishings such as cushions, throw rugs and candles and a conversation fire pit set within a paved entertaining area. Then there's children's play equipment and lawns, all integrated to create your own extensive private resort at home. 
Alternatively, the swimming pool and garden areas can include simpler elements and be much less costly. These areas don't need to be extravagantly conceived to work. A simple 6m x 4m pool with an umbrella over an adjacent lawn area where you can throw down a towel to lie on among lush gardens can be just as relaxing and enjoyable as the more expensive scenario. 
Lifestyle 
Consider your lifestyle. Do you have children? How many? Are they active or passive types? Do you have a pet or are you likely to get one? Do you want to entertain and in what numbers and how often? Catering for the full extended family and friends at Christmas and other celebrations is quite different from having the immediate family over for a weekend lunch. 
How will the pool be used? For exercise, entertaining or just for cooling off in summer? How much time are you prepared to spend on maintenance? What are the future needs of the children? 
We all hope that if we make our home, pool and garden suitable for entertaining, our teenage children and their friends will want to congregate at our place rather than meet up elsewhere. 
Analyse your property 
Look at the overall property, objectively take a realistic account of its size and work out which items from your wishes and needs list you can fit into it. Analyse your property for physical aspects such as whether it is north-facing, its sun and shade provisions, factors such as noisy neighbours or nearby busy roads, prevailing winds and potential views, then position your pool and garden with these aspects in mind. 
The next step 
The second step of your swimming pool and outdoors project is to ensure that all the required components are included in the design. With the cost of key items in any outdoor design being substantial, home owners are increasingly looking for professional assistance to ensure that money is spent wisely and not wasted on bad design or DIY designs that won't get approval. 
If you decide to employ a landscape architect to design your swimming pool and outdoor areas, at the initial consultation ask to view their portfolios and put to them specific questions about their individual expertise with swimming pools and the approvals process. It's surprising how few landscape architects and designers have any real expertise in this area. 
The landscape architect will then draw up the conceptual design, obtain building approval and provide detailed specifications for all aspects of the project, including pool, cabana and garden. They may tender the project and recommend and organise the pool builder, landscape contractor and other trades. 
Trends and predictions 
Plunge pools: With more people living in urban environments and a tendency towards higher-density living and tougher development controls, private exterior spaces are becoming smaller and more people are expecting these areas to be used as outdoor living spaces while still incorporating swimming pools. 
To address this trend, smaller swimming pools, or plunge pools, are becoming increasingly popular. Plunge pools often double as a water feature, acting as the focal point of the courtyard or small space, while typically being smaller than 6m x 3m. 
Plunge pools may be used by families for cooling off in summer and as giant spas in winter. For entertaining purposes, benches are often placed within the pool, around all sides. The swimmable length of the pool becomes less important than in a normal pool or lap pool. Plunge pools may incorporate swim jets that allow the swimmer to remain in one spot while exercising, thus increasing the functionality of the pool. 
Swimming pools: There is a trend towards simplification, possibly as a reflection of what has been happening on the global scale financially. Pool design is becoming less complicated, using straight, clean lines and monochromatic colour schemes rather than multi shapes and mixes. People are looking for value and quality, with the wow factor in the finer detail rather than in the scale of the project. 
Pool cabanas: On larger properties, more and more home owners are requesting that cabanas and swimming pools be designed and integrated. Cabanas may be little more than a gazebo, summerhouse or pavilion adjacent to the pool to provide a discreet spot to towel off, change and shelter from direct sun. 
On the other hand, a pool cabana can be an elaborate structure incorporating a luxurious bathroom with toilet, shower, bath and basin along with kitchenette facilities such as a fridge, barbecue, stove, cupboards and sink with a daybed for relaxation and even a poolside wet bar, plus tables and chairs for entertaining. 
The trend for pool cabanas has been fuelled by the desire to turn the outdoor space into a personal oasis — an escape from the hectic pace of life that is separate from the home. 
Water features: These are becoming more sophisticated. Gone are the days of a simple rock water feature at the rear of the swimming pool. Water features now incorporate vertical sheets of water cascading or rippling down a wall into the pool and infinity edges using glass as the edge. A sheet of glass as a vertical wall can create unusual effects with the sun behind it. Natural stone claddings in a variety of textures for water to run down make an eye-catching and tactile water feature. Stainless-steel spouts concealed in an adjacent garden can turn the water itself into the visible feature. 
Paving materials: There are two main types of paving: natural and manmade. Natural products include Sydney sandstones, Himalayan sandstones, basalts, travertines, quartzites and limestones. Manmade products include reconstituted sandstones and limestones, concrete aggregate, terrazzo and tiles (such as porcelain, vitrified and terracotta). The trend has been towards larger pavers 600mm x 600mm and bigger, to rumbled part-filled travertines, flamed-finish basalts, shot-sawn light-coloured sandstones and textured concrete aggregates, which look great on contemporary projects. 
Heat and shade: Heating and shade needs are becoming bigger considerations. Shade provision may make the difference between using the courtyard all the time and using it only when it's not too hot or too cold. Shade can be achieved either permanently, using a fixed tensile structure or plantings to create a welcoming canopy, or temporarily, using a market umbrella or a retractable awning. A temporary structure such as an umbrella gives the additional option of having full sun when wanted. Warmth in cooler months can come from space heaters, fire pits or braziers, providing just the right amount of warmth and atmosphere to make sitting under the stars an enjoyable experience. 
Features 
While the pool is the focal point, other features need to be carefully considered. Some of these are already covered in trends and predictions, but here are some more to consider. 
Outdoor furniture: Alfresco furniture selection is becoming one of the more important and personal choices of a project. Furniture styles can range from built-in daybeds to elaborate and expensive conversation pieces. The most useful items for the outdoor area are furniture pieces that help organise the space. When buying furniture, consider how it matches the surroundings as well as how comfortable and durable it is. Invest in furniture that will survive the elements over time with minimal care and maintenance. 
Accessories: Outdoor accessories, incorporating soft furnishings such as outdoor beanbags, cushions and throw rugs, together with feature homewares such as scented candles, sculptures, furniture and art, individualise an outdoor space and can range from mass-produced items to one-off pieces made for your project. 
Focal points: A focal point can be as dramatic and functional as a swimming pool or outdoor fireplace, or as simple as an accent plant. The focal point pulls your space together in the same way focal points works in rooms inside your home. If you soften your outdoor space, you will gravitate there. It will become a quiet spot to take a nap, read or simply do nothing. 
Lighting: Functional lighting ensures that everything is seen, often achieved using flood lights. Ensure placement is high enough that it illuminates all but blinds none. LED or low-voltage lights provide subtle mood lighting that can be used to draw attention to a plant or garden feature or to achieve alternating areas of low light and washes of brighter light to simulate moonlight or star light. 
Planting: Use plants in containers to provide privacy, define your space, create a windbreak and shade your outdoor room. Select varieties for year-round appeal, not just for a few weeks of flower colour. The variegated foliage of Mother-in-Law's Tongue (Sansevieria trifasciata), the interesting bark of a Leopard Tree (Caesalpinea ferrea), the swollen sculptural stems of Buddha Belly Bamboo (Bambusa vulgaris 'Wamin') and the vivid purple foliage of (Ajuga reptans 'Bronze Burgundy') can provide year-round colour and interest. 
Soothing sound: You can bring your music outside with weatherproof outdoor speaker systems or create more calming sounds with a small fountain or water feature. Soothing sounds can drown out unwanted noise, making your swimming pool and outdoor area a restful retreat. 
We are blessed with a wonderful climate that allows us to spend most of the year outdoors, enjoying clear, blue-sky, sunny days. Outdoor living has always been a focus in Australia, but now we are taking it to new levels by ensuring that our swimming pools and poolside areas can be used all year round. 
Dos and don'ts 
Before commencing the design of the swimming pool and garden areas, always check the requirements of council and other local authorities such as sewer and electrical providers. 
Check where your boundaries lie. Often old fence lines are not actually on boundaries and it's best to verify who owns what to avoid potential neighbour disputes. 
Check property titles to ensure that your property is not encumbered with covenants such as restrictions on building within certain areas of the property. Check legal surveys to ensure no easements exist on the property, such as drainage easements, which are not allowed to be built over. 
Investigate all underground services and know where they are. 
Look through magazines and keep pictures and details of features you want to incorporate in the design. 
Consider employing a landscape architect. While it will add to the initial cost, it's worth getting it right the first time. 
Incorporate at least one focal point in the garden. A pond, plant, vase or mirror positioned well could lift a pool and garden area from pleasant to electrifying. 
Irrigation systems, gardeners and pool maintenance people are worth the cost! If you've spent the money to have a beautiful outdoor area, keep it looking its best. 
Be patient and wait for the material you want. The most expensive finishes are not always the best, but if they are the choice and you can't afford them, wait rather than settle for second best. In the long term you will have no regrets. 
Have fun with the design. Remember, you are the one who will use it. If you want fluoro furnishings, plastic plants and a giraffe slide, go for it! 
DETAILS
A Total Concept is an established award-winning practice specialising in the integration of beautiful and functional swimming pools, gardens and cabanas for projects ranging from simple family homes to elaborate residential properties and boutique and resort-style developments. The team at A Total Concept provides services from consultations, designs and specifications, council approvals and builder recommendations to the total management of the project including contract administration.
For more information www.atotalconcept.com.au