A space-maximising design delivers a stylish and functional family pool.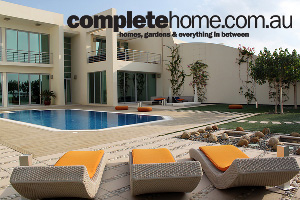 To make the most of what was a small L-shaped block, the new pool was tucked right up against the masonry boundary wall. To prevent the space from feeling too hemmed in, the decision was made to forgo internal pool fencing (except behind the pond-style water feature) and, instead, use the walls of the house (which had no opening windows) as the 'fence'. This allowed the size of the pool and its surrounds to be maximised while still meeting safety requirements.
Linking the pool with the main part of the backyard — including an adjacent but separate covered entertaining area — the pool steps and water feature were 'wrapped' around the corner of the house. This made them both visible and accessible through the glass pool fencing.
To coordinate with the house, the pool boasts black waterline tiles, which, in turn, harmonise with the black feature tiles in the patio and courtyard. Pots are of a complementary charcoal colour, as are the feature Stackstone walls in the pool and patio.
The plum colour used on the planters that run along the boundary, wall was chosen to reflect the colour of a feature wall inside the house. This colour was reinforced with the selection of Moses-in-the-cradle (Rhoeo) planted above the wall and in pots in the entertainment area. A similarly coloured cordyline, planted near the water feature, adds further impact. Other plantings were mainly green to tone down imposing structural elements.
The unique water feature, a clever fusion of black pebbles and glass, was conceived by landscape designer Arthur Lathouris, who worked closely on the project with the Australian Pool Company. It is a focal point of the pool and landscape design and can be clearly seen whether you are inside the house or relaxing outside.
The homeowner selected the wall art, a modern sculpture of a dancer. It is positioned above the timber bench that separates the two planters, the blue tones picking up on the blue of the fully tiled pool interior.
For increased privacy, a timber batten screen was installed along the boundary wall that runs behind the water feature and one end of the pool.