This project proves that lack of space need not be a barrier to having a dream pool.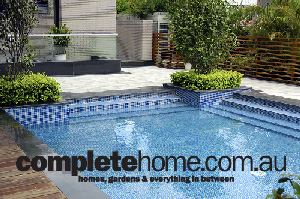 Built and designed by The Swimming Pool Construction Company, this pool shows how, even in the tightest urban setting, if the will is strong enough, there will be a way. It also demonstrates that there needs to be good communication between owner, architect and pool builder, not to mention detailed documentation to ensure a successful outcome. The modern architectural appeal of this sleek and sophisticated lap pool works in complete harmony with the strong, contemporary styling of the imposing two-storey residence.
As outdoor space was restricted, the streamlined pool was installed in the front yard against the adjoining footpath. This was no inconsequential feat as an enormous amount of additional planning was called for, not to mention extra council permits as the footpath had to be closed to the public for four weeks to enable construction of the pool.
To prevent the massive boundary wall from imposing on the space, it was decided to turn it into an artwork. Acclaimed artist James Clayden was commissioned to fabricate a set of copper reliefs depicting a Tibetan chant, something that has great personal significance and meaning for the homeowner.
In autumn, the warm, rusty tones of the copper complement the russet tones of the vines that cling to the exterior of the house but, over time, the copper will oxidise, taking on an interesting, ever-changing patina. To alleviate traffic noise from the road, two 1800mm sheer-descent water features were integrated into the wall. Underwater lighting placed beneath these features give the water a seductive glow and cause the textured surface of the copper-clad wall to shimmer and shine.
The chic, modern lap pool can be used no matter what the time of year thanks to the installation of a gas boost system that backs up the solar heating system. An in-floor cleaning system keeps the pool ever-ready for swimming and keeps maintenance chores down to an absolute minimum.
For reasons of space, access to the pool is via a ladder. And to help make the area seem as spacious as possible, the paving is large-format and pale in colour. But having a small area to work with hasn't meant compromise. There is room for a sun lounge at either end of the pool so the owner can recline in comfort and style between laps in the pool.