With a look that is effortlessly elegant, this pool is designed for family enjoyment.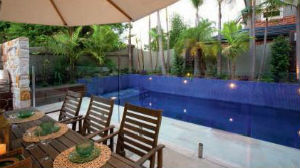 This elegant lap pool with inviting spa flows with ease within what is a relatively restricted area. Thanks to the design expertise of landscape architect Paul Scrivener and the construction excellence of the Australian Pool Company, the pool fits perfectly within the rear garden of this Sydney home, and there's even space for a stylish outdoor room-style poolside entertaining area.
The brief from the homeowners was for a pool that was multi-functional, something the whole family could use and enjoy, whether it was the adults getting in some exercise or unwinding in the spa or the children indulging in water play. This is exactly what Australian Pool Company has given them.
Of sleek, sophisticated design, every edge of the 11m x 3m pool is a clean, straight line, giving it a contemporary yet timeless look that can be appreciated from the alfresco entertaining areas or from inside the house. In fact, this pool is a stunning example of how a pool can enhance the aesthetics of a property as well as the lifestyle of the owners. From the soft lighting around the pool, which creates a cosy ambience, to the pool's meticulously tiled interior, this is the ideal pool for family fun and entertaining.
To ensure an uninterrupted view from the outdoor living areas, glass pool fencing (supplied by Unique Glass Fencing) was installed. The glass fencing also helps to make the pool, alfresco areas and the home have a greater sense of connection and flow.
The alfresco entertaining areas are integral to the family's enjoyment of their pool, giving them the complete outdoor living package. There is a paved area complete with barbecue and an umbrella-covered dining table and an area of timber decking that leads directly from the house and is ideal for sitting and enjoying a cool drink.
The Australian Pool company, which specialises in concrete swimming pools and spas, offers uncompromising quality and service. Over the 20 plus years the company has been in business it has won multiple awards at both state and national levels. You can also be assured of the highest level of professionalism, which includes staff members keeping in close contact with clients throughout each stage of the project.
Project details
Pool construction by Australian Pool Company www.australianpools.com.au.
Pool design by Paul Scrivener Landscape Architect www.scrivener-design.com