Total integration between pool and home, as highlighted in this Elite Pool project, is the key to success.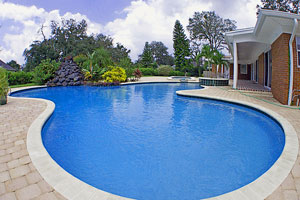 The fully tiled geometric lap pool with adjoining family pool was designed for structural integration with the contemporary home. The design of the pool, by Elite Pools, makes it simple to move from one outdoor zone to another while the frameless glass pool fencing ensures that there is an uninterrupted view of the whole yard, whether you're sitting inside the home or enjoying a meal at the outdoor dining table.
A beach area, which stretches the full length of the floor-to-ceiling window that sits behind it, boasts a series of stepping-stones set atop podiums that rise out of the water. The stepping-stones provide a place where swimmers can perch or an alternative way to get from the main outdoor entertaining area to the side gate.
Add to the equation large format, square-edge pavers from Classicstone, in-floor cleaning, as well as solar and gas heating, and this luxury pool ticks all the boxes.