Sleek and contemporary, the lap pool flows seamlessly into a stylish, not to mention spacious, outdoor entertaining area.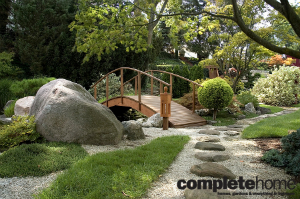 Measuring a more than respectable 13.5m long by 3.2m wide, the pool provides plenty of room for swimming laps. It even includes a wide underwater shelf which functions as a step into the pool, a place to recline and somewhere safe for supervised toddlers to wade. The vivid blue of the fully tiled interior adds an invigorating splash of colour in a landscape otherwise dominated by natural, neutral shades — most notably, the rendered courtyard-style walls, painted a light coffee colour, and the sandstone paving and coping.
To enliven the setting, a decorative metal wall panel has been built into one wall and an eye-catching water feature into the other. And, as has increasingly become the norm these days, the pool water is warmed by a combination of gas and solar heating, and there is an in-floor cleaning system.
The design, a collaborative effort between the pool builder, Neptune Pools, and landscaping company, Outdoor Creations, is a classic example of form and function combining to create a pool and entertaining area that would meet the lifestyle needs of the most demanding modern family.