A stylish pool teamed with a well-equipped outdoor room creates the ultimate in luxury.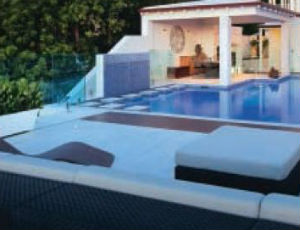 This is a match made in heaven; a low-maintenance pool and entertaining area that mirrors its natural surroundings perfectly. The owners of this stunning riverside property dreamed of an easily maintained area for entertaining family and friends. The original concept plan was drawn up by Horizon Design and tweaked by Quality Dolphin Pools to ensure it met the owners' every wish and whim.
The main access to the pool is through the tiled cabana, which houses an alfresco dining area with a shower and toilet attached, making it a fully self-contained outdoor room. Wide stairs lead from the cabana into the pool, providing an easy descent into the sparkling, refreshing water. The pool has an additional walkover area to link the alfresco entertaining areas in a subtle yet fun way.
The additional paved and decked platform provides an ideal vantage point for supervising children in the pool. The comfortable and durable outdoor furniture provides a relaxing spot to oversee all pool-time activities. This platform can also be used as an entertaining spot, the perfect place to host a cocktail party and watch the sun set on a balmy summer evening.
Creating an ambience that many people strive to achieve, this pool offers more than just a leisure and entertainment space for the family; it's also an aesthetically beautiful addition to the home and surroundings. Note the sparkle created by the Ezarri mosaics and the Rainbow Quartz 'Pacific Blue' interior finish.
Neutral-coloured pavers match the facade of the house, while the dark-timber decking ties in with the nearby tree line. Special attention was given to the pool's interior to ensure it elegantly matched its gentle location. The pool design as a whole was created specifically to become part of the riverside environment rather than a contrast to the area.
For easy maintenance, the pool is fitted with the latest in filtration (RX 500 with M3 media sand filter), sanitation (RC8 liquid chlorinator) and heating (Heliocol heating and Hurlcon gas heater 450meg). For added ambience and functionality, there are WN850 multi-colour LED pool lights.
Quality Dolphin Pools was established in 1971 by John and Shaun Conley and Adrian Elphick. They work on approximately 130 pools each year. The multi-award-winning company has more than 40 awards under its belt and builds concrete pools, spas and water features throughout the Perth metropolitan area.
Providing a quality product, built beyond clients' expectations, is the main aim of the company, which also prides itself on its helpful and friendly staff. Quality Dolphin Pools is a member of SPASA WA, Housing Industry Association and the Master Builders Association.
Project details:
Pool designed and built by Quality Dolphin Pools.
For more information visit www.dolphinswimmingpools.com