An elegant pool design which maximises its waterfront location.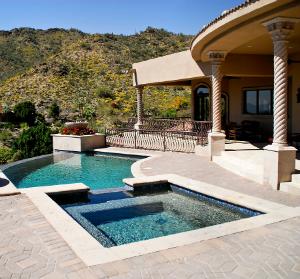 Very few pools are as spectacular as the one featured here. Part of a large, ultra-modern home, the pool's clean lines mimic the architectural style of the home and bring an understated elegance to the outdoor space. Designed by Neptune Pools to maximise the captivating panoramic view and make the most of its appealing waterfront location, the pool boasts a striking vanishing edge that appears to merge the two bodies of water. The pool has also been positioned to provide an attractive vista when viewed from the interior living areas of the home.
The design is one of balance and symmetry, where only high-quality materials were considered appropriate. The latter includes the sophisticated travertine paving and coping, and the dark green Bisazza glass mosaic tiles that give the pool's interior its rich colour.
Come nightfall, the pool and landscape lighting work in tandem to create a striking night scape. Dimmers fitted to the lighting allow the family to create different ambient effects for different occasions.
Functionality hasn't been overlooked, either. The architect-designed pool is large enough for exercising and entertaining and offers fuss-free maintenance.