From the poolside cabana to the outdoor lounge area, this pool project has it all.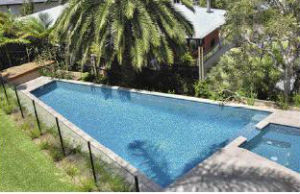 Today, if you have a pool, an outdoor room is a lifestyle essential. You need a covered poolside area where you can relax with friends or find respite from the hot summer sun. This outdoor room, a cabana of simple yet elegant design, is perfectly positioned adjacent to the spa. It boasts an attractive paved floor and a solid roof supported by four rendered columns.
For privacy, the outdoor room has a screen of slatted timber along the back wall and along one side. The comfortable seating is oriented to give family and guests a picture-perfect view of the pool and garden, and thanks to lighting embedded in the ceiling, the cabana can be used night and day.
The spa, pool and cabana were built by the Australian Pool Company, working to a design by landscape architect Paul Scrivener.
The brief from the owners was to make the best possible use of the space (located at the bottom of a sloping rear garden) and create an outdoor living oasis that would be inviting yet not obstruct their views. What the Australian Pool Company has delivered is a modern, functional pool and spa that combine casual contemporary appeal with more than a touch of sophisticated styling.
From the spa, the pool sweeps towards a small timber-topped outdoor lounge area, tapering as it goes. This gives the pool an intriguing angular shape that captures the eye and engages the interest while making the best possible use of the available space. Surrounding the pool, large-format square concrete pavers add to the clean, contemporary look.
To one side of the pool is an expanse of lawn, separated by a length of semi-frameless glass fencing. This stretch of lawn leads to a series of terraces that work their way to the rear of the home.
Of course, achieving such an excellent result required great precision. Because of the location of the pool and cabana and the slope of the land, the Australian Pool Company had to pay very special attention to each and every detail.
And, in case you're wondering where the filter equipment is, the Australian Pool Company has very cleverly hidden it within the outdoor bench-style lounge that sits at one end of the pool. This ensures the pool and its surrounds maintain a clean and uncluttered look and the owners have an additional space where they can relax and enjoy the great Australian climate.
Project details:
Pool construction by Australian Pool Company www.australianpools.com.au.
Pool design by Paul Scrivener Landscape Architect Website www.scrivener-design.com.au