A luxury lanai designed to make year-round entertaining a pleasing proposition.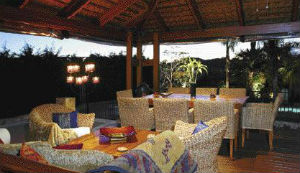 Photography by Ron Tan 
This well-established home needed just one more thing to make it perfect: an inviting outdoor living space. The aim was to create an outdoor room that would directly relate to the internal living areas of the house and function as a transition point on the journey from the home to the pool area.
The custom-designed structure — a lanai — has a relaxed Asian feel that sets just the right laidback tone. From the sturdy support beams to the shingles on the roof, the lanai was constructed from imported hardwoods. To create a warm ambience, timber decking was used for the floor and the ceiling was lined with Betek reed matting.
Stonemasons were commissioned to build the hand-cut limestone rubble walls that enclose the back of the lanai and form the base of the outdoor kitchen. Each stone was individually cut to interlock without any cement jointing, a time-consuming and labour-intensive task.
The lanai features a fully equipped outdoor kitchen comprising barbecue, wok burner, sink, fridge, timber shelving and blue-tiled benchtops. To add a unique touch, a hand-carved stone panel 105boasting a decorative relief of tropical flowers was inserted into the face of the bench.
The home entertainment centre was extended from the house out to the lanai and speakers were fixed to the rafters. To enhance the night-time ambience, low-voltage lighting was installed while the addition of a ceiling fan has proven a blessing, helping to dissipate the summer heat.
The lanai is divided into two separate living areas — one clearly designated for dining, the other for lounging around — with comfortable imported Indonesian teak and cane furniture used in both spaces. Throughout, the interior décor is tasteful and evocative of a luxury tropical resort.
As the site is exposed to strong winds, café blinds were installed to provide shelter — or enhanced privacy — as needed. And, to ensure the space is amenable all year round, there's a wood-burning stove for winter warmth.
For more information visit www.mclgroup.com.au