While the primary purpose of a pool fence is to make the area safe, there is no need for it to be an afterthought. Plan ahead and choose a fence that complements not only your pool but also the style of your home.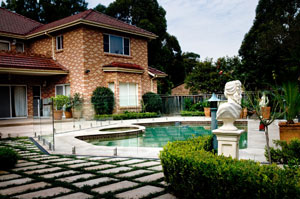 By Karina May
As the trend towards outdoor living continues, more and more people are opting for either frameless or semi-frameless glass (glass between posts). "People are looking for a product that continues the lovely open-plan flow we're continually seeing inside. Glass does this," says Rob McChesney, director of Alloy Glass & Railings. "Glass also helps maximise a compact outdoor area," he adds.
Although there are many alternative — and more affordable — fencing options available, such as tubular steel, aluminium and wrought-iron, the feeling among pool builders and homeowners alike is that glass is best. "Semi-frameless glass can cost three times as much as other materials but looks 10 times better," says Andrew Ross from Gateway Fencing. Frameless glass is three times the price of semi-frameless but looks three times better again. "If you're spending $60,000 on a pool, you want to be able to see it," continues Andrew.
"Unobtrusive in its appeal, a frameless glass fence is the ideal solution to enhance your poolside or outdoor environment," says Santos from Clearly Frameless.
In addition to being a beautiful medium, glass is also far safer than any alternative. "The see-through nature of glass allows for unhindered observational control. There is visual access to the pool from all angles, making supervision much easier. It's a wonderful feeling to know your children are always in full view when playing in the pool," says John Schopf of GlassFence.com.
Quality control
Given the material's "fragile" reputation, many people may be concerned that glass may not be durable enough for outdoor conditions. While there is always the chance that you may have problems with your glass fence, figures suggest it is an infinitesimally rate — around 0.1 of .01 per cent of all glass installed.
Most people opt for toughened glass, which is able to withstand the day-to-day wear and tear of family life. "Clearly Frameless produces a 12mm toughened Grade A safety glass that is custom-made to suit your needs," says Santos from Clearly Frameless.
Unfortunately, there are always those "one-off" circumstances when things don't go to plan. "We have seen a case where a child has thrown a stone at the glass and this has resulted in a sliver of glass being peeled off," says Andrew from Gateway Fencing. "The bottom line here is to respect the product and ensure it is installed correctly," he continues. Whatever fence you install should be placed on a medium that will not move, such as a slab of the pool or pavers on a concrete slab. Generally, posts or spigots should be core-drilled and fixed with non-shrink grout. Clearly Frameless's website has a comprehensive guide to installation (www.clearlyframeless.com.au)
Squeaky clean
As Rob McChesney of Alloy Glass & Railings points out, cleanliness is such a subjective thing. Glass in a "normal" environment needs little attention. Rain washes off most marks, so a quarterly wash with a hand mitt using detergent followed by a wipe over with a squeegee will suffice. If the glass is exposed to salt air or near a salt pool, however, a more regular maintenance routine will be required. Due to salt and chlorine, glass can corrode and stain over time. As the glass ages, cleaning can become a nightmare.
Western Australia and regional areas of the east coast have harder water than city areas with a greater concentration of minerals such as calcium, iron and lime. In these areas, glass can be near impossible to clean without the right protection. There are several products that can be applied to glass which makes the task much easier, such as EnduroShield. "EnduroShield for glass is a permanent, non-stick, invisible protective coating for use on all glass surfaces," says EnduroShield Director, Matthew Lewis. "Using state-of-the-art technology, nanotechnology, EnduroShield acts as a permanent shield to seal the porosity of the glass, allowing containments to reside on an easy-to-clean protective coating." The once-only application chemically bonds to the glass, becoming a permanent extension to the surface and reducing cleaning time by 90 per cent. Conveniently, EnduroShield can be applied in a factory to the glass panels before installation or in situ by certified applicators.
Safety measures
When it comes to pool fencing, safety is obviously a massive factor. Each state has different rules for fencing a pool, so it is important to check the regulations in your state before proceeding with your plan. Most pool fencing companies will be able to help you with this.
Glass is always under scrutiny, so regulations are always changing. One way to ensure you are getting a safe, quality product is to do your research and choose a company that has been around for a while. Select a business that has been in the industry for 10 years or more and uses quality components — the length of time a company has been business is a good indication of their work ethic. "Speak to a company that understands regulations and can draw on years of experience," says Rob from Alloy Glass & Railings. "It's rare that we see a problem we haven't seen before."
To the future
As with most industries, new products are constantly emerging in the realm of glass fencing. One person who is particularly excited by the new technologies available is Eli Minassian of Techno Glass Designs. "There has been a constant stream of updates and new products released in the past 12 months," he explains. This includes new frameless clamps that do not need holes in the glass and new gate components that have added reliability to that product group. Techno Glass Designs has plans to release even more innovative products in time for the summer season — all of which have been designed by their own engineering staff.
New brackets have also emerged. "The glass bracket has been the most popular and considered choice since the turn of the millennium," says John from GlassFence.com. This concept has advanced even further with the release of the MERGELOCK bracket. "Their simplicity is immediately obvious in that they have no exposed bolt and consist of only two fundamental parts," says John. "They have unique locking mechanisms built in that do away with the unobtrusive sight of fasteners or clamp exteriors." The practicality of these brackets encourages greater ease of installation, increasing its speed and minimising error.
While it looks like exciting times ahead, Andrew from Gateway Fencing believes the biggest problem the industry faces over the next year is imports. "A huge amount of glass comes in from overseas, so you should always check that it carries certification," he cautions.