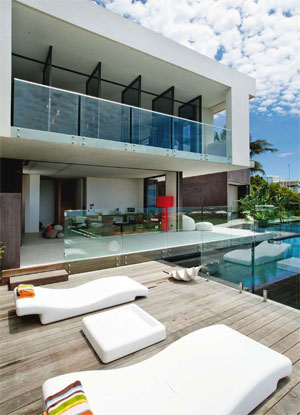 All the latest news and trends for your swimming pool or outdoor entertaining area
New glass fence compact top rail systems
Last summer, Techno Glass Designs released a compact top rail system for applications on balustrading, which requires a top rail be fitted according to Australian Standards. This product, manufactured from structural aluminium and silver anodised, was designed to push onto the top edge of glass fencing.
An additional product has now been added to the range, just 25mm in diameter and manufactured from marine-grade 316 stainless steel, in either a satin or mirror finish. Again, this product is a push-on design that requires no welding.
A straight- and a right-angle joiner are available, both glued into place. These products are designed for applications where a balcony may overlook a pool area and a top rail is required.
The compact profile of both products enhances the see-through look of the glass fencing. All details and a brochure can be downloaded from the Techno website at www.technoglassdesigns.com
Enjoy the great outdoors
If you're one of those people who spends October to March in the backyard, talk to Lifestyle BBQs about installing one of its modular outdoor kitchens. With a fully functional outdoor kitchen in the backyard you can spend even more time in the great outdoors. Lifestyle manufactures not only locally, but has expanded its range to include top-quality stainless-steel modular outdoor kitchens — there are plenty of options to choose from. The team at Lifestyle BBQs can tell you from first-hand experience how the barbecues are manufactured, why they work so well and why they will outlast other barbecues on the market. Just measure your available area and decide what features you would like in an outdoor kitchen — Lifestyle BBQs will do the rest. Lifestyle BBQs is in Sydney's south-west and delivers barbecues and outdoor kitchens Australia-wide. www.lifestylebbqs.com
Clean and Clear
EnduroShield® is a revolutionary non-stick invisible coating for glass pool fencing. The once-only treatment repels salt water, hard water and chlorine, protecting your glass against corrosion and etching, which can cause discolouration over time. The buildup of limescale on untreated glass makes the need for cleaning more frequent and difficult, whereas EnduroShield® seals the porosity of the glass, working like a nonstick frypan to reduce cleaning time by up to 90 per cent and keep glass looking cleaner for longer. EnduroShield® is non-toxic and environmentally friendly, eliminating the need for harsh chemical cleaners and diminishing water usage in frequent cleaning. For fast, prompt and reliable service, EnduroShield®-certified applicators are conveniently located around the country. The professional treatment of new glass pool fencing comes complete with a 10-year warranty. www.enduroshield.com
See the difference
Dimension One Glass Fencing has more than 30 years of experience in the construction of swimming pools and outdoor areas. Assistance can be provided and products designed to suit individual situations and needs. Dimension One's glass pool fences are designed and built with strength and robustness to provide optimum safety and security for your family. Its portfolio of products offers modern solutions for frameless and semi-frameless glass fencing for pools; indoor and outdoor enclosures, including privacy screens, seamless integration combination fencing, balustrades, awnings and coverings. Whatever your fencing needs, see the difference; see through it with Dimension One Glass Fencing. www.dimension1glass.com.au
High-performance clean to the extreme
Taking pool cleaning to the X-treme this summer is the new Baracuda MX8 suction cleaner from Zodiac, a market leader in pool technology and pool supplies. A high-performance suction cleaner that cleans faster and more aggressively than any cleaner in its class, the Baracuda MX8 has to be seen to be believed. Engineered with sleek and sporty good looks, the Baracuda MX8 glides effortlessly through the water and is able to reverse and rotate 360 degrees thanks to its clever in-built intelligence. Utilising X-Drive technology for optimal floor and wall cleaning and pioneering Flex-Power turbines for maximum torque, the Baracuda MX8 delivers extreme cleaning quality and unrivalled performance. Pool owners will be impressed with the Baracuda MX8's cyclonic vacuum suction, which not only allows for a wider cleaning path, but also collects both small and large debris. Getting into all those hard-to-reach surfaces has never been easier with the Baracuda MX8's X-Trax tyres. Delivering superior traction for extreme manoeuvrability, watch as this mechanical suction cleaner drives up vertical walls and stairs, getting in and out of tight corners with ease. Easy to install and even easier to use, the Baracuda MX8 is suited for most domestic in-ground pool surfaces. For more information, contact Zodiac on 1800 688 552 or visit www.zodiac.com.au for your nearest Zodiac dealer.
Stone surrounds
Antique Stone has been manufacturing pavers, copings, step treads and many other fine products since the mid 1990s. Its pavers come in a number of size options, and pool coping, step treads and wall capping can all be made to size to suit your requirements. Additives used in manufacture mean Antique Stone is easier to keep clean; it also has a high non-slip rating and is cooler than natural stone in the hot summer sun. Antique Stone is manufactured in Sydney to your requirements and has a beautiful patina to make your pool and outdoor area stand out. www.antiquestone.com.au
Beauty inspired by nature
Marble & Ceramic Corp has a keen understanding of the creative process and can provide top-quality stone products to make the most of any design. Its range of natural stone is extensive and includes Travertine Classico, Bianca Perla Marble, Pietra Gray Limestone and Multicolour Grey Travertine. All the standard sizes are available and if you need something out of the ordinary, the company can produce various customsize formats and finishes. With this capability, homeowners, designers, architects and specifiers can achieve their common design objective, which is to create a stunning outcome such as the project shown here. If you want to create environments that are durable, timeless and stunning, choose a natural stone. www.marbleceramiccorp.com.au