Create an affordable, sustainable home that is green from top to bottom with these innovative solutions that prove being green doesn't have to be difficult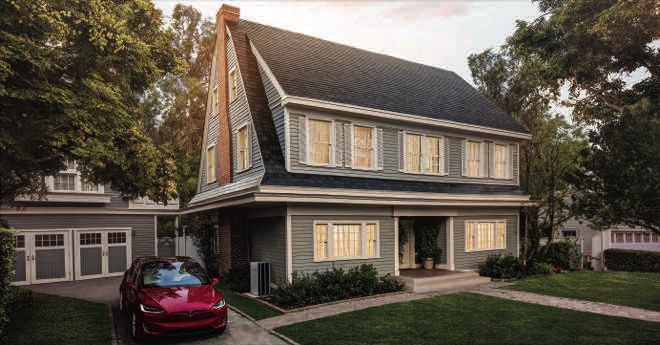 Our wishes to "go green" or live a sustainable life can often go straight into the "too hard" basket. When people hear the term sustainable home, images of tiny houses and other eco-dwellings in the middle of a remote forest often come to mind. But making a house eco-friendly — and a chic one at that — can be so much simpler. You do not need to pitch a tent in the wilderness or sell all your belongings and move to a hippie commune to make a positive impact on the environment. Neil Armstrong said it best with the words, "That's one small step for man, one giant leap for mankind" — and this couldn't be more relevant in today's mass consumer society.
1. Solar Systems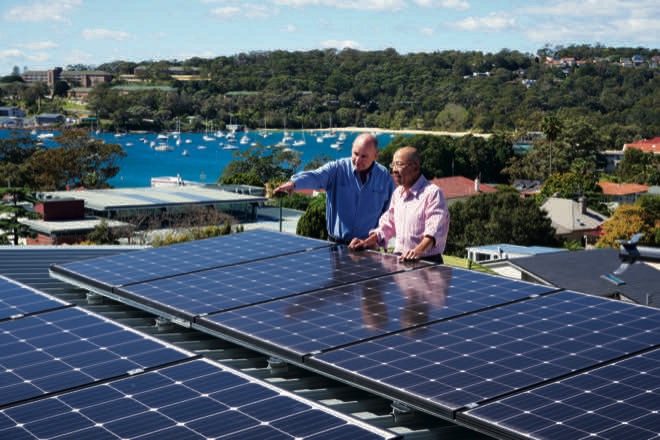 Using the sun to power your home can help reduce your electricity bills and your carbon footprint, giving you access to a renewable and clean source of energy. You may not pay much attention to the sun in your daily life — except when it's a scorching-hot day or you need to protect yourself with sunscreen — but it certainly has the power to fuel your lifestyle tomorrow.
"Now, more than ever before, customers are looking not just for a solar system, but a fully integrated home solar and energy storage solution with back-up power," says Chris Williams, CEO and founder of Natural Solar. "Smart battery solutions such as SonnenBatterie give households far greater flexibility into when and how they use their electricity, while at the same time hedging against future electricity price increases and adding considerable asset value to their house. In the past 12 months, with the end of gross feed in tariffs and a 20-per-cent price hike from energy retailers, we are seeing savvy Aussie consumers research solutions that not only save money, but are also at the forefront of technology."
It's difficult not to give in to temptation and turn on the air conditioning, but with every rush of cool air, your hard-earned dollars — and the environment — are wasting away. This is what makes going solar such a strong alternative. And when winter comes, you'll be cosy and warm without weighing down your bank account. "In some cases, the best return on investment may be a solar system only, but in most cases, households benefit more by being able to store the excess daytime solar production in their batteries and drawing this power back from their battery when coming home from work," says Chris. "It is all about maximising self-consumption and avoiding sending power back to the grid for peanuts. Our Natural Solar team has a range of qualified engineers on board who have an in-depth understanding of solar and battery, with the ability to guide each of our customers and help them navigate adding a home energy storage solution to their property."
One way you can encompass solar into your home is with an Enphase solar system. The Enphase Home Energy Solution package comes with storage added, allowing users to generate, store and manage their home's energy by tracking production and consumption. "Tightly integrated by a single provider, the Enphase Home Energy Solution gives you assurance that all its applications work well together," says Enphase communications manager Olivia Smith. "It adapts to changes in your household and changes on the electric grid over time so you're never caught off-guard by your power bill."
With no single point of failure, accessible monitoring via the MyEnlighten app, and increased performance thanks to higher energy harvest gain, the Enphase system is a worthwhile investment.
"The Envoy feature collects data from each microinverter and presents this data to the homeowner via MyEnlighten," explains Olivia. "The latest Envoy-S Metered not only monitors solar power generation, it can also monitor your home's energy consumption and your use of the Enphase AC battery or batteries, if you have these installed. This information is presented on a graph in 15-minute increments throughout the day, enabling the homeowner to understand precisely how they are using their power and how to make the most of their solar and storage."
Tesla is also offering the best of the best with the Powerwall 14kWh lithium-ion battery pack with liquid thermal control system, integrated inverter and intelligent software that dispatches electricity. The 120kg battery can be wall or floor mounted (inside or out) and features a fully integrated Tesla inverter. The Powerwall is also integrated with the grid to export excess energy, maximising the opportunity for economic benefit.
Like Enphase, Tesla's Powerwall comes with an app that monitors and manages the system and allows users to reserve a percentage of their Powerwall energy for emergencies or power outages. With a usable capacity of 13.5kWh, 5kW continuous power and 7kW peak power, our sunburnt country is the perfect home for the Powerwall.
2. Daikin's US7 Air Conditioner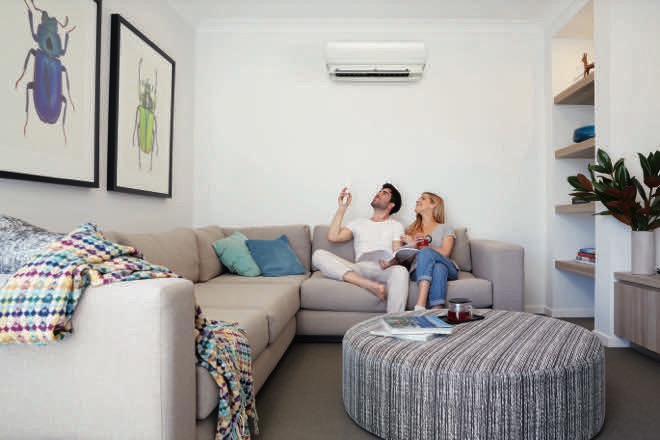 It is 40 degrees in the shade and your house feels like a sauna, even with the fans on. In a perfect world, we'd all live in well-designed homes with excellent cooling features, but that's not the reality for most. On those extreme summer scorchers, some form of mechanical cooling is a tempting option. An increasing number of Australians certainly think so, and the number of air conditioners in Australian households has more than doubled in the past 10 years. The problem is, air conditioners are energy guzzlers and their increased use, especially during heatwaves, is placing a burden on energy supplies. Thankfully, the legends at Daikin have introduced the US7, featuring a 7-star energy rating which is also the highest-rated and most energy-efficient split system on the Australian (and New Zealand) market. The US7 is an all-in-one system with not only heating and cooling capabilities, but also advanced air purification technologies, humidification and dehumidification functions. The R32 is the next generation in refrigerants with a substantially lower Global Warming Potential Factor than R410A, providing less risk of harm to the environment. Talk about a winner! So if you want the chilled air, make sure you buy and use the greener options.
3. Sustainable Furniture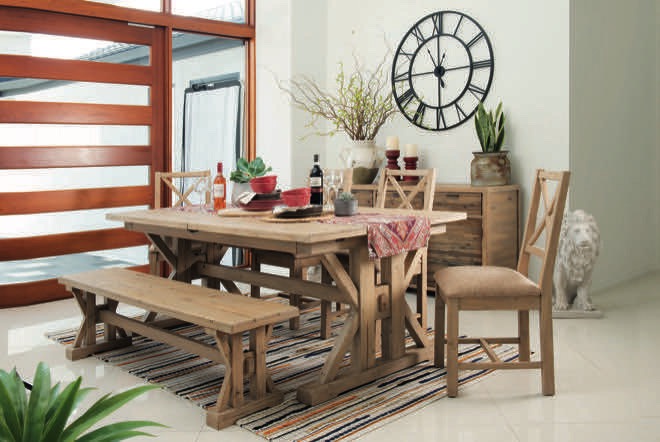 As the concept of sustainable living increases in popularity, many homeowners are looking for help to make greener design decisions. After struggling to find traditional-looking furniture that meets the criteria for sustainability, we recently discovered PGT. All the company's products boast non-toxic, multi-layered finishes, completed by hand using a French polishing technique. Where regular furniture might be made from plywood, medium-density plywood (MDF) or veneer, PGT uses 100-per-cent solid recycled wood, ensuring durability in any environment. With items in the bedding, dining, living and office realms, PGT uses a lot of wood, much of which is sourced from the northern hemisphere and includes larch, pine, fir and assorted semi-hardwoods. Going green is easier than ever.
4. Cool down with a green ceiling fan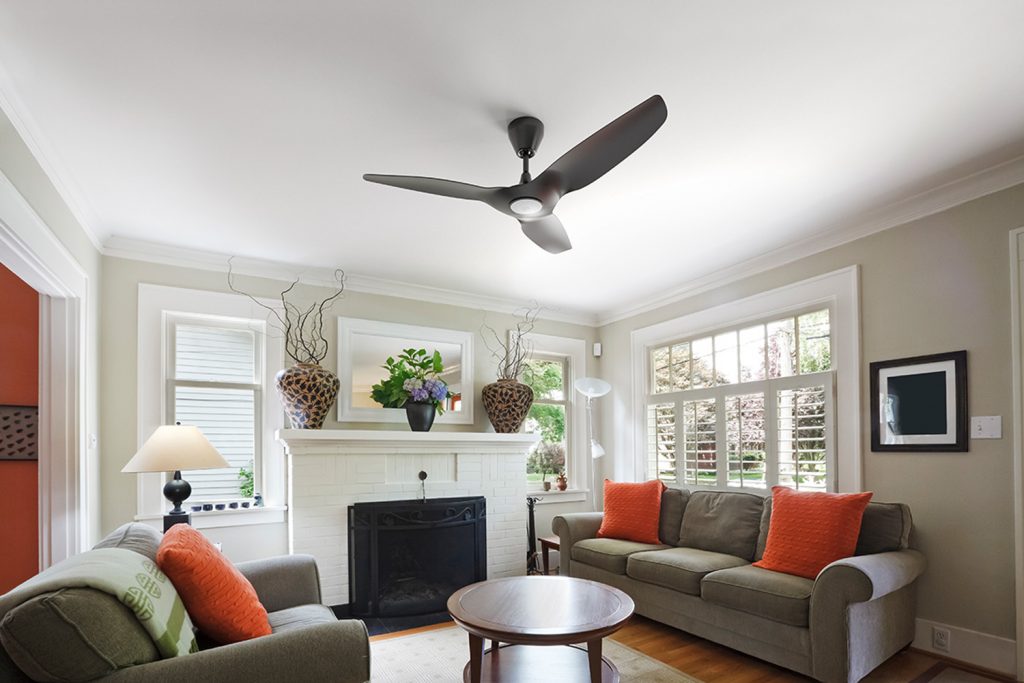 A ceiling fan is a good way to stay cool in summer without high energy consumption. It is also an effective way to circulate air flow. Although many people are now turning to more recent inventions to help cool their home, there are many benefits the humble fan offers. Enter Big Ass Fans. They're committed to delivering environmentally beneficial engineered cooling solutions for the eco-friendly homes of today. Haiku® isn't just efficient — it holds the top ENERGY STAR® rankings for ceiling fans. Available in 1.3m and 1.5m diameters, Haiku is ideal for rooms of any size, including entryways, living rooms, patios and man caves. Made of sustainably harvested Moso bamboo or durable matrix composite, Haiku delivers silent air circulation with award-winning style.
5. Solar tiles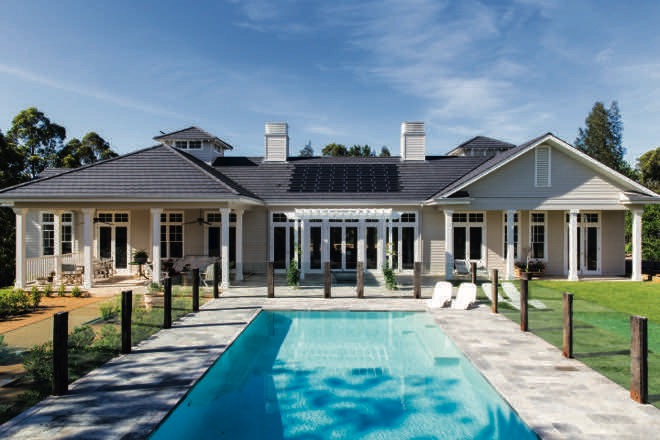 In Australia the sun is almost always shining, so having a solar panel on your roof with a few kilowatts is a smart move as it can go a long way to reducing your power bill. But typical solar tiles have their downsides. They are heavy, unsightly, and can only be fitted on certain areas of a roof — usually those that face the street. They can spoil the look of a beautiful roof and require a crane to install. To solve this problem, Monier has come up with its own modular and sleek tile-integrated solar panels, which blend in nicely with the rest of the roof. They are called SolarTiles and they have all of the benefits of a regular solar panel but none of the drawbacks. Even better, existing tile roofs can have this technology embedded directly into them (provided they have the right specs). Sustainability isn't something we normally associate with chic, but this product proves it can be done.
Want more sustainability advice? Visit our Sustainability archive.