So you're thinking about a renovation but haven't quite figured out what you'll be able to get for your money? The Archicentre cost guide is your comprehensive outline on renovation and maintenance spending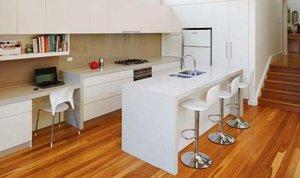 Market summary:
Established home sales continue to remain strong following a period of great activity and Archicentre has seen increased interest in both renovations and new home design concepts. Price changes have been negligible since the last Cost Guide, but continued growth in other areas may fuel material and labour price rises into the future.
Check out Archicentre's Do It Yourself Design Guide for Home Renovation, and Design Guide to Sustainability at www.archicentre.com.au.
Cost structure (approx. for new houses and major renovations)
Materials – 46%
Labour – 33%
Fees, levies, permits, taxes, GST – 21%
The Archicentre Cost Guide's sample cost plan of an 80m2 ground-level addition

REPAIRS & ALTERATIONS TO EXISTING BUILDING
Re-stumping and making good
Re-roofing
Re-wiring
Other alterations and repairs to remaining building

$5304–$9180
$6630–$10,200
$5916–$8976
$5100–$10,200

NEW BUILDING
Demolition and removal
Additions (80m2 brick-veneer shell allowance, ground floor)
Kitchen (mid-range, excluding whitegoods)
Bathroom fitout (mid-range)
Laundry fitout (excluding whitegoods)
Air-conditioning, heating and fireplaces, light fittings
Security, intercoms, ducted vacuum, "smart-wiring" etc.

$2550–$3570
$79,152–$135,456
$12,240–$23,460
$8160–$12,240
$4080–$8160
Excluded
Excluded

EXTERNAL WORKS & SERVICES
In-ground services — stormwater, sewer, water, gas
External paving and paths, crossover, carport
Fencing and gates, sheds, pergolas, decks etc.
Builders preliminaries, site costs, overheads and attendance
(15–20%)

$4080–$7140
Excluded
Excluded
$20,400–$46,920

OTHER COSTS & ALLOWANCES
Escalation if project is delayed
Design change/contract contingency allowance (10%)
Design and professional fees

Excluded
$14,994–$28,254
Excluded

ESTIMATED TOTAL (incl GST)

$164,526–$310,896
Extensions
GROUND LEVEL (shell only)
Single room (20m2)
Larger extension per m2
Brick veneer
Solid brick
Weatherboard
$17,544–$38,148$989–$1693
$1071–$1997
$881–$1652
UPPER LEVEL (shell only)
Single room (20m2)
Larger extension per m2
Brick veneer
Solid brick
Weatherboard
$27,132–$47,022$1305–$2203
$1468–$2499
$1142–$1723
NOTE: The prices quoted in the Archicentre cost guide also apply to upper-level extensions when built at the same time as the ground level. Prices include removal of one or two walls at the junction of works. Inclusions: plasterboard walls, painted two colours maximum, with two or three power points per room. Exclusions: plumbing joiner and surfacing or wet areas, sanitary fixtures.
Repair & maintenance costs
FLOOR REPAIR
Framing joists and bearers
Floorboards (particleboard — feature timbers):
$15–$31 per metre
$33–$335 per m2
NOTE: Joist spacings for a normal room are 450mm apart. Bearer spacings are around 1500mm apart. So a 20m2 room would cost about $1185–$1550 to replace.
*Areas under 10m2 will attract significantly higher installation costs. Excludes demolition.
GUTTERING & DOWNPIPES
ZincalumeColorbond
$30–$48 per metre
$2540–$3400
(whole house)
$38–$56 per metre
$3000–$4020
(whole house)
NOTE: Prices are based on an average house with 70 linear metres of
guttering and four downpipes, supplied and fitted.
CONCRETING/PAVING
New concrete path
New driveway
plain concrete
coloured concrete
Slate impression on concrete
Stencilled concrete
$49–$64 per m2$55–$73 per m2
$63–$87 per m2
$72 per m2
$82 per m2
NOTE: Based on average 75mm thickness and minimum area of 50m2
FENCING
Perimeter paling* (1600mm–1900mm)
Front picket
Gates
single
double
$57–$100 per metre
$51–$152 per metre$465–$665
$1255–$1795
NOTE: There are many varieties of fencing throughout Australia. This guide bases its
prices on the Victorian type of perimeter fence.