We address some of the pesky questions you'll encounter when on the hunt for a new home.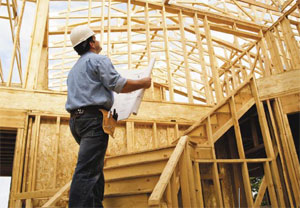 To build or not to build:
Why not just move house? It would certainly be simpler than starting from scratch. The biggest issue is, you may not be able to fi nd a home that has what you're looking for and in an area you'd like to live. If you're established in an area close to schools, work, family and friends, making a move to a new town or suburb is often out of the question.
Furthermore, you may not find what you're looking for in properties currently on the market in your area. Whether you've lived in one home or many, you start to get a good idea of what you're looking for in a house.
You have very specific ideas about what you want your home to look like, how many bedrooms and living areas you need, and the things you simply won't negotiate on. For some of us, that means a room for each child to have their own space. For others it means a spacious kitchen; others may put a premium on space for a beautiful garden.
Location, location:
Once you decide you're going to build a new home, the first of many decisions is choosing where to build it. Sometimes your options are limited. In many established areas of capital cities, vacant land is simply non-existent, so you need to be willing to move to newly established suburbs to find a block of land.
You may be lucky enough to find, or already own, a great block of land in an established suburb with an old home on it that's only worthy of being demolished, giving you a blank slate. Or you may have one of the classic old quarter-acre blocks that could be subdivided, leaving the original house in the front while still providing an adequate-size block in the rear.
Once you have a block of land, your next decision is what you want your house to be like. Take the time to consider this very carefully, as whatever decisions you make are permanent once it's built. You need to consider how many rooms you need and what purpose they will serve. You also need to think about how large to make the rooms, particularly rooms like the kitchen and bathroom.
It's a good idea to take a drive around your local area, camera at the ready, taking photos of homes you love, or features on homes you'd like to duplicate. It's also time to put your collection of Australian Country Collections to use, making note of things you've seen within the pages of your favourite magazine that you'd like to include in your own home.
Once you have a fairly good idea of what you want in your dream home, it's time to find someone to build it for you. There are many fantastic building companies out there that offer a huge range of plans for you to choose from. With your needs in mind, you can start to weed through all the plans and find houses that would be suitable. If you're unable to find something suitable in an existing plan, talk to your builder of choice about custom-designing a home for you.
Is renovation the answer?
If you're already living in a home that meets most of your needs but just needs a little modernising or extending to accommodate a growing family, renovating your existing home may be the answer. Depending on how much work needs doing, you may be able to do some of it yourself. Obviously extensions need to be undertaken by a licensed builder, but an experienced handyman can paint, modernise and make over a home, and can even undertake a simple bathroom or kitchen renovation.
Likewise, if you've bought a new home, chances are good there'll be some renovation work ahead as you turn somebody else's house into your home. In this case, you'll want to sit down and work out exactly what needs doing, prioritise what to do first, and cost out all your planned work. You don't need to tackle the biggest projects first.
If the bathroom is livable, you may want to put off an expensive renovation while you complete a number of smaller projects. Little things like steaming the ancient wallpaper off the wall or painting the bedroom a colour you can stand may seem like incidental changes but if it means you create a home you feel happy in very quickly, it's worth doing. There's no point going to sleep every night in a hideously appointed bedroom if all it's going to take to turn it into your dream space is a couple of tins of paint and a weekend's work.
Whether you choose to build a new home or renovate an existing property, there's a lot of planning and decision-making ahead of you. Take your time to think everything through and do not rush any decisions — you'll have to live with the end result for a long time!
Alternate Dwellings: 
This handy little website offers a great selection of real country cottages, many based on the early English Tudor style, in kit form. When you choose an Alternate Dwellings home, you are able to choose between building to lockup or finished stage. Every home features absolute state-of-the-art master craftsman carpentry, with solid traditional framing and a specially made "old style" flat roof tile, which is unique in this country, and a choice of exterior finishes that includes rendering, brick, stucco and timber.
Shown here are a few of their most popular designs from the "Old Cottage Series". The Whitton is the smallest of the series at 24 squares. It features 2.4m ceilings, appealing roof dormer windows and cosy rooms on both levels and is available with or without a double garage.
The Abbey East is a larger, more complicated and demanding cottage design. It features 2.7m ceilings and exudes cosy charm with wood panelling a feature in the living areas and study. The stairs are built from solid timber and the home features a quaint kitchen and stove/fireplace, just like the old days, and a fireplace in the lounge.
The Bourneville Manor is an impressive home at 58 squares with garage and attic. The large master bedroom has its own retreat with fireplace and there is an additional attic space (another 13 squares). This is a truly gorgeous home of distinction. www.alternatedwellings.com.au
Consider the bathroom:
Has your bath been destroyed by the inferior synthetic surfaces offered on today's market? Or perhaps you've just acquired an old bath that has been neglected over time and needs some serious TLC. Antique Baths Sydney can completely restore your cast-iron bath back to its former glory.
Antique Baths is the only company in Australia restoring cast-iron baths and other items with the time-honoured process of using vitreous enamel, which is fired in a furnace at approximately 850C. Antique Baths Sydney can restore your own bath or you can visit the factory at Pendle Hill NSW and choose from a wide range of classic cast-iron baths that would be the centerpiece of any bathroom renovation.
Once Antique Baths Sydney receives a client's bath for restoration, the bath goes through the lengthy process of restoration, starting with it being shot blasted to remove any old peeling surface, grime and rust. It is then annealed in the furnace, which enables them to burn any contamination out of the cast iron. Once that is completed, the bath is then shot blasted for a second time, giving Antique Baths Sydney a clean surface to apply and fire the vitreous enamel to the bath. The cast-iron bath is fired approximately five times. Once the vitreous enamel process is completed then the exterior of the bath is painted to the client's choice of colour.
The feet can also be painted or solid brass or chrome-plated feet can be added as an elegant optional extra. Vitreous enamel is a smooth glass like surface that is hard, scratch-resistant, chemical and fire-resistant and the most hygienic surface on today's market. The vitreous enamel colour is fired to ensure the colour will never change.
As well as bringing old baths back to life, Antique Baths Sydney can vitreous enamel cast-iron kitchen sinks, supplying a full warranty. Also, Antique Baths can vitreous enamel cast-iron LeCrueset cooking pots and restore AGA stove parts. If you have a cast-iron item, Antique Baths can vitreous enamel it!
www.antiquebaths.com.au
Bathroom colour:
If you're looking for a unique finish in your new bathroom, consider beautiful painted wall panels from Pressed Tin Panels. A great alternative to tiles, they're available in a myriad of patterns and can be painted any colour you wish.
Classic building and renovating:
For an authentic build or renovation, trust the experts at Period Details to provide fixtures, furnishings and accessories that'll enhance your beautiful new home. 
Period Details has something for every room in the house so visit their website at www.perioddetails.com.au
Looking to detail:
Bring the proportions and attention to detail of classic buildings and furniture into your home. Hand-finished and glazed in clear satin and available anywhere in Australia — that's Farmers®. A lovely creamy coloured décor sets the scene for expertly crafted finishes. Combined with a first-class design, quality workmanship has produced a charming kitchen worthy of its place in a brand new home. Expertly fashioned, the beautiful Farmers® Crème Mocha cabinetry is highlighted by natural light spilling through the six-frame door that runs the length of one of the kitchen walls.
There's no doubt the distinct flair Farmers brings to any project. Visit their website at www.farmersdoors.com or call 1300 725 151 for more information.
Really useful things:
Handcrafted in Northern Italy, a region known for producing the best stoves in the world, the Ascot stove comes from a family company that has been building commercial cooking systems for restaurants all over Europe for almost a century, and is available through Prestige Appliances.
Triple-glazed, air-cooled doors and fully insulated oven walls ensure that the stove's exterior is always safe to touch, even for very little hands. Ceramic installation around the cooking chamber is built-in to ensure even roasting and a perfect bake, and a programmable timer is included so you can "set and forget".
The Ascot has the widest cooktop working area in its class, up to 30 per cent larger than most other stoves, and is moulded with no joins or crevices to trap grease or grime. Deep spill trays minimise the mess from spillages and an easy-to-clean interior is quickly wiped down. The seamless oven liner has been effectively designed with smooth open corners, so it's simple to keep spotless and hygienic.
The Ascot is the ultimate in professional cooking at home. Visit www.prestigeappliances.com.au for more information.
Keeping you warm:
Jetmaster, Australia's leading fireplace company, together with Kemlan, Queensland's own fireplace manufacturer, brings you the ultimate selection in wood and gas fireplaces. New to the range is the stunning Horizon gas fireplace series, where the pebble or log gas fire appears to float on the fireplace base. The Horizon range is manufactured in Australia and is the perfect complementary form of heating.
For a great heating solution for the country home, Jetmaster offers its open wood fires. "In the past, building an open fireplace was always a hit or miss affair," explains Daniel Belnick, Marketing Manager for Jetmaster. "However, now with a Jetmaster prefabricated firebox, all the builder needs to do is a minimal amount of hebel or brickwork around the unit and the rest can be done in plasterboard. The best thing about a Jetmaster is it is guaranteed to draw beautifully with convected and radiant heat up to five times more than a conventional brick open fireplace."
For those looking for the convenience of gas and require a total heating solution, the Jetmaster-Heat & Glo Balanced flue gas fires are the answer. Heat & Glo balanced flue gas fires vent straight out the back, ideal for multi-storey dwellings. Choose from three sizes and one see-through unit.
All Heat & Glo gas fires feature campfire logs with an intense yellow flame and glowing embers. The Heat & Glo units all come standard with a multifunction remote control, which allows you to raise and lower the flame height and have the fire come on to greet you for that first cup of coffee in the morning. The electronic ignition system features a battery back-up, ensuring your fire will work even during a power outage.
With the outdoor room and alfresco living becoming more popular the Heat & Glo Dakota, the world's first all-purpose outdoor gas fire, is the perfect solution. Featuring a 304-grade stainless-steel firebox, the Dakota is designed to withstand the harshest of weather. Call 1800 442 446 or visit www.jetmaster.com.au for more information.
In a relatively short time, (they have been manufacturing heaters for 30 years), Nectre has become a familiar and comforting feature in homes throughout Australia.
Perhaps best known for the simple and solid, yet elegant lines of the original Mark I and Mark II wood-burning radiant heaters, the Nectre brand can now be found on a wide range of wood and gas-fired heaters with a range of styles to suit any décor.
The original Nectre has received subtle changes over time with a softening of the box like look with curved doors and other minor decorative upgrades. With the introduction of the powerful Mega, Nectre's renowned heating performance has been increased to fill a very large living area or even a small hall with pleasant radiant warmth.
The unique Baker's Oven, shown here, can provide warmth, delicious meals and, fitted with a hot water booster, even hot showers! Perfect for holiday cabins, Pecan Engineering Managing Director Richard Mitchell says the Baker's Oven has been a big export success. "The Japanese in particular have warmed to this unit", he says.
"Sales of our new wood range, the 500 and 800 Series, has also exceeded all expectations," says Mitchell. "We introduced these heaters because of their appeal to a younger, fashion-conscious market and have been pleasantly surprised by their appeal."
While the Nectre name is firmly entrenched as the benchmark for wood heaters, it is also proving popular with people who prefer the convenience of gas heating. Nectre gas heaters come in four styles and configurations, so that there is a model for every type of home.
The Gas Log Fire appeals to those who love the look of the popular Nectre Mark II wood heater but don't enjoy the ashes. The gas controls that allow you to easily control the warmth of your room are cleverly concealed within the unit and, with a realistic dancing flame clearly visible through wide doors, your guests will wonder how wooden logs can burn forever.
In more recent times, Nectre has introduced some innovative products to improve your lifestyle. There's the wood-fired Pizza Oven, perfect for cooking pizzas and succulent roasts, and now the Alfresco Heater. The latter provides a fully mobile, yet safe small fire and ambient warmth to any gathering on the balcony, patio or verandah.
If you want to discover the many ways you can come home to a warm welcome, we suggest you visit Nectre's website at www.nectre.com
Homes custom-designed for Australia:
"I have been asked many times," says Fred Miniter of Pratt Miniter Consulting Pty Ltd, "what are the most important items to consider when designing comfortable, energy-efficient homes for Australian conditions?"
After 40 years and more than 3000 designs, firstly as the designer/builder who restarted Australian Colonial Designs (using CSIRO technology) and now with the company responsible for introducing French provincial style homes for Australian conditions, Fred is more than qualified to answer that question.
"It is interesting to observe, after a lifetime of design, that there is NO standard design available anywhere in the Australian market that suits all blocks of land or building sites. Furthermore, there doesn't seem to be a good understanding about basic requirements," Fred says. "At best, I can say that designs are generally based on the use of space to create living accommodation for a family."
This, of course, seems logical, but Fred believes there are many additional points to consider. Many plans ignore the free availability of winter sun; it is important to provide access to winter sun to the kitchen, family and courtyard areas of the home. A properly designed home will offer comfort while saving approximately 2500 tons of CO2 emissions per year, not to mention the cost savings of not constantly running air-conditioners.
Another essential factor is insulation that is incorrectly installed; a waste of money. Current testing of insulation's efficiency is outdated and doesn't consider Australia's extreme conditions. Bulk insulation is usually associated with comfort, but it is becoming more evident that aluminium foil (sarking) is producing better living results in the Australian climate. Substantial savings are available and comfort is happily achieved in older dwellings simply by installing aluminium sarking between the rafters below the roof covering and over the top of the ceiling joists. Just be sure to use specified, tested sarking, as untested aluminium foils are often substituted, with far inferior results.
Correct insulation and using other tricks such as breeze paths, pergolas, deciduous vines and ceiling fans will drastically reduce your dependence on air-conditioning.
When you are looking to build, it is essential to consider the site and design of your home to promote energy efficiency, saving both money and the environment and ensuring your comfort. Seek out a building designer with a good understanding of energy efficiency; a local should be able to advise you on specific requirements for your area.
For more information on building with Pratt Miniter, visit www.prattminiter.com.au