First impressions count. Improve the look and value of your frontage with 5 quick and easy tips from renovation expert Cherie Barber, director of Renovating For Profit.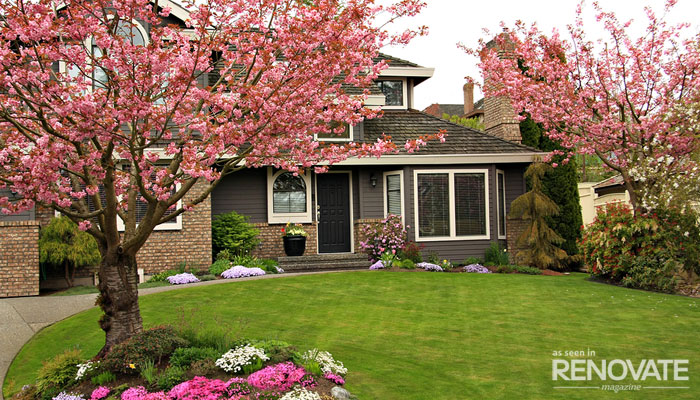 Hey, good looking! No, not you — your house. We all know that a great way to boost a property's value is to make sure it has great street appeal — ie the way your property presents from the street. A home is often judged by first appearances yet many people think it has to be an expensive, time-consuming process to achieve this. In this article, I share five ways to get your place looking great without breaking the bank.
1. Polish
When was the last time you had a shower? Today, I hope. Now, when was the last time your property had one? Last week when it rained? While rain can appear to give your property a wash, it's really the equivalent to giving your face a light spritz with a spray bottle. Also, depending on where you live, leaving acidic or polluted rain residue on your external surfaces can damage and even erode the finish, particularly on timber and weatherboard houses. Having your home professionally washed can make a huge difference to the appearance of your home.
There are two ways to clean the outside of your home: bring in a professional high-pressure washing service or roll up your sleeves and do it yourself. High-pressure Gernis can be hired from good equipment rental stores, such as Kennards Hire, for less than $200 a day and will strip away dirt, mould and grime with one quick shot from a high-powered hose. You'll be amazed at how old surfaces instantly look cleaner and fresher — it not only makes your home look better but helps improve its value, too.
2. Paint
When people think of making external improvements, they often think it's going to cost a lot of money. However, this is not always the case. Giving your property a facelift can be as easy as a fresh lick of paint. Painting is not only quick but can also transform the appearance of your property radically. It's also a cost-effective way to instantly improve the perceived age of your property. Recently, we've seen a shift towards more neutral, subdued tones in external colour schemes. Moving away from the traditional Australian palette of green and cream will give your property a chic and modern feel — but ensure the colours you select appeal to the majority of people rather than the minority. Remember, first impressions last.
3. Prune
Is your property slowly being reclaimed by the shrubbery surrounding it? Improve the aesthetic appeal and look of your property in less than a day. This is a fun, easy and, in most cases, completely free way to improve your curb appeal. Whether you slug it out with older-style sheers or opt to hire a super snipper, you'll stand back and surprise yourself at just how neat and tidy your existing garden can be.
4. Plant
Even if you're not the proud owner of a green thumb, you can add instant impact to your façade with simple and practically maintenance-free planting (depending on which plants you choose to go with). Get creative and think outside the box. Plants don't always have to live in a garden bed. Planter pots and hanging options have come a long way since the 1970s. They're now made of stylish, durable, even environmentally friendly materials. Embracing Mother Nature not only lets you express your inner gardening guru but also softens the sometimes hard edges of an older exterior, creating a relaxing and inviting entry.
5. Primp
Accessories aren't just for you, your house could use some too. Dress up a simple façade with interesting items such as outdoor furniture or a ceramic pot and nice sculptural plant right at your front door. Not only will you inject some colour into an otherwise bland spot, you'll also transform an under-utilised area into a space that will actually be used. Don't forget that items always exposed to the external elements of sun, wind and rain will need to be specifically designed to do so. Just imagine yourself sitting on the front porch on a Saturday morning, reading the paper and watching the world pass by. Ah, the serenity.
Cherie Barber is the Director of Renovating for Profit, a workshop training provider that teaches everyday Australians how to successfully renovate for a profit. renovatingforprofit.com.au
By Cherie Barber 
Image by Hannamariah/bigstock.com
From Renovate magazine Vol. 8 No. 3