An interior designer sees the potential in a neglected Cape Dutch house, despite the lack of power, the gunshots at night and the wildlife frequenting the dinner table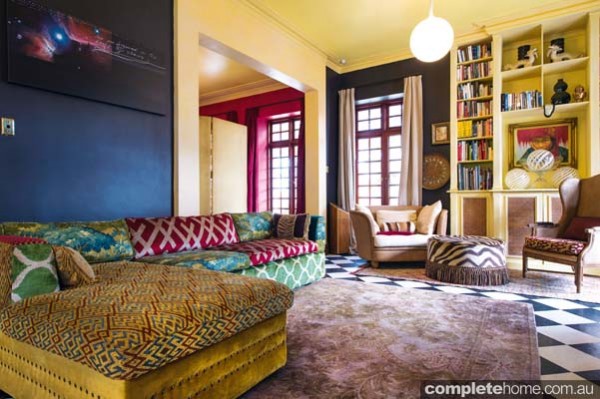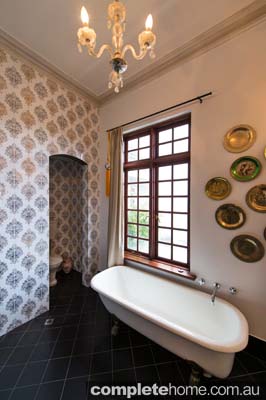 With four children, three dogs, one cat, one crazy Eclectus parrot and an occasional horse, Melanie Strathdee and her family needed a home that was low maintenance, durable, gorgeous, stimulating and perhaps most importantly, fun. They discovered this one five years ago, after living a very different life in suburban Melbourne, and unexpectedly, it fit the bill.
"We hadn't planned on a seachange, but fell in love with a neglected Cape Dutch house in Orange Grove, Western Australia," says Melanie, an interior designer at Leo & Lotus.
She recalls the family's early days in the home with horror. "It was an overgrown mess on 10 acres," says Melanie. "Our windmill didn't work, our bore had dried up, the power kept shorting, we had no insulation and heard gunshots at night. We were very tempted to give up and move back to Melbourne with its running water and electricity. We had lived in a few countries, but never had I lived on land like this before.
"The pipes kept bursting, racehorse lizards seemed to like our kitchen, old kangaroos always came to our dam to take their last drink, then would fall in … the list goes on. But we fixed things, learnt how to handle storms and heat and developed a very good relationship with our local wildlife hospital."
The family's now much-loved house was built under the influence of Cape Dutch architecture. "As an interior designer, it is important to respect the architectural influences, creating a happy marriage between the two," says Melanie. "It doesn't mean you are confined to the perimeters of historical design, but it must be respected and considered during the design development."
Melanie says for the project, she was her own client, therefore had free reign and was inspired by beautiful colours – and it most definitely shows. "I am a colour lover, I can't live without it," Melanie laughs. "I have always been intrigued by the power of colour so it plays a significant role when designing the interior of any home."
"I love our bedroom, our quiet space, painted in emerald green, which has always been my favourite colour because of its wonderful healing properties. It is no accident that the plant kingdom is green; the green ray has a specific healing element, contributing to the feeling of peace when you enter our bedroom. Green aides relaxation, contemplation and sleep."
Melanie has also drawn inspiration from her ever-changing surrounds. "I love the season changes in Western Australia, how the light changes the colour of the land and the interior of our home."
The family's seachange has changed their life dramatically, to say the least. "Since moving to Orange Grove we have had to slow down considerably," says Melanie. "We have had to learn to repair things ourselves simply because tradespeople weren't available or were too busy. We are all definitely a lot tougher and have become very self-sufficient. We are only 20 minutes from Perth's CBD, but still 'off the grid' when it comes to amenities. The storms can be quite wild here, we have lived with no electricity for a week – I was beginning to lose my patience, but the kids loved it and want to do it again some time!
"Today we are making headway," says Melanie, as she recalls her family's start here five years ago. "The kangaroos no longer come to our dinner table, the snakes stay around the dam and the racehorse lizards only occasionally come inside."
The revived Cape Dutch house is definitely a work in progress for Melanie and her family. "There is so much more we want to do," she says.
Project details:
The project was designed by:
Leo & Lotus PTY LTD
30 White Road,
Orange Grove WA 6109
Tel: 0414 798 989
Email: melanie.strathdee@leoandlotus.com
Website: leoandlotus.com
Flooring
Living areas: Jarrah parquetry
Kitchen: Black and white linoleum tiles
Bathroom: Porcelain tiles
Bedrooms: Supertuft carpet   
Walls
Living areas: Painted render
Kitchen: Brick and painted render
Bathroom: Porcelain tiles
Bedrooms: Painted Gyprock
Outdoors: Render
Lighting
Living areas: Theodore Alexander
Kitchen: RT Lighting
Bathroom: Vintage chandelier
Bedrooms: RT Lighting  
Outdoors: Vintage finds
Kitchen
Cabinet doors and panels: Black Japan stained timber
Benchtop: Cararra marble
Bathroom
Tiles: All original
Bath/shower/vanity: Vanity is made by The Maker, designed by Leo & Lotus. Vanity top is Caesarstone Snow
Windows: Jarrah framing
Doors (external or internal): Jarrah, some stained, some painted
Furniture and accessories: A combination of vintage finds/hand-me-downs and Leo & Lotus designs
Written by Danielle Townsend
Photography by Stephen Nicholls
Originally from Period Style Volume 8