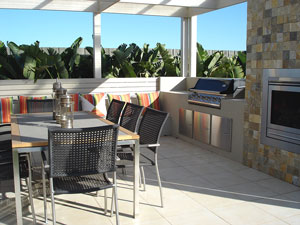 High performance timber finishes that deliver long-lasting protection
Intergrain has developed a premier reputation for its high performance timber finishes and has been selected throughout Australia for use on homes, commercial developments and prestigious projects including the gold medal winning Fleming's & Trailfinders Australian Garden at the RHS Chelsea Flower Show 2008.
Intergrain UltraDeck delivers an exceptionally long lasting, natural finish to enhance and invigorate exterior timber surfaces. It is ideal for timber decking, fences and features and will weather naturally without the risk of cracking, blistering and peeling. Being water based, UltraDeck is easy to apply with a fast re-coat time and brushes and equipment are simply washed up in water. If a slip-resistant finish is required just add Intergrain UltraGrip to each coat of UltraDeck.
Tested in the harshest North Queensland climate at the National Association of Testing Authorities (NATA) registered Allunga Exposure Laboratory site, UltraDeck provides long lasting resistance to the sun's harmful UV rays and will last at least twice as long as a traditional decking oil.
Additionally, UltraDeck has 96 per cent less VOCs than traditional decking oils making it a far more environmentally responsible option compared to conventional oil-based timber finishes. VOCs (Volatile Organic Compounds) are the petroleum-based solvents that evaporate from the coating while it is drying. These compounds are the unpleasant solvent fumes that contribute to air pollution.
Traditional oil-based timber finishes have a high solvent level, this means that for every four litre can of traditional decking oil at least two litres of VOCs go straight into the atmosphere.
Water-based timber finishes have a very low solvent level so combined with being healthier to use, Intergrain water-based timber finishes are much gentler on the environment.
Intergrain UltraDeck is available in 1L, 4L and 10L sizes from leading hardware and paint stores.
INTERGRAIN TIMBER FINISHES
Freecall: 1800 630 285
Website: www.intergrain.com.au