Clipsal by Schneider Electric shows you how to find the right home electrical equipment for your needs.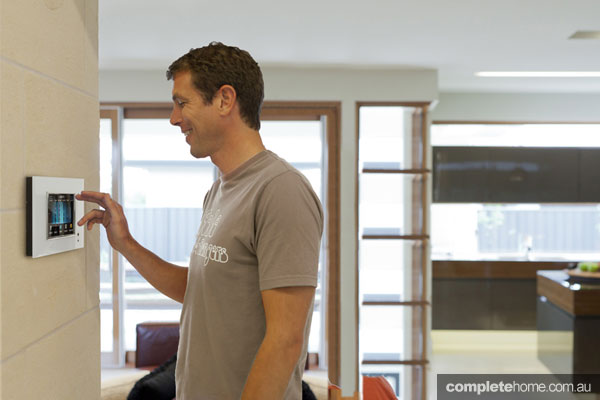 Powering your home isn't just about finding the right switches with all the right functions. Smart electrical solutions involve considering how your lighting affects your mood, how your electricity use impacts the planet and how the design affects the appearance of your home. Here are five ways you can create the perfectly powered home.
1. A smart home is a home that is one step ahead of you. C-Bus Home Control systems gives you the ability to programme your preferred settings for your lighting, as well as for your audiovisual systems, security system, air conditioning and loads more. Through sophisticated touchscreens or intelligent wall switches – or smart devices that allow you to control the system remotely – you have the power to make your home comfortable, secure and more energy efficient while you're on the go.
2. A simple way to save energy in your home is to install timers, which can automatically switch lighting and other electrical devices off when they're not in use. Timers are particularly useful with electrical devices that you use for short periods of time and prefer to turn off automatically, such as lights, fans or heaters. Timers are a cost-effective way to save you money long-term – and help the environment.
3. Lighting isn't just about making sure you can see what's in front of you; lights can impact your mood and affect the ambience of your home. Dimmers are a fantastic way to help you set the mood for every occasion. Clipsal is the leader in dimming technology and allows you to dim all lamp types, from individual lamps to multiple. Dimmers aren't just for setting the mood in your bedroom either, they can be fantastic for children's bedrooms so your little ones can feel secure and sleep soundly. They can also save energy and prolong the lifetime of your lamps, too.
4. Heating and cooling your home can be an expensive exercise. When installing these systems, it's important to choose the correct type of heating and air circulation, and put effective insulation measures in place. A helpful device you may not have considered is an in-line exhaust fan, which moves warm air between rooms in winter and cool air in summer and removes stale or moist air from your home. Clipsal's unique back draught shutter designs also means you don't lose any heat or cool from your home, allowing you to home comfortable and minimise your energy costs.
5. Australia is known for its powerful sun and residential solar solutions allow you to harness this power in the most efficient manner for your personal use. Inverters allow you to convert the energy you harvest from the sun into grid-acceptable alternating current, and are at the heart of every solar system. Clipsal's Conext Inverters have an excellent price-to-performance ratio, meaning you'll harvest the most energy possible while maintaining a highly efficient solar conversion rate. It's also safe, reliable and easy to install.
For more information visit the Clipsal website
Written by Danielle Kirk