This breezy, open outdoor space by Harrison's Landscaping will really let the sunshine into your life.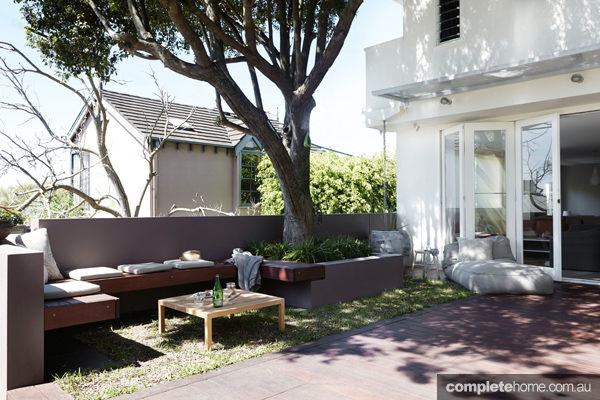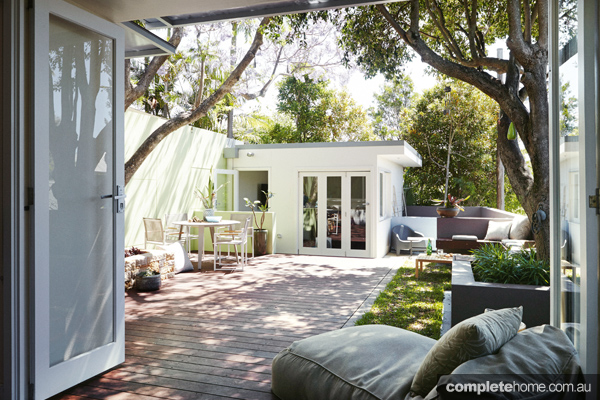 When Josh Harrison of Harrison's Landscaping was asked to redesign this backyard on Sydney's Northern Beaches, the design needed to be versatile and make the best use of the limited space available. The family were looking for an outdoor area with separate lounging and dining spaces that connected the cabana at the rear of the yard to the home. The area had to work as both a relaxing spot to sit and read the Sunday paper and a welcoming, open space for entertaining family and friends.
"The existing site was a slightly sloping turf area between the rear cabana and the home," says Josh. "The two large trees were pre-existing but apart from that, it was a blank canvas." The cabana at the back of the property has a two-car garage underneath, so the design needed to factor in easy access from the garage to the home.
The style of the outdoor space is contemporary but designed to complement the beach house feel of the home. "I definitely didn't want anything too formal, as that just didn't suit our client's lifestyle," says Josh, "I wanted to create a space that would be used, not just looked at from inside the home."
The rear of the home flows naturally into the garden. It's designed so that it doesn't feel like you're stepping outside at all, but just into an extension of the interior. The inviting floating bench seat instantly catches the eye as you walk into the garden. "We went with a floating bench seat rather than the boxed style as it gives the illusion of more space." says Josh.
Small pockets of interest are dotted throughout the yard, using a range of different materials. The rough, natural sandstone of the raised planters brings warmth to the area. The Scyon cladding fence was installed to hide an existing treated-pine paling fence, and the joints were offset to create a more interesting appearance. The merbau hardwood timber decking boards were fixed with big bugle screws, to imitate the look of wharfs and jetties and tie in the subtle beach theme. "I love the mixture of materials. I'm really happy with how it turned out," says Josh, adding, "seeing the sandstone work against the hardwood deck and dark walls is my favourite part."
The two large pre-existing trees in the yard are a jacaranda and a lilly pilly (Syzygium smithii). They have been underplanted with the colourful, ground-covering perennial Alternanthera dentata 'Firebug' and tough, low-maintenance Dianella caerulea 'Little Jess'.
Half of the garden sits over the garage underneath the house, so it was critical that Josh and his team installed correct drainage and storm water provisions.
The way the design and construction has taken shape complements the family's way of life. "Our clients regularly walk down to Manly Beach for a swim on a Sunday morning and then lounge around in the garden, reading the papers," says Josh. "It was really special speaking to the family six months after we'd finished the project and hearing them say that they basically lived in the space over summer."
Words Sean E. Britten
Styling Adam Robinson
Photography Natalie Hunfalvay
FOR MORE INFORMATION
Design and construction Harrison's Landscaping
Website harrisonslandscaping.com.au 
Originally from Outdoor Rooms magazine, Volume 24