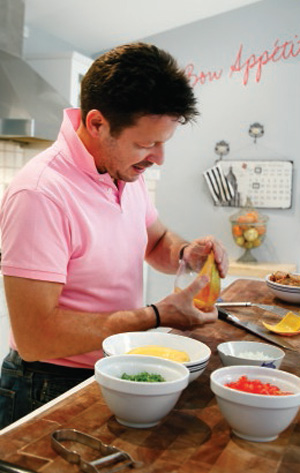 Classically-trained chef David Bitton celebrates 10 years of his iconic Sydney café, Bitton Gourmet Cafe
David Bitton's charm is evident from the start as I arrive at Bitton Gourmet Café in Alexandria, Sydney, for our interview. I am escorted to a private dining room, where David arrives promptly and greets me with a warm handshake and his trademark French accent.
I've been invited to stay for lunch while we talk so I take some time to peruse the menu. Finally, selecting the Moroccan spiced chicken sandwich, we order and settle in for our chat. I'm here because in 2010 Bitton Gourmet Café celebrated its 10-year anniversary and David launched his first cookbook to coincide with this event. Part cookbook and part biography, Bitton: A French-Inspired Café Cookbook is a personal collection of recipes that reflect the influences in David's life — from his wife's Indian South African heritage to his grandfather's Moroccan history and grandmother's Turkish childhood.
In creating this cookbook, David had a particular goal to ensure that it was filled with unique yet approachable recipes that would encompass the 10- year history of the café. "I didn't want to create a cliché," says David. "I wanted to be different, so we hired top food stylists but I found a photographer with no background in food shoots so the images would be fresh and inviting. I was keen that the reader experience a tactile response as well as a visual reaction so we chose the paper stock very carefully.
"I have even chosen the book binding so that the pages fall open and stay open, making it practical for following a recipe," he adds.
The cookbook includes a foreword from renowned foodie Maggie Beer and David found it a great compliment that she agreed to write such a personal recommendation.
David and his wife, Sohani, originally decided to launch Bitton Gourmet Café to allow time to develop their line of gourmet products and grow the café side of the business.
The first product launched through this new venture was David's famous Strawberry and Vanilla Jam, a recipe created by his grandmother. "I knew this was a rock star
jam," says David. "It was important that I perfect the recipe. I would go home and work on it at night then leave for work early the next day with the ceiling covered in jam from the condensation arising from bubbling saucepans."
It is fitting that David's grandmother lives on through her jam recipe as she and David's mother created the environment of food appreciation in which David grew up. "My mother and grandmother were amazing cooks," he recalls. "We were poor so grew much of our own produce — we had 80 pear trees and a vegetable garden. When supplies were abundant, we would preserve the fruits and vegetables then put them in jars for the winter."
David also learnt much about utilising the whole food to ensure there was minimal wastage. "We watched our budget all the time," he says. "Everything was used — for example, every part of the pig would be used in some way. We ate lots of leftovers but we would add different flavours and textures to create new meals."
Every Friday and Saturday, David would assist in making brioche and this led to an interesting experience when he became an apprentice in his first job at a hotel. "I was making the dough and the chef told me I wasn't doing it right," David laughs. "I disagreed and said, 'Yes, it is right' but I learnt very quickly that there are no ifs and no buts when you are an apprentice. You do it the chef's way."
David also watched his mother and grandmother regularly cater for 10 to 15 people every week so became very attached to the social aspects of preparing and serving food for family and friends.
Interestingly, it was not David's appreciation for the role of food that led to him seeking a career as a chef. It was his desire to break the cycle of poverty and better himself with a trade that saw him take on an apprenticeship at a local hotel. This meant he left his family at a young age but he was prepared to work hard. "I fell in love with cooking and food and learnt much about discipline while I was an apprentice," David tells me. "After the first month, I had earned the equivalent of $50. But you don't do it for the money."
When asked if he can choose a favourite product from his gourmet line, David smiles. "I don't think I can choose just one," he muses. "But my black olive tapenade is definitely a favourite. I learnt to make it in France with kalamata olives, thyme, capers, bay and garlic. It's very juicy, fresh and different. Not smooth like a regular paste but chunky.
"And I'd have to say my grandmother's Strawberry and Vanilla Jam — it really is rock star jam!" One of the benefits of having an established business is that it allows David to concentrate on those areas that interest him most but he says the part of his job he enjoys more than any other is interacting with his customers. "We still have customers who come every day. We do business, talk to them, get to know them and it creates a community," he says.
David tells me that the café was much smaller 10 years ago but they have been able to expand to create more eating space, as well as room to showcase his range of gourmet products. After a very busy 2010, David's plans for 2011 include consolidation and fine-tuning of the current business with a focus on retail. "The product is unique," claims David, "so it needs more selling. We re-launched it with a new label that includes information and ideas on how to use the product, while the website provides recipe support and serving suggestions. The old label was outdated but the new label is more artisan and has become more personal — from 'Bitton'
to 'David Bitton'."
It's always interesting to find out what a chef needs in a home kitchen so I ask David what his current kitchen is like. "We're currently renovating," he explains. "We've done the whole house in French Provincial style with an open plan for a young family. We have a large room that contains the kitchen, dining and lounge and it opens onto a deck so it's great for entertaining."
The central theme of the kitchen is a rustic butcher's block that has been recycle and re-used — in fact, the rest of the kitchen was designed around this one item. David insisted on a commercial oven and stove as he cooks at home regularly three to four times each week.
"We also love to dine out," he adds. "My philosophy is to drink well and eat well." I'm keen to find out what types of meals David likes to cook at home and he's quick to answer. "Barramundi is my favourite fish and I serve it with honey roast vegetables and greens," he says.
"I love the crispy skin you can get with barramundi. It's a beautifully fresh fish, not muddy at all, with a nice texture and it melts in your mouth. I also make a lovely dish of mussels with chilli, onion and wine."
David also loves to barbeque as so many products lend themselves to this style of cooking. It's quick, fresh and a great way to feed a crowd. A sense of humour is always a plus in this line of work and David's is on display when I ask him about the one item he can't live without in the kitchen. "A bottle opener," he quips, then adds, "also my fish slice, my Le Creuset pot and my Japanese knives."
I suddenly realise I've finished my lunch and it's time for a quick coffee before I emerge into the bright sunshine and the leafy surrounds of Alexandria, clutching the jar of mango and ginger jam that has been kindly given to me. It's easy to see why this spot has become such a favourite of not only Alexandria's locals but visitors from throughout Sydney who take advantage of David's passion for his craft as well as the welcoming environment he has created.
Chilli Garlic Masala Prawns with Couscous Salad

Masala is a term used in South Asian cuisines to describe a mixture of spices used to flavour a dish. This dish uses a garlic-based masala that echoes my wife Sohani's Indian heritage. The taste combination of the garlic and chilli, juicy mango and a flavour blast of fresh herbs will put the sizzle in any summer entertaining you might be planning.
For the prawns:
48 large green Australian prawns, peeled
de-veined and tails left on
2 tablespoons Bitton Chilli Garlic Masala
or 2 tablespoons chilli and garlic, finely chopped
2 tablespoons olive oil
Sea salt, to season
For the salad:
50g couscous
100ml water
Sea salt, to taste
1 tablespoon olive oil
1 large tomato, diced
1 red onion, finely chopped
1 mango, peeled and diced
1 bunch coriander leaves only, washed
Juice of 1 lemon
Fresh lemon wedges, to serve
Baby herbs, to garnish
Place the prawns into a large ceramic bowl and add the Bitton Chilli Garlic Masala or fresh chilli and garlic, olive oil and sea salt. Mix well to coat the prawns. Cover the bowl and place in the fridge to marinate for 2 hours or overnight.
For the salad, place a small saucepan over high heat, add water and bring to the boil. Add some sea salt to taste and a tablespoon of oil. Place the couscous in a small bowl and pour the boiling water over the top. Cover and let stand for about 5 minutes until all the water is absorbed. Fluff up the couscous with a fork, set aside in a warm place.
When ready to serve, add the tomato, onion, mango and coriander to the couscous, combine well. Pre-heat the barbecue or frying pan. Place the prawns onto the barbeque and cook for 2 to 3 minutes. Turn and cook for a further 3 minutes.
Add a squeeze of lemon to the prawns when youfinish cooking them.
To serve, place a mound of couscous salad on each plate, top with three or four prawns and garnish with a lemon wedge and baby herbs. You can also use an egg ring to form a neat stack.
From Bitton: A French-inspired Café Cookbook.
Reproduced with permission.