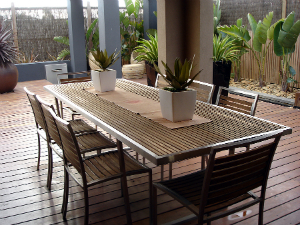 Enjoy the easy life with a quality non-slip alternative to timber decking
From walkways in national parks to commercial marinas, from hotels to domestic decks, BriteDeck is the answer to any decking question.
Made from recycled wood fibres and durable polymers, BriteDeck is a high-quality composite board that looks and feels like timber. It never requires painting or staining and is virtually maintenance free — all you need to do is wash away any dirt and grime.
Because of its excellent slip resistance and hidden fastener system, BriteDeck is ideal for water areas such as pools, spas and marinas. What's more, there are no dangerous splinters to harm small feet.
According to the Managing Director of BriteDecking, Steve Scott: "Since its introduction to Australia in 2001 the board has surpassed all expectations and performed brilliantly in projects such as Reef Beach for the NSW national parks where as many as 1.3 million people — plus prams and bicycles — have passed over the deck."
Well regarded by builders and frequently specified by architects, BriteDeck is also ideal for the home DIY market as it's quick and easy to install.
"Clients love the minimal maintenance and the appearance," says Steve Scott, "and the reason the product looks so good is because of the enormous (5.8m) length of each board, which means no short pieces or multiple joints with numerous nail heads that's typical with a timber deck."
The manufacturer of BriteDeck was able to draw on more than 30 years experience in the production of timber products to create a board many consider to be the most realistic-looking alternative decking product on the market. In use from Cairns in Queensland to the Kalbarri National Park in Western Australia, and with warehouses located in each state, BriteDeck has many happy clients Australia-wide.
BRITEDECK
Tel: 1800 688 500
Fax: 1800 244 100
Email: sales@britedecking.com.au
Website: www.britedecking.com.au