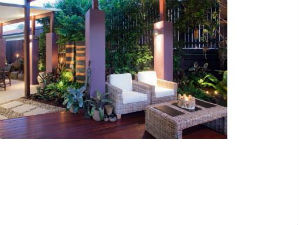 Set amid a flourish of tropical plants, these outdoor rooms make a visual delight
As this property began life as a display home, the backyard was unprepossessing and detracted from the modern architecture of the home. What the owners wanted was a garden view they could enjoy when looking out from inside their new home and outdoor spaces they could use for entertaining family and friends or winding down at the end of a busy working week.
What Chris Gill from ROOM Landscape Design & Construction came up with is a design that includes a teeming tropical garden, a tiled cooking and dining area, a striking vertical water feature and an outdoor conversation area with matching synthetic-weave outdoor lounges.
The conversation area, with its richly coloured timber decking underfoot, is a picture-perfect space defined by the four angular posts that support the roof. Potted plants add further definition and work with the adjacent garden bed to make the space feel as though it's wrapped within the soft foliage's arms.
While the crisp white of the lounge cushions adds a fresh, contemporary touch, the wall-mounted downlights used in tandem with candle light contributes a softening effect that gives the space a warm and welcoming ambience.
Just a few steps away, across a V-shaped space boasting stepping stones set in a bed of river pebbles, the paved dining area is an equally appealing space. Here, you will find a table setting for six and a stainless-steel barbecue discreetly yet conveniently tucked between two support posts.
Delivering on the owner's request for shelter, privacy and protection from the elements, both outdoor living spaces have angled roofs. The roofs were specially designed to ensure that each space would supply the requisite shade yet still allow sufficient natural light to flow into the outdoor zones and the house itself. Achieving this was no small feat, nor was creating individual outdoor rooms in what is such a small space.
The confident use of complementary materials and lines is a feature of the design. The rendered masonry of the many roof support pillars works in harmony with the low-profile, no-nail timber decking and dressed structural timber of the outdoor lounge area. These in turn complement the angled insulated roof panels, the porcelain-tiled cooking and dining area, the Limestone Beech Edenstone pavers used as stepping stones in the garden pathways and the bromeliad wall that acts as a backdrop and focal point for diners.
The tropical planting provides the final finishing touch and includes foxtail palms, cordylines, yuccas, dianella, liriope, calathea and masses of bromeliads. The result is a foliage-filled setting dotted with up-lighting, accent lighting and blazing torch light, which provide the perfect backdrop for the outdoor rooms.
Project details
Landscape design and construction by ROOM Landscape Design & Construction 31 Glenlee Street Arana Hills Qld 4054 Mobile 0433 355 666 Email chris@roomlandscaping.com.au Website www.roomlandscaping.com.au Photography by Glenn Weiss