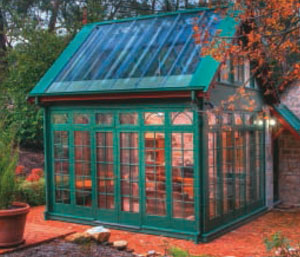 Inviting the outside in, the conservatory could be considered the ultimate outdoor room
Words: Carrol Baker
Conservatories allow you to create a comfortable, airy, light-filled environment that links the outdoors to your home's interior. Of course, building a conservatory is not a cheap proposition and detailed working drawings and plans will be required for planning and building permits, but if planned well and professionally built, it will be a year-round asset.
But is your conservatory part of your house or part of your garden? Ask Paul Orechow, design consultant from Conservatory Construction Company, and he'll tell you it's a little of both. "Conservatories offer you the opportunity to bring the outdoors inside, so you can enjoy being outside, but you're also protected from the elements," he says.
With a conservatory, you can catch the sun's rays on a wintery afternoon, hear the soothing patter of summer rain on the roof or sit under a twinkling canopy of stars — all within the comfort of your home.
The history of the conservatory can be traced back to Renaissance Europe when wealthy homeowners developed an interest in growing and protecting exotic plants and plants of a tender disposition. By the 17th century, these glassed-in structures began to house more than just plants. Seating areas were created so that people could enjoy the plants and some shelter. By the 19th century, conservatory construction really took off, thanks to advances in construction methods and the availability of sheet glass.
Now, conservatories are marvels of modern design and construction. Whether of traditional or contemporary design, they are structures filled with warmth and light that are designed for living and entertaining in, not just for plants. They also function as an extra room, serving as a dining area, study, rumpus, home gym or even an enclosure for a swimming pool and spa, says Dot Platt, Sales Operations Manager from Ian Cubitt's Classic Home Improvements.
And with cutting edge, environmentally smart construction methods and materials such as glazing, thermal shade options and ventilation systems available, your conservatory won't be adding to your family's carbon footprint.
Conservatories can be positioned wherever you choose. While they can be built as a freestanding structure, they are traditionally used as a home extension. Adding on a conservatory can transform a dark uninviting corner of your yard or turn the back or side of your home into an airy, light-filled space, giving you more room for a growing family.
So if you're thinking about a conservatory, where do you start? Conservatories can be constructed in virtually any shape or design, but it should blend with your home. "In the design process it is vital to consider the look of your home and select a design style that will complement the existing architectural style," Paul says.
Aspect is another issue. Ideally, a north-facing aspect is best to maximise the warm winter sun and capture cooling breezes. If you can, avoid a hot westerly aspect or a position prone to high winds.
Conservatory frames are generally constructed from powder-coated aluminium, timber (Western red cedar, for example) or structural steel. "More recently, we are seeing more conservatories being built with powder-coated aluminium," Paul says. "With appropriate dyes and mouldings they can still look very Victorian if what you want is a period look. They also don't require as much maintenance as timber frames."
Glazing options include standard toughened or laminated safety glass and, if your conservatory is western facing, thermal glazing is a good option to help keep out the heat on summer days, suggests Dot.
Some people also opt for double glazing. This is two sheets of glass separated by a sealed pocket of air or gas that slows down the transmission of cold and heat. Double glazing reduces heat loss while still allowing the passage of solar radiation and natural light so it makes it much easier to adequately heat or cool a conservatory, no matter how large. Because of its insulating properties, double glazing will also help you reduce your energy bills and cut greenhouse gas emissions. Another bonus is its noise dampening qualities.
Basking in the warmth of the winter sun in your conservatory is one thing, but it's quite another when the mercury starts to soar. This is where shading and ventilation systems come in. Bifold opening doors, windows and roof vents allow free flowing air and can be manually or remotely operated. Clever design can also ensure good ventilation, such as positioning doors and windows so you can enjoy natural cross-ventilation.
Thermal blinds including Roman-style blinds can also be fitted to the roof, where smart technology can link the blinds being drawn to thermostat control, a remote or a wall switch. For windows, internal blinds give you flexibility and control over the amount of sunlight that comes in, as well as a means of creating privacy if you want it.
Any number of embellishments can be used to add a touch of old world style and glamour when designing a conservatory. You can achieve stunning visual effects by using stained or etched glass, or textured designs to give you added privacy. Traditional design features can also include roof lanterns, ridge cresting (ornamentation on the ends of roof gables), porticos and cupolas (a dome like structure on top of the conservatory).
A conservatory is a space where your home and garden converge, so when decorating it, select furniture and accessories that will help to create a cosy, comfy feel. Of course, your conservatory furniture should also blend with the rest of your home décor. If you are creating a rumpus or family room, use a natural, neutral colour palette. Consider wicker, cane or bamboo furniture as it is both natural and durable. Timber can work equally well. Add scatter cushions in summery colours, as well as framed photos, trinket boxes and artfully stacked coffee table books.
For lighting, you can choose standard lamps or wall lights for a soft ambience. Trapeze lighting is another option, or you could go for a touch of sophistication with a crystal chandelier. And don't forget the ceiling fan, which can add to the charm of a rustic-, tropical- or period-style conservatory. It's also a practical way to keep that little bit cooler in summer.
Smooth tiles underfoot complete the look of your conservatory. These could be made from natural sandstone in neutral tones, granite, slate or limestone. Terracotta or ceramic tiles can also look very effective, but it all depends on what would best complement your décor. Timber is another alternative, but isn't always recommended as a conservatory tends to be a humid space and the wood can be prone to warping or expanding in the heat. Whatever your flooring choice, add rugs (with a non-slip backing) for extra winter warmth and to complete the room-style look of the conservatory.
While a conservatory by definition has a glass roof and glass sides, you can take your inspiration from a traditional conservatory and create a hybrid structure that has the feel and ambience of the real thing but better suits your individual needs. This might be a room with a glass roof and one glass wall with doors that open to the garden, but the other walls are solid.
Whatever the precise design, if you're going to have lots of plants in your conservatory, good ventilation is essential. Before choosing and placing plants, you need to acquaint yourself with the changing patterns of light and shade in each area of the conservatory. Plants with green foliage that originally hail from the tropics won't do well in direct light; they need dense shade if they are to thrive. On the other hand, a sun loving plant such as the climber thunbergia can be used as a means of greening a sunny wall while providing some cooling shade.
Landscaping your conservatory is like landscaping any outdoor room. You have a wealth of choices at your disposal, including specimen plants such as the yucca, climbing plants such as mandevilla and small flowering plants such as cyclamen. It's simply a matter of matching plants to the growing conditions and creating the right composition. You might like to choose plants with soft, gentle fragrances and long lasting blooms, or you might like to create a tropical feel by potting up a few palms and including some bromeliads and ferns in pots. The choice is yours.
CHOOSING PLANTS
It comes as no surprise that plants are an essential part of a conservatory, as conservatories were first used for the care of plants. If you're looking for advice on the subject, one of the best books around is The Conservatory Gardener by Anne Swithinbank (published by Frances Lincoln). It talks you through issues of aspect, light and shade, ventilation and heating, water supply, landscaping, plant selection and plant care. Plants are gathered together in groups — trailing plants, specimen plants, climbing and wall plants, smaller foliage plants — so you can select plants according to their use in the landscaping or your conservatory.