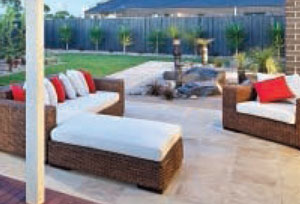 A series of outdoor rooms provides the flexibility needed to entertain all year round
From the luxurious sunken spa to the plush outdoor furniture, this is a garden designed so the owners can enjoy the good life. Designed by Vince Celestre of VRC Landscapes and built by the VRC Landscapes construction team, the landscape is a modern masterpiece, fusing style with comfort and functionality with flexibility.
"The brief from the homeowners was for a low maintenance garden. Like many people today, they wanted to spend their time outside enjoying themselves, not taking care of countless chores," says Vince. "It was equally important that the garden have a relaxing ambience and space for entertaining."
The seeming simplicity of Vince's design belies the care and thought that went into its conception. What Vince has created is an inviting garden that is versatile and has a sense of spaciousness.
This is also a garden that offers myriad design features, beginning with the pergola-covered deck with its sunken spa. Then there is the laser cut steel feature screen, made by PLR Design and boasting a Mystical Tree pattern.
The plants, supplied by All Green Nursery & Garden Supplies, are chiefly hardy and low maintenance and include kangaroo paw, blue fescue, flax, yucca, grass trees and crab apple, supported by an automatic drip irrigation system with rain sensors.
"Grass trees, blue fescue grass and flax were used in two areas to create a dry desert theme," says Vince. "We achieved the right look through the use of plants and the use of Dromana toppings for the paving, along with large slate boulders and Yea river pebbles.
"The other area has a much softer feel achieved by using crab apple trees, kangaroo paw, more blue fescue grass and areas of Yea pebbles with Dromana toppings."
The 400mm x 400mm Bondi sandstone paving, supplied by Select Brick and Paving Centre, has a lovely texture and contrasts beautifully with the planting, the artificial turf from Greener Turf Co, the timber deck and the feature screen.
In front of the back-lit screen is an outdoor lounge area featuring modern rattan furniture. This is complemented by the furniture on the timber deck, which was supplied by Java Home Living.
"There were two main challenges. The first was to try and combine the outdoors with the interior design of the home," explains Vince. "The other was to lower the spa at the timber deck level and provide adequate drainage."
As you can see, all challenges were masterfully resolved to create a series of outdoor rooms that flow with ease, one into the other. And thanks to the artfully placed lighting, it is a garden that can be enjoyed both day and night.
Project details
Landscape design and construction by VRC Landscapes Pty Ltd PO Box 16, Werribee Vic 3030 Phone (03) 9748 0851 Mobile 0412 453 775 Email office@vrclandscapes.com.au Website www.vrclandscapes.com.au Steel screen by PLR Design Pty Ltd Phone (03) 9813 3455 Artificial turf by Greener Turf Co Mobile 0417 367 455
Plants by All Green Nursery & Garden Supplies Phone (03) 9749 1688 Pavers by Select Brick and Paving Centre Phone (03) 8742 2055
Furniture by Java Home Living Phone (03) 9931 1127 Photography by Patrick Redmond