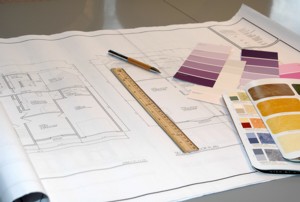 A transformation from the inside turned this suburban bungalow into a sleek, contemporary family home
Before the renovations, this was a classic 1950s solid-brick house which the client had purchased, with the kitchen and family room recently renovated. With the interior design commissioned, the client wanted to carry the contemporary theme throughout the rest of the home.
According to interior designer Penny Michelson, from Penelope Design, the client's brief for the project was to continue with the modernisation considering the kitchen was just redone. "The client wanted this contemporary theme carried through to the rest of the house, plus the client wanted to update the ensuite, the upstairs children's bathroom, the powder room and the downstairs spare bathroom. They also wanted to replace the old staircase, re-carpet and paint the interior. The client had previously lived in an Edwardian house so their furniture was antique and they said they wanted to update all their furniture.
"Structurally no walls were removed from the house as the client was happy with the existing floorplan. All wet areas were ripped out and completely refurbished. In the powder room and spare bathroom, the existing windows were replaced with mirrored cupboards and a chrome-framed mirror and window. The staircase was originally carpeted and because it was concrete, it would have cost a lot to remove. We therefore covered the concrete with timber and replaced the old balustrades with stainless-steel and glass.
"Some of the special design considerations of the project included the fact that this house is set on a huge property and has a spacious, almost 'resort' feel to it. When you enter the house you look out over a lovely swimming pool and tennis court. Unfortunately the inside didn't match the picturesque back yard. To pull it all together we commissioned a specialised painter to paint the plain white wall, which divides the entrance from the kitchen. This feature wall took a week to complete as it consists of layers of plaster and textured paint. The result is a copper base relief that ties in the copper of the powder room feature tiles and copper feature walls through the house.
"Once the children have grown, the client will adorn this area with a sculpture that will really set off the entrance. As the house had originally been partially updated, my client wanted me to carry on with the contemporary theme. I decided to use copper and cobalt blue of the sky as my palette. My favourite part of the renovated space is the feature wall, staircase and powder room. As a solid brick house it made it hard for plumbing work to be carried out. Upstairs we could move any toilets so in the ensuite we worked around existing pipe positions.
"I believe this renovation is special as it incorporates all the latest materials — glass, stone, stainless steel and clean lines. Most importantly, the end result is exactly what the client wanted."
Project particulars
The project was designed by Penny Michelson
Penelope Design
PO Box 523, Elsternwick Vic 3185
Phone: 0408 325 717
Email: penny@penelopedesign.com.au
Website: www.penelopedesign.com.au
The project was built by Bryant Builders
Hanby Street, Brighton
FLOORING: Vic ash
WALLS: Paint — feature walls — Dulux-warm neutral