An interweaving of contemporary aesthetics with the ancient Hindi principals of vastu shastra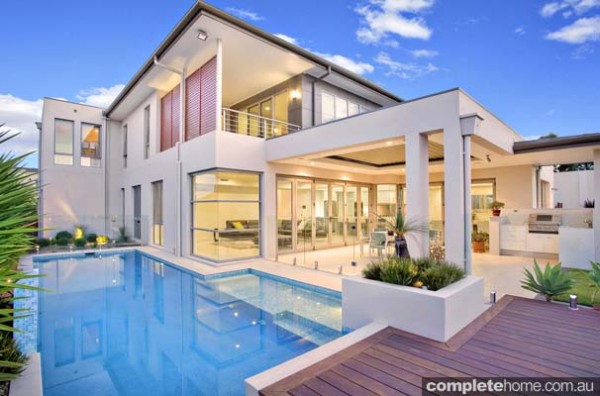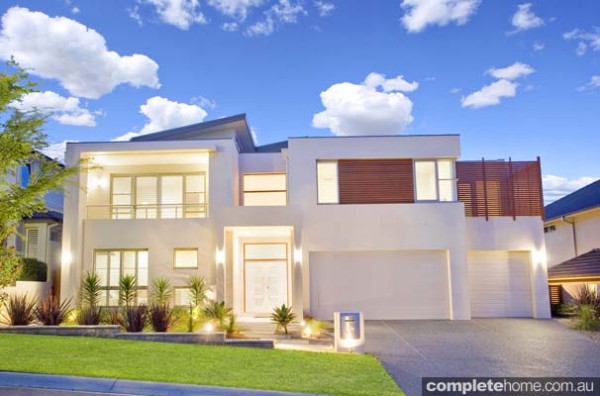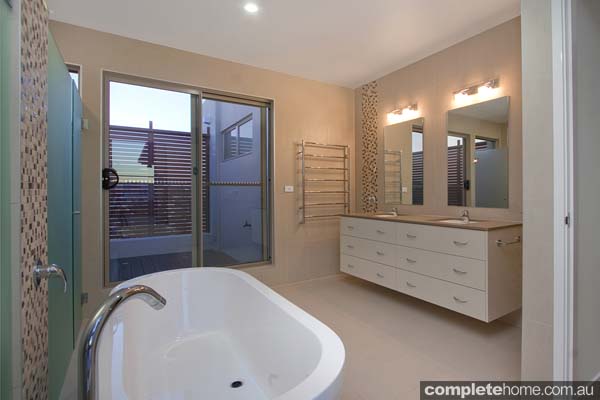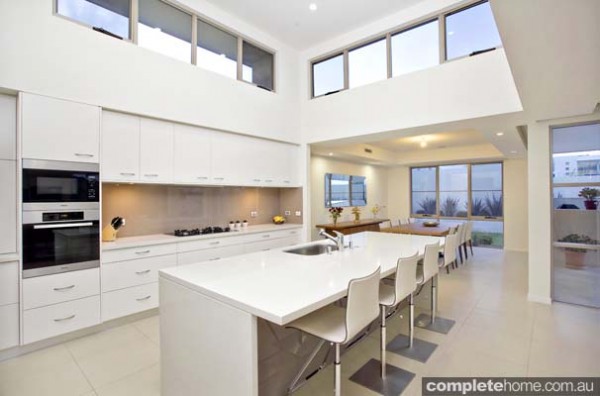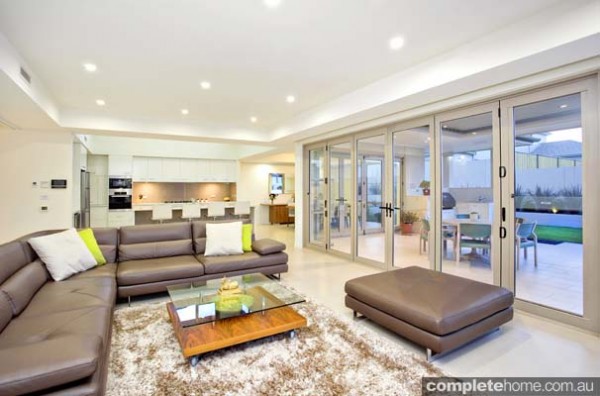 There is a famous quote: "we shape our buildings and thereafter they shape us." This principle lies at the heart of architecture. It's the idea that a home is more than just four walls and a roof over our head, but can shape our wellbeing and how we interact with the environment around us. Hidden in Sydney's northwestern suburbs, this Aspect Designs home showcases the strength of contemporary architecture. Yet it also is an example of how design can work to create a nourishing environment, in this case, through reinterpreting the ancient Hindi vastu shastra principles of design.
When business homeowners approached Michael Sasso, architect for Aspect Designs, he probably expected their request for an inviting family home, one "that would suit them to live in while in Sydney and would accommodate their visiting family from overseas." What may have surprised him was their other request, that the design also "incorporate the vastu requirements; in layout, structure, shape and material finishes and colour." It would even be sanctioned by their religious representative before construction. Translating to "the science of building", vastu shastra, similar to the principles of feng shui, revolves around the idea of correct "placement" to bring contentment and harmony to homeowners. It impresses that, by abiding by a set of dimensions, formulas and orientations, a home can provide cosmic support; fostering peace, prosperity and good health.
For Michael, gaining an understanding of vastu was only part of the journey. "The main concern was knowing how to incorporate the vastu principals of design and lifestyle and make the home still fit into a Sydney urban environment." Michael rose to the challange. With its striking symmetrical facade, welcoming glow and landscaped yard, one would hardly notice the unorthodox beginnings of this property. The exterior is bold but inviting. Columns rise up out front, perfectly framing the centred double doors and evoking a sense of grandeur. Pale, rendered walls are complemented by the wooden screens, while the crisp edges, silver window frames and seamless garage doors enhance the minimalist attraction of this house. Everything, from the orientation of the home's entry to its cubic silhouette, was thought of. In vastu, a correct orientation of entrances/kitchens/beds/bathrooms, rectangular plots of land and their adjusted falls, adherence to planning on a grid, keeping the core of the home pure and free of mechanical systems/services, positioning of water and unarticulated facades with square corners welcome good "energy".
Inside the home is an abundance of living spaces: a sitting room, informal living and dining areas, main kitchen and scullery kitchen, four bedrooms (two with ensuites), a study area, bathroom, powder room, alfresco entertainment and a three-car garage. As Michael explains, "the theme was to keep it simple and relaxed, suitable for entertaining lots of people." In line with this ideal, the bottom floor of the house is marked by high ceilings, white-washed walls and open-plan living, which creates fresh, free-flowing communal spaces. These are deliberately positioned on the eastern side of the house in order to capture the morning sun – a sacred element in vastu, believed to sustain and purify. The crisp white kitchen adorned with classic silver fittings and a broad island counter top melds into the dining and lounge space, which, in turn, spills outside into the entertainment zone complete with its own kitchenette. The consistent tiling and extended roof help define this area as another room, while the stretch of glass bifolding doors, promotes unity between both spaces. This again coincides with vastu ideals about limiting the number of walls in a home in order to not restrain the natural flow of energy. It also brings the beautiful outdoors in. A concern for the environment shows in the careful choice of materials, as Michael noted, "The home is designed to be environmentally efficient by consideration to orientation, sun and breeze control and thermally efficient materials and construction techniques."
Yet, an unmissable aspect of this house is the swimming pool, which won a Master Builders Association award. Cocooning the side of the home with its soothing, turquoise waters, it brings a touch of decadence to the home. Rimmed by a frameless glass fence, its lapping waters can be viewed from the living room and form the backdrop of the entertainment area. It also aids practically with zoning, separating the home from the other external deck and, in accordance with vastu tradition, the pool is carefully positioned in the east to invite prosperity. With all of its unusual influences, this Aspect Designs home articulates the flexibility of contemporary architecture. It speaks of its ability to bridge a variety of cultures, philosophies and lifestyles and brings ancient design principles into a 21st century Australian suburb.
Project by Aspect Designs
0418 460 714
Originally from Home Design magazine Volume 16 Issue 2