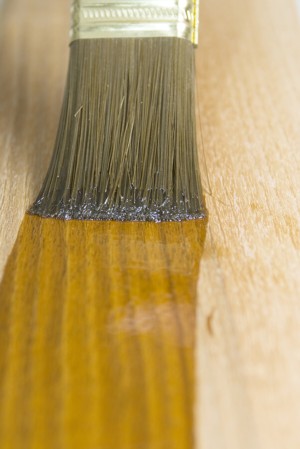 Many people are looking for a hard-wearing, low-maintenance product to replace shellac, wax or polyurethane on raw or stripped furniture. Tung oil can be the way to go — but read on.
Tung oil is a by-product of the Euphorbiaceous family of trees grown in China and has been used for centuries in Asia. Also known as China wood oil, it's also an ingredient in quality varnishes. Pure tung oil is water and alkali resistant, offering a protective barrier. A pure tung oil finish will not darken with age, resists marring, penetrates well, remains elastic and is unlikely to craze.
Tung oil builds quickly, consolidates the wood surface and creates a transparent, low-sheen finish. Pure tung oil will not mildew or bleed when dry, unlike linseed oil. This makes it an excellent candidate for outdoor finishes.
However, the downside of using tung oil is that it can take four to six days to dry and unless you know how to apply it, problems with ripples, bubbles, settling dust and insects can occur. When tung oil dries, it is rock hard and practically impossible to remove. Professionals have equipment to blow dust and insects away and erect dust covers over exposed items to prevent problems.
Many products claiming to be pure tung oil are not pure at all. Most so-called tung oils readily available in hardware chains have artificial dryers added to them for do-it-yourselfers. Some contain quite toxic chemicals such as mineral spirits, terebenes, and urethanes.
The best, most beneficial and natural way to treat raw timber, in my professional opinion, is by mixing 100 per cent pure, non-toxic Howard Chinese Tung Oil with 100 per cent pure, non-toxic Howard Orange Oil. A mixture of about 70 per cent orange oil and 30 per cent tung oil will give you a rapid drying time of about four hours rather than four days.
This coating will be thinner and more penetrating than the 50/50 mix I recommend for further coats and is good for the initial coat. You can then alter the mix to 50/50 tung and orange oil, which will be good for the second and third coats.
Of course, the mix you'll find most appropriate will depend on the density or porosity of the wood you're working with and the temperature in which you are doing the job.
Knowing these factors will help you to control the drying time and assess the thickness of the coat required. On average, each coat will be touch-dry in about six hours. Blend away any pooling, puddling, or excess liquid between each coat at the touch-dry stage to ensure each coat is drying uniformly. Allow 24 hours between coats. The finish will have a low-sheen, natural look that should last for many years with minimum maintenance.
To recap, the qualities of natural tung oil include:
* naturally polymerising finish
* cures by oxidation, not evaporation
* low-sheen finish
* forms a flexible waterproof finish
* resists abrasion and acids
* doesn't blister or peel when properly applied
* doesn't mould or darken with time
* has a long shelf life
* is safe for food preparation areas.
The best way to maintain a tung oil finish is to clean and polish with a little Howard Orange Oil and apply an occasional protective coat of Howard Feed-N-Wax wood preserver to minimise UV damage and cover small scuffs and scratches. Feed-N-Wax wood preserver is a unique liquid mixture of carnauba (the hardest known wax), beeswax and orange oil. It's easy to apply and after 20 minutes simply wipe away the excess and buff to a protective, rich finish.
HOWARD PRODUCTS AUSTRALIA
Phone: 1800 672 646
Email: info@howardproducts.com.au
Website: www.howardproducts.com.au