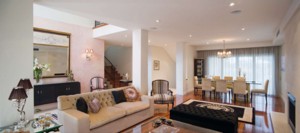 Creating a new home is a special time in anyone's life, a time that is filled with decision making. Relieving the stress by consulting professional advice can make the difference between a good project and a great project, as shown in the interiors of this beautiful residence. Designed by Noela Coffey from Department of Interiors, the concept emerged as a European mix, incorporating the clients' Greek heritage with modern design principles.
"Our clients' previous home was quite traditional in style and they desired a timeless, classic look for their new home, combined with a modern edge," commented Noela. In keeping with the clients' brief to create a warm and youthful feeling, pink was used in several key areas. A Louis XV chair and soft rag-rolled wall in pink and gold exude an inviting entry, complementing the period pieces in a modern context. Greek elements include floor rugs with the Greek key design and medallion, limestone floors, dining table bases and accessories. The family room was given special consideration as it posed a challenge to accommodate both eating and sitting areas.
Careful consideration was given to the selection of pieces to imbue the spaces with the desired ambience. A practical white leather sofa is combined with a modern pink swivel chair with stainless-steel base. A meals table and TV unit complete the desired effect while maintaining a comfortable thoroughfare through the space. The functional all-white kitchen features CaesarStone benchtops, white glass splashback, stainless-steel appliances and polyurethane cabinets. The timber floor adds warmth and dimension to the space. In the formal living and dining rooms, the floor is also a warm brushbox with a satin finish.
Furniture was selected to complement the classic proportions of the rooms and includes custom-designed comfortable sofas, chairs and rugs with both overhead and wall-fixed lighting. Commissioned artwork is by Allegra Creative's Yvonne Hocothee. "This project was special in that it showcases the successful unity of existing traditional pieces with modern elements, creating a unique aesthetic," said Noela. The clients are extremely happy with the overall result that intertwines modern ideas with existing traditional Greek pieces to achieve the youthful and fresh feel they desired.